Solar Lease
Solar Lease
Go Solar for $0 Down with a Solar Lease (PPA) and Save on Your Electric Bill
With a solar lease or power purchase agreement (PPA), you don't have to pay the high upfront cost of solar panels, equipment, and installation. Instead of paying for a solar system, you pay a fixed monthly amount for the  electricity the solar panels generate. It's easy and affordable.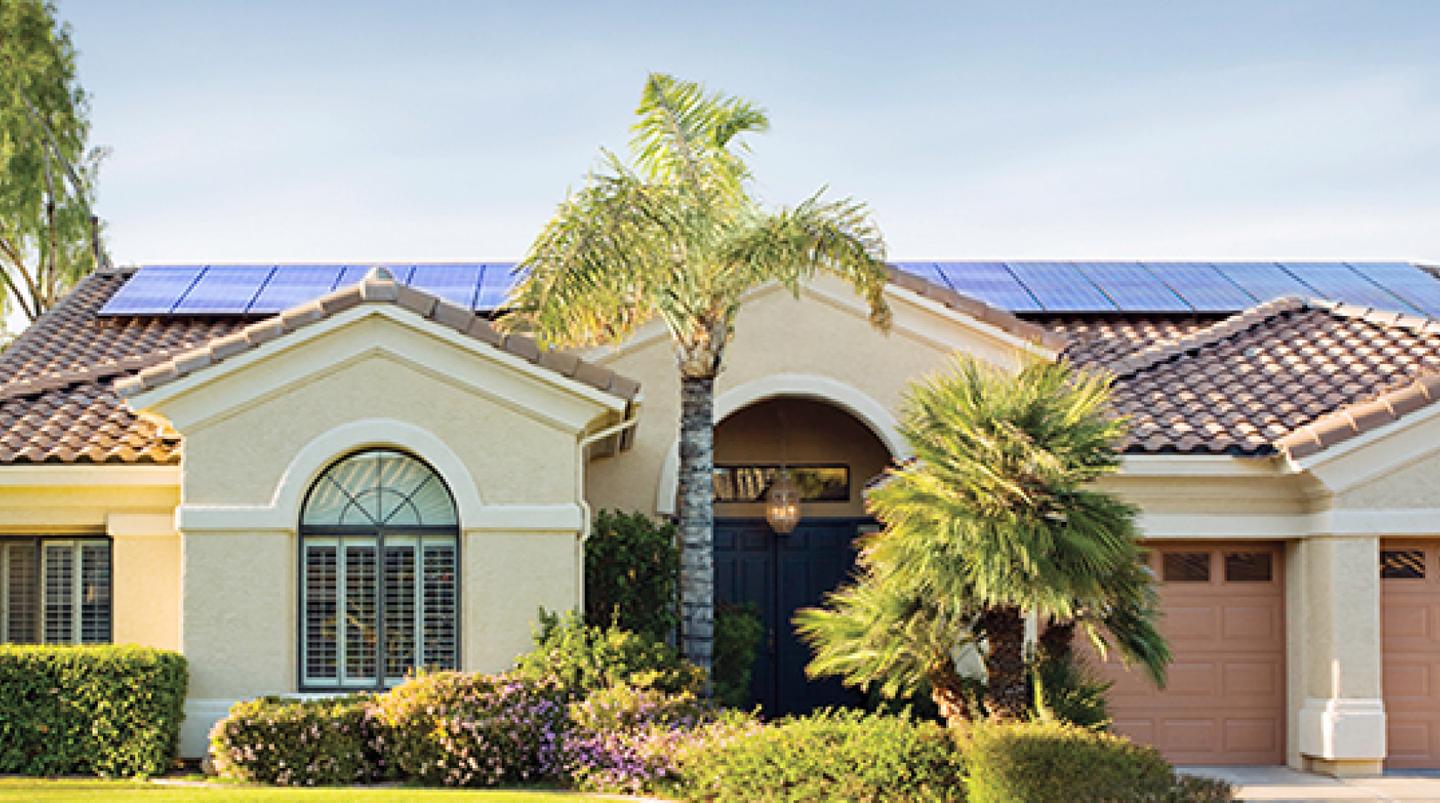 Sunrun pioneered the solar lease (PPA) in 2007, allowing homeowners to go solar for $0 down. Solar leasing has quickly become the most popular way of helping homeowners reap the benefits of solar energy.1 It gives you the same dependable power as solar ownership, but with the added benefits of a professionally managed and maintained system, daily monitoring, and a solar production guarantee.
With Sunrun's solar lease, you'll be able to lock in dependable, predictable energy rates, long-term savings and clean, renewable energy for up to 25 years.
Total Peace of Mind
A solar lease will typically include maintenance and repairs, system monitoring, insurance, and a roof penetration warranty. When you sign up for Sunrun's solar lease (PPA), you're completely covered with our worry-free, comprehensive warranty.
Our warranty covers up to 25 years of proactive monitoring, maintenance, free equipment replacement and system repairs, full insurance coverage and an industry-leading roof penetration warranty. That's years of solar savings, 0 maintenance required.
If you're asking yourself, "But what if I move?" don't worry, we've got that covered too. In fact, we have a whole team standing by to help you sell your solar home and transfer your contract to the new owners.
Guaranteed Solar Energy Production
With a power purchase agreement, you pay for the power, not the panels.2 Not only do we install and maintain your solar system, we also guarantee its performance, which is measured by the energy your solar system produces. Sunrun guarantees your new solar system will never operate below 95% of the estimated energy output. If the sun refuses to shine, or something breaks, and your panels don't produce the electricity we promised, you receive a refund for the difference.*
But it gets even better—you'll also get to keep the extra energy your system produces. We don't charge you for this extra power like some companies. We also guarantee to insure your roof and that it will stay watertight for 10 years. Click here to learn more about our solar guarantees.
Solar Lease vs. Solar Power Purchase Agreement (PPA)
Depending on where you live, you will have to either sign up for a solar lease or solar power purchase agreement (PPA).3
Solar Lease: You pay a fixed monthly amount to use the energy generated by the solar system on your roof.
Solar PPA: You pay a fixed price per kWh for power generated by the system. In most cases, your monthly bill will rise or fall with the amount of power your system produces.
Solar Lease (PPA) Advantages
1. Affordable and Flexible. With a solar lease (PPA), you don't have out of pocket expenses on Day 1.
2. Worry-Free. Pay for the power, not the panels. Enjoy the benefits of solar and leave the daily monitoring and maintenance to us.
3. Bill Control. Electricity costs keep rising, but with Sunrun you lock in 25 years of electricity at a low, predictable rate to maximize your energy savings.
Solar Savings for $0 Down
Solar can help you offset these costs with clean, renewable energy. For as little as $0 down, you can go solar and protect yourself from ever-rising utility rates.5 We take care of everything while you sit back and watch your savings start rolling in.
Ready to go solar? Contact us today.