Solar Financing Companies
Sunrun created the first residential solar power purchase agreement.
Sunrun Co-founders Edward Fenster and Lynn Jurich wanted to make solar power easy and affordable for homeowners. In 2007, they created the first solar power purchase agreement (PPA).
Before then, the high price for a solar system had been holding many homeowners back from switching to solar power. Systems can cost anywhere from $15,000-$29,000 for an average system of 4kW to 8kW.1 But, with a solar financing company like Sunrun, the upfront cost can be very low.
Solar financing companies used to only focus on commercial projects.
Before 2007, it was expensive for homeowners to go solar. Solar financing companies focused only on commercial scale projects. It was much more complicated to figure out solar financing for the smaller, residential scale.
Ed and Lynn worked with regulators, lawyers, tax investors and solar installers to create the first affordable solar financing option for homeowners. Sunrun became the nation's first solar financing company to offer residential power purchase agreements.
Sunrun is the largest dedicated residential solar company in the U.S.
Sunrun is the nation's leading dedicated residential solar company, serving 22 states plus D.C. and Puerto Rico, with more than 240,000 customers.
Every 6 minutes, a Sunrun system is installed on a home
Sunrun focuses exclusively on residential solar, creating a custom system design to maximize your production
Sunrun makes going solar easy and affordable for homeowners.
Sunrun purchases and installs the system for you
Sunrun takes complete care of the system for up to 25 years, including monitoring, repairs, insurance, and a performance guarantee
You pay for the electricity, just like you pay your utility today


With Sunrun, going solar is about electricity, not equipment. But if you want to own your system, we do that too.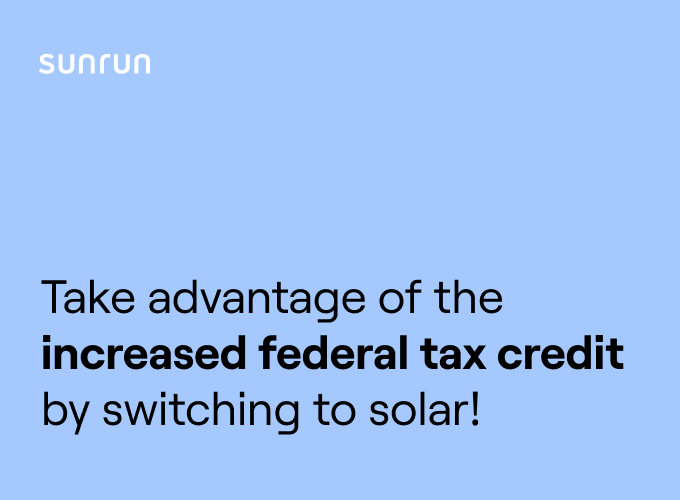 See if you qualify for the
26% federal tax credit
1 GTM research - U.S. Solar Market Insight Report