Hawaii Electric Light Company (HELCO)
Hawaii Electric Light Bill Too High? Maybe It's Time to Create Your Own Energy at Home
Learn How to Lower Your Hawaii Electric Light Bill with Solar Panels & a Home Battery
Studies have shown residents in Hawaii pay more than 200% for their electricity use compared to people living in other U.S. states.1 The good news is, home solar system prices have reached an all-time low in America2, and installing rooftop solar panels today is a move that could save you thousands of dollars in electricity bills over the next 25 years3* while powering your home during outages.
With a solar plan with a home battery from a company like Sunrun, you'll forget about rising electricity rates, and you'll also help take a load off the environment by reducing your carbon emissions. Before we talk about how solar energy is a smart way to power your home with clean, renewable, and free energy; let's go through who Hawaii Electric Light is, as well as the things they're doing to keep your community and the environment in the best shape possible.
Who Is Hawaii Electric Light and How Many Customers Do They Have?
The Hawaiian Electric Industries — Hawaiian Electric Company, Maui Electric Company, and Hawaii Electric Light Company — are the largest suppliers of electricity services in Hawaii. To date, they deliver power to 95% of the state's residents on the islands of Oahu, Maui, Lanai, Molokai, and Hawaii Island. Out of this percentage, Hawaii Electric Light provides electricity to more than 85,000 customers in Hawaii Island (Hilo, Kona and Waimea).4
Not a Hawaiian Electric customer? find your HI electric company.
10 Energy-Saving Tips for Hawaii Electric Light Customers5
Replace your regular bulbs and compact fluorescent lights with LEDs. LEDs offer you around 10 times higher energy efficiency vs. regular bulbs and are twice as efficient vs. CFLs.
Turn your thermostat down a couple of degrees. An ideal money-saving temperature is around 78 degrees when you're home, and 85 degrees when you're out.
Use fans instead of your A/C for your cooling needs whenever possible. By using two floor or ceiling fans to cool your home instead of your air conditioner for only 4 hours per day, you could save up to $345 on electricity costs each year.
If you suspect your home has air leaks, a DIY home energy checkup can help you pinpoint some of the easier areas to address before reaching out to a professional. Check out this simple guide for a DIY home energy audit.
Increase your energy savings by plugging your non-basic electronics into power strips and turn the strip off when you're not using them.
Consider washing your clothes in cold vs. hot water. Switching from a warm to cold cycle for just two laundry loads each week could save you around $70 per year.
Air dry your dishes instead of using the heated drying setting on your dishwasher and save up to $33 each year
Install motion sensors inside and outside your home. These are relatively inexpensive devices which could reduce your energy costs by up to 40%.
Consider upgrading your old devices and appliances to energy-efficient ENERGY STAR® models and get up to 40%-greater energy efficiency.
Limiting how often and how long you open your refrigerator will save you energy and protect your appliance, too. Do the same when opening your oven while cooking or baking. Besides, when your oven is closed, this will also help speed up your cooking time.
There's no doubt all these tips are simple and relatively low-cost ways to save on your electricity bill. Yet, if you truly want to boost your home energy savings and reduce your carbon emissions — while protecting yourself from power outages — installing a home solar system with a battery will benefit you, your family, and your community in more ways than one.
Why Go Solar in Hawaii?6
At Sunrun, we work hard to make solar power affordable to more Hawaiians day after day, because we believe there's a better, cleaner and less-expensive way for families to power their homes. Need proof? Here are 10 facts:
Solar could save you thousands of dollars on your future billing cycles.*
Solar protects you against unpredictable electricity rates for years to come.
Solar reduces your carbon emissions, a major contributing factor to extreme weather.
Solar is a free and renewable energy resource, unlike fossil-based fuels such as coal and natural gas.
Home solar systems work year-round. Yes, even on cloudy days!
Solar can be stored for later use with a home solar battery like Brightbox™ to keep your devices and appliances running in the event of a power outage, or at night, for approximately 8 to 12 hours.** Besides, with Brightbox, you'll be able to run your power-hungry appliances without being tied to Time-of-Use rates schedules to save money.
Buying solar panels in Hawaii may increase your property value from 3 to 4%7
Home solar systems are designed to last 30 years or longer8
Solar creates thousands of good American jobs9
As a Hawaii solar customer, you'll be eligible for attractive solar incentives. Like the nation's best solar power tax credits, as well as a property tax cut and an excellent 30% federal tax credit if you purchase your home solar system.10
How Does Hawaii Electric Light Calculate Your Solar Bill?
Each month, Hawaii Electric Light will measure the difference between the kilowatt-hours your panels generate and the electricity you consume from the grid. And, if your system produces more energy than you need, depending on the customer renewable program you're enrolled in, Hawaii Electric Light could issue you a bill credit for the excess kilowatt-hours you exported back to the grid. View the full list of Hawaii Electric Light's customer renewable programs.
The Hawaiian Electric Industries Commitment to Your Community and the Environment
Hawaiian Electric Company, Inc and its subsidiaries, Maui Electric Company, and Hawaii Electric Light Company have long recognized how important environmental and energy conservation are. That's why they're actively engaged in projects aimed to preserve and protect Hawaii's unique habitats.
Here are some of the things the Hawaiian Electric Industries are doing to ensure your community and the environment stay cleaner, healthier and safer:
Committing to Hawaii's Clean Energy Initiative to reach the state's 100%-clean-energy goal by 204511
Offering customers free informational material to help them manage their electricity usage; which is available online, inside Hawaiian Electric Industries customer service locations and at various community events and venues.12
Volunteering in numerous community workdays during the year to preserve and protect lands, oceans, wildlife, and cultural sites. From removing invasive plants and trees to beach cleanups and native tree planting, the Hawaiian Electric Industries' volunteers contribute hundreds of hours of service to ensure these valuable resources can thrive for many generations.12
Providing qualifying low-income households with a one-time credit to offset their annual energy costs through the Low-Income Home Energy Assistance Program (LIHEAP) federal program.13
Implementing a Special Medical Needs program, designed for customers dependent on life support equipment or that have increased heating or cooling needs due to medical conditions so they can qualify for lower electricity rates.14
Boosting the use of electric vehicles in Hawaii by installing fast chargers across Oahu, Maui County, and Hawaii Island; and by also offering customers special electric vehicle rates so they can charge their EVs at a lower cost.15 See if an EV is right for you.
The Time To Go Solar is Now
Sunrun is the nation's largest residential solar and battery storage company providing clean, reliable electricity to households with little to no upfront cost. We're here for you every step of the way from design and installation to maintenance. Plus, you receive predictable pricing and energy security for 25 years or more. 
If you would like to go solar, and protect yourself from rising electricity rates and potential long term outages in your area, contact Sunrun today. Get a free quote, see if you qualify. 
Go solar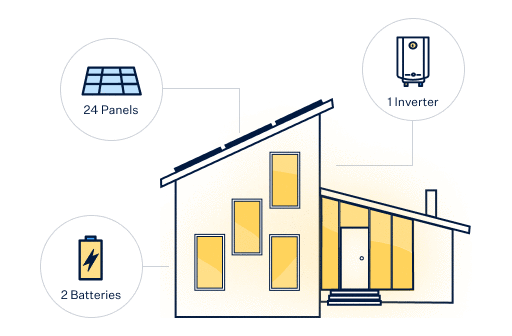 Take control over rising energy costs
Get your system size and battery details
Learn about the incentives in your state