Kauai Island Utility Cooperative (KIUC)
KIUC Bill Too High? Going Solar with Sunrun Will Put You in Control
Learn How to Lower Your Kauai Island Utility Cooperative Bill with Solar Panels & a Home Battery
According to recent data, home electricity rates in Hawaii are more than twice as high than in other U.S. states.1 Fortunately, the price of solar continues to fall in the country2, and switching to solar energy, today is one of the best ways to take control of your electric bill — and potentially save thousands of dollars during the next 25 years*3 — while effectively reducing your carbon emissions.
With a home solar battery system from a company like Sunrun, you won't just gain energy independence and boost your energy savings, you'll also have reliable backup power during an outage. But before we discuss the benefits of solar, let's go through who KIUC is, as well as the things they're doing to tackle extreme weather and protect the communities and the environment of the Hawaiian Islands.
Who Is KIUC and How Many Customers Do They Have?
Kauai Island Utility Cooperative is one of the country's newest electric cooperatives — and the only electric cooperative in Hawaii. KIUC works as a not-for-profit organization, owned by its members and controlled by an elected board of directors. To date, Kauai Island Utility Cooperative delivers electricity to more than 33,000 homes and businesses on the island of Kawai.4
Not a KIUC customer? Find your HI electric company here.
7 Tips to Save Money on Your KIUC Electric Bill5
Set your thermostat to 78 to 80 degrees when you're home, and 5 to 10 degrees warmer when you're out. Or better yet, upgrade to a smart thermostat so it can adjust your cooling patterns automatically depending on if you're home or not.
Weather-strip your doors and windows, so the warm air outside stays out, and the cool air inside stays in. If you think your home has air leaks, a DIY home energy checkup can help you pinpoint some of the easier areas to address before reaching out to a professional.Check out this simple guide for a DIY home energy audit.
Use ceiling or floor fans instead of your air conditioner whenever possible. Fans consume around 90% less energy than a central AC system.
Replace your regular light bulbs with energy-efficient LEDs. LEDs give you the same amount of light as regular bulbs, but use up to 75% percent less energy and last up to 10 times longer.
Wash your clothes in cold vs. hot water. Switching from a warm to cold cycle for just two laundry loads each week could save you approximately $70 per year.
When drying clothes, always clean your dryer's lint filter after each use and don't over-dry your clothes. This could save you a considerable amount of money each year and help you maintain your clothes in better shape for a longer time, too.
Consider upgrading your old devices and appliances to energy-efficient units and get up to 40% higher energy efficiency. Always look for the ENERGY STAR® label to ensure you'll save money with your new electronics.
For more energy-saving tips go to TogetherWeSave.com
Finding ways to save on your electricity bill isn't really complicated, yet, if you truly want to gain control over your finances when it comes to home electricity — while protecting yourself from power outages — installing a home solar battery system will give you, your family, and your community many benefits.
10 Reasons to Go Solar in Hawaii6
At Sunrun, we work hard to make solar power affordable to more Hawaiians day after day, because we believe having access to clean, reliable energy improves people's lives in many ways.
Solar could save you thousands of dollars on your future billing cycles.*
Solar lets you enjoy lower electricity rates in Hawaii for years to come.
Solar reduces your carbon emissions, a contributing factor to extreme weather.
Solar is a free and renewable energy resource, unlike coal and natural gas which are fossil-based.
Home solar systems work year-round. Yes, even on cloudy days!
Solar can be stored for later use with a home battery service like Brightbox™ to keep your devices and appliances running during a power outage, when electricity rates are higher, or at night — for approximately 8 to 12 hours.**
Buying a home solar system in Hawaii might boost your home's value up to 4%.7
Solar panels are designed to last 30 years or longer.8
Solar creates thousands of good American jobs.9
As a Hawaii solar customer, you'll be eligible for some attractive solar incentives. These incentives include the nation's best solar power tax credits, along with a property tax deduction and a fantastic 30% federal tax credit if you choose to purchase your home solar system.10
How Does KIUC Calculate Your Solar Bill?
Using a bi-directional meter, Kauai Island Utility Cooperative will measure the difference between the kilowatt-hours your system produces and the electricity your home consumes from the grid. This difference is called Net Energy Metering or NEM, and it's used to calculate your solar bill.
And when your panels create more energy than you need, the excess will be exported back to the electric grid, and KIUC will give you a credit on your next bill.11
KIUC's Commitment to Your Community and the Environment
Here are some of the things Kauai Island Utility Cooperative is doing to keep Kauai's tropical paradise cleaner, healthier, and beautiful.
KIUC is making significant progress toward their goal of using renewable resources to create 70% of Kauai's power by 203012, and they're also committed to Hawaii's Clean Energy Initiative to reach the State of Hawaii's 100%-clean-energy goal by 2045.13
KIUC provides qualifying low-income households with a one-time credit to offset their annual electricity costs through the Low-Income Home Energy Assistance Program (LIHEAP) federal program.14
KIUC has been working collaboratively for years with U.S. Fish and Wildlife (USFWS) and the Hawaii Department of Land & Natural Resources to protect Kauai's endangered seabirds. To date, KIUC has spent more than $26 million on this noble effort.15
KIUC funds the "Save Our Shearwaters" program, created to rehabilitate native Hawaiian species. Learn the details about the "Save Our Shearwaters" program.
KIUC is accelerating the adoption of electric vehicles in Kauai by sharing resources to people who are considering buying an EV and by also offering customers special rates to charge their EVs for less money. Find out if an EV in Kauai is right for you.
The Time To Go Solar is Now
Sunrun is the nation's largest residential solar and battery storage company providing clean, reliable electricity to households with little to no upfront cost. We're here for you every step of the way from design and installation to maintenance. Plus, you receive predictable pricing and energy security for 25 years or more. 
If you would like to go solar, and protect yourself from rising electricity rates and potential long term outages in your area, contact Sunrun today. Get a free quote, see if you qualify.
Go solar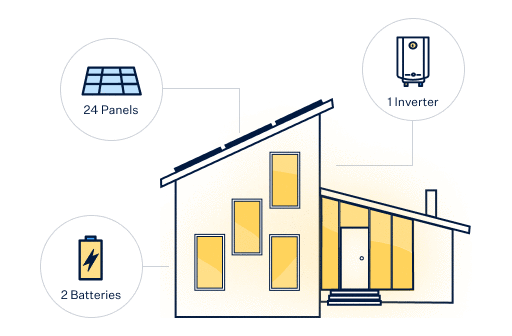 Take control over rising energy costs
Get your system size and battery details
Learn about the incentives in your state