Arizona Solar Incentives
Make the Most Out of Arizona's Solar Potential with Sunrun
#5
Arizona is one of the top five states in the U.S. for solar.1
-36%
Arizona's solar panel price drop over the last five years.1
-76%
U.S. battery storage price drop since 2012.2
Arizona is the sunniest state in the country.3 But aside from all that sunshine and the cost of solar panels and home batteries is plummeting,1,2 the Grand Canyon State also offers excellent incentives to help make your switch to solar more affordable. As the nation's leading residential solar and energy storage company,4 Sunrun can help you benefit from everything that home solar in Arizona has to offer.
Arizona's Tax Incentives and Solar Rebate Programs*
Incentive

Value

Inflation Reduction Act (IRA)**

Qualified homeowners with home solar could be eligible for a tax credit of up to 30% against the cost of the system.

Arizona Residential Solar Energy Tax Credit

The 25% state solar tax credit is available for purchased home solar systems in Arizona. (Max. $1,000 personal income tax reduction.)6

Energy Equipment Property Tax Exemption

Property tax exemption on the added home value from the rooftop panel system.7

Solar Equipment Sales Tax Exemption

5.6% home solar system state sales tax exemption.8,9

Find out If You Qualify for Arizona Solar Incentives
Learn the Details of Arizona Solar Incentives
Buy new solar panels in Arizona and get a 25% credit of its total cost against your personal income taxes owed in that year.6
The maximum credit in a taxable year can't be more than $1,000, regardless of the number of solar energy devices installed in the same home.6
Add a new solar panel system to your AZ home and your property taxes won't go up.7 Installing a system may also help boost your home value.
When you buy a new solar power system in Arizona, you won't pay any sales taxes.8
The exemption is for 100% of the sales tax on eligible equipment, like residential rooftop solar panels and solar water heaters. This can save you 5.6% right off the bat.9
We're One of the Best Solar Installers in Arizona
On top of all these solar incentive programs, our solar plans and home battery services in Arizona start at $0 down. You live in the perfect spot to team up with an Arizona solar company like Sunrun to create and store your own clean and renewable home energy.
Whenever you're ready to take the next step, use our Product Selector or request a quote to get one-on-one service from our expert Solar Advisors. Sunrun's solar and storage quotes are always free.
Go solar today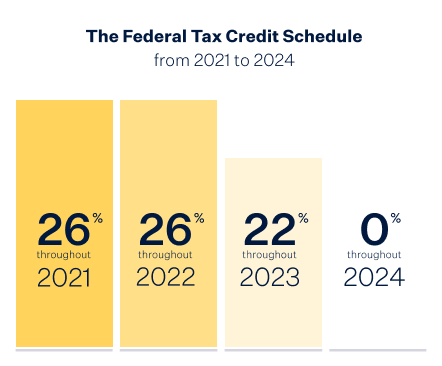 Learn about the federal tax credit
Find your ideal system and battery
Get your cost to make the switch
DISCLAIMERS:
*Customer's ability to monetize rebates, incentives and tax credits depends on several factors, including, without limitation, continued state subsidization of these policies, the applicable Sunrun product type and whether a customer purchases or leases a home solar system from Sunrun.
**We recommend contacting a tax professional to most accurately determine the impact tax credits may have on your federal taxes.