Solar System Options & Benefits: Solar Lease vs PPA vs Purchase
If you're looking to go solar and save big on the inevitable rise in electricity rates, then you have a few Sunrun options. For two decades, we offer options that will help save the planet from harmful greenhouse gases - and save on your wallet, too. Our government's short-term energy outlook indicates that electricity bills are rising 3% every year.1 Beat rising energy rates with solar energy, find out which solar financing option works best for you. 
Buy or Lease? Determine What Solar Plan is Best
To buy or lease? That is the question. Explore your Sunrun™ solar power options below and figure out what's best for you, your family and your home. Compare the costs and benefits. And if you still have questions? Give us a call. Our solar technicians would be happy to walk you through everything from A to Z.
Solar Lease for Little to $0 Down
What, exactly, are the benefits of a solar lease? For starters, for as little as zero down you lock in a low, predictable rate that will protect you against rising utility prices for two decades.
The next best thing? You avoid doing your own maintenance and repairs. Our service package and system performance guarantee can't be beat with BrightSave Monthly™. In other words, when you lease with Sunrun™ you can set it and forget-about-it. We do all the work and you sit back and collect savings that would otherwise go to your local utility.
Once you make the switch to solar we install the panels, maintain your system and provide 24/7 monitoring. We also insure your roof, and guarantee that it will stay watertight for 10 years. We design a custom system to meet your needs - with the best technology - and take care of your system for two decades.
Get the same dependable power with full ownership and a professionally managed and maintained system for 20 years.
Save More with a Power Purchase Agreement (PPA)
Perhaps you don't like the idea of ownership, but you like the idea of never getting an electricity bill for 240 months. That's 20 years. If this option is more your speed, consider getting a PPA. A PPA is when you pay a solar company a fixed price per kWh for power generated by the system. This payment is typically lower than what utility companies charge.
When you make a powerful downpayment, the benefits of a solar PPA are pretty clear. We give you the power right back with a hassle-free plan that reduces monthly frustration whenever that utility bill arrives.  
That's what you get with Sunrun's BrightSave Prepaid. Make a one-time upfront payment and lock in 20 years of power at a rate that's less than your utility bill today. This payment allows us to transfer low up-front pricing to you that includes the benefits of solar tax credits. You don't have to fill out tax forms and no worrying about what is and what is not deductible.
BrightSave Prepaid comes with a standard 95% system performance guarantee.3 Rain or shine, we guarantee your energy production for savings you can count on.
Just like leasing, once you make the switch to solar we install the panels, maintain your system, and provide 24/7 system monitoring. We also insure your roof and guarantee that it will stay watertight for 10 years.



If you want to learn more about the difference between a solar lease and a solar PPA, check out our page here.
Buying Your Home Solar System
We get it. Many people like to own. Purchase your own system and own your own savings for life with Sunrun's BrightBuy. That's a lot of "owns." But for people who love that, the benefits are clear.
One of those benefits? It increases the value of your home.4  The next reward? No monthly solar payments; just clean energy and a smaller electric bill. You can offset 100% of your energy bills and protect yourself from future electricity price increases. No more worrying about rising energy costs. No more surprise hikes in your bill because your turned on the air conditioner to keep from baking, or you used that portable electric heater because your hands were freezing.
And purchasing your system means you get a federal solar tax credit. Created to encourage and reward people who use alternative energies, the federal solar tax credit gives you a dollar-for-dollar reduction against your federal income tax. The 26% tax credit applies as long as the solar energy system is installed by December 31, 2022. Starting in 2023, the value of the tax credit will step down to 22%. After 2023, the tax credit for residential solar ends..5
Sunrun offers the best-in-class equipment and the highest quality workmanship backed by 20 years of residential rooftop solar experience. When your purchase, you also get an industry-leading roof penetration warranty. We protect our customers, not because we have to, but because we want to.
Ownership With No Upfront Cost
For those that don't want to pay the cost of full ownership upfront, you can finance your system purchase with low, fixed monthly payments and a competitive interest rate. Keep the tax credits, build equity in your home and begin saving money when you choose Sunrun's BrightAdvantage plan.
Sunrun offers best-in-class equipment for all our plans and the highest quality workmanship, backed by 20 years of residential solar experience.
Whatever You Choose - Sunrun Does It All
Don't forget that Sunrun will tailor a solar system to meet the needs of your home, property, and lifestyle. We'll take care of any paperwork or permits, and handle all aspects of installation.
Our ultimate goal is satisfied solar customers across America, and a cleaner planet. And we are doing this, one rooftop at a time.
References:
3. Sunrun guarantees 95% of the estimated output during the initial term of the agreement for BrightSave Monthly (PPA & Lease) and BrightSave Prepaid (PPA & Lease), and BrightBox (excluding HI).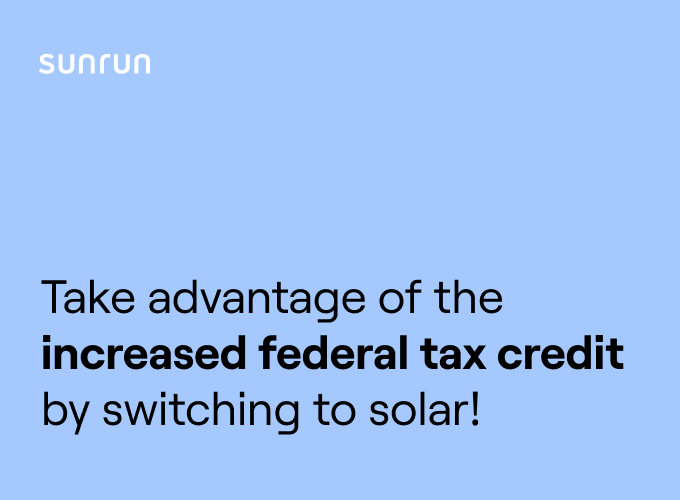 See if you qualify for the
26% federal tax credit