Solar lease - Solar Financing
Purchasing a system can cost anywhere between $15,000 and $29,000.1 But there are solar panel financing options available to make solar energy more affordable for homeowners.
Solar Lease / PPA - This is the most common way for homeowners to finance solar energy. With solar leasing or a power purchase agreement, a third-party solar financing company, such as Sunrun, buys and takes care of the solar panels; you pay a fixed rate for the solar electricity the system generates. This way, you skip the upfront cost and lock in low rates for solar electricity for up to 25 years. Sunrun pioneered this type of residential solar financing in 2007 and we are the best at it today. We offer two plans:
BrightSave Monthly - lets you pay your lease or PPA as you go.
BrightSave Prepaid - lets you pay your full lease amount up front, which means no monthly bill from Sunrun.
Loans and Mortgages - You can also take out a solar loan or an energy efficiency mortgage from the federal government to finance your solar system. Fannie Mae and the U.S. Environmental Protection Agency offer home loans for solar systems through their Energy Star program. With loans or mortgages, you'll still have to pay the complete upfront cost of the home solar system. At Sunrun, we offer two kinds of purchase plans:
BrightAdvantage - if you finance it with a loan
BrightBuy - if you purchase the system outright yourself
PACE programs - Some states are also establishing public solar financing programs, known as Property Assessed Clean Energy programs. Under a PACE program, the city loans the homeowner the cost of the system and the homeowner pays the money back through higher property taxes.
Learn more about Sunrun's plans and services.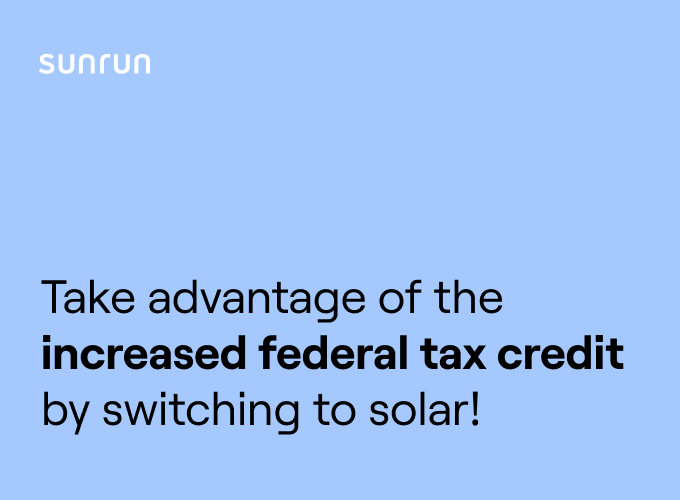 See if you qualify for the
26% federal tax credit