Save with a Solar Loan for Your Home
Sunrun now offers solar loans in select areas
As electricity rates keep climbing, the cost of solar keeps dropping, giving you more and more options to power your homes with clean, affordable and abundant, sunshine. Whether you want to buy your solar system, finance the purchase with a loan or stick with a traditional solar lease, Sunrun's goal is to make going solar easy and affordable for homeowners everywhere.
Your solar, your terms
Our solar loan, called, Sunrun BrightAdvantage, allows you to finance the purchase of your solar system through our bank partners. This means fast approvals, low fixed interest rates, no upfront payment and no penalties associated with traditional solar loans, all while taking advantage of solar tax credits and rebates.
Before Sunrun introduced BrightAdvantage, paying cash for a solar system meant steep upfront costs, ballooning payments, harsh penalties and exceedingly high borrowing costs. But because Sunrun is able to leverage its position as a leading solar company to secure financing, if you want to buy your panels you can get in on a sweet deal. Loan options facilitated by Sunrun are unsecured(does not require you to use your house as collateral), free of any penalties or hidden provisions, provide multiple term options at very competitive borrowing costs. Giving you the freedom to choose going solar on your terms.
Owning your solar means that your electricity rates are your own, and that you never have to worry about spiking rates again. Find out more, and call today for a quote.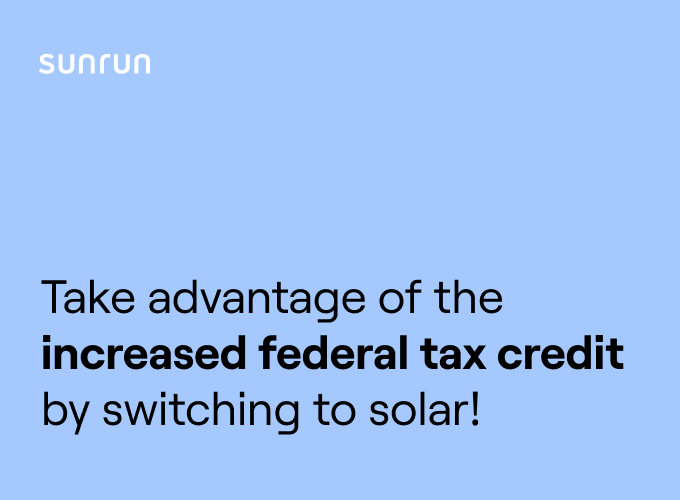 See if you qualify for the
26% federal tax credit