Sunrun Commits to Affordable, Clean Energy for All
This week, Sunrun pledged to install at least 100 megawatts of solar on affordable housing - where 80% of tenants fall below 60% of the area median income - during the next decade in California, kickstarting a major expansion of our low and moderate-income solar initiatives.
More than 11 million households in the United States are severely cost-burdened and pay more than half their monthly income on rent and utilities. Going solar makes household electricity more affordable for these families, and Sunrun's solar-as-a-service makes this easy and allows people to go solar from zero upfront cost.
Often the most harmful effects of climate change and pollution are felt by the most vulnerable in our communities. The NAACP estimates that 68% of African Americans live within 30 miles of a coal-fired power plant and a report by the Clean Air Task Force found that close to 2 million Latinos live within a half mile of existing energy infrastructure.  As a result of proximity to pollution, these communities face elevated health risks: an African American or Latino child is twice as likely to die from an asthma attack as a white American child. 
Clean and affordable solar energy is an inherent right to all people, not a privilege of the wealthy. I'm proud of Sunrun's commitment to expand solar access to low-income communities and our leadership in democratizing solar. This is one of the recommendations in the report we published earlier this year, Affordable, Clean and Reliable Energy: A better system created by the people, for the people, outlining a more resilient, equitable energy future.
We have also introduced a discounted electricity rate to low-income residents in Nevada, supported by the state's RenewableGenerations program and other states, such as New York, Illinois, Massachusetts and Connecticut are building similar incentive programs to expand access to home solar. These initiatives build upon the work we started with GRID Alternatives six years ago, which has installed 2.5 MW of solar for 260 families.
This week San Francisco is hosting the Global Climate Action Summit. Sunrun is a proud supporter of the Summit and taking action to improve the health of our planet.  I recorded this video with Climate One sharing why I felt climate action was important. Climate One is inviting everyone to record their own videos and share on social media using hashtag #LetsTalkClimate.
Power Forward
Ed Fenster
Sunrun Executive Chairman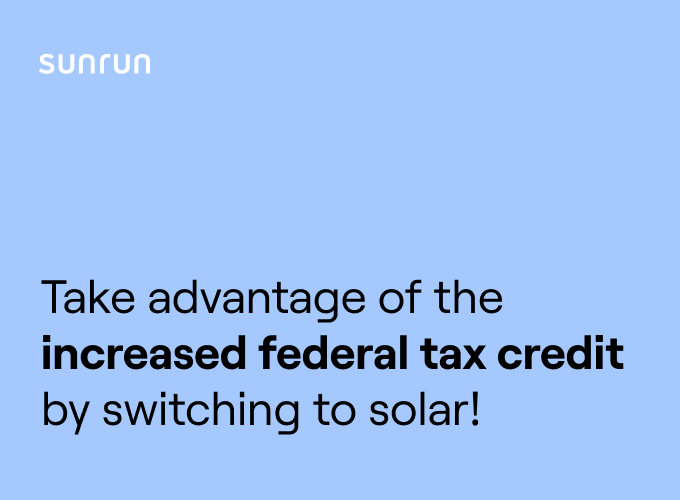 See if you qualify for the
26% federal tax credit