March 31, 2016
Dear Shareholders,
Inevitability of solar
Nine years ago we had a simple vision. We thought rooftop solar should be a mainstream product, just like cell phones or broadband internet, and we wanted to help create a planet run by the sun. With our solar as a service business model, we put the power of choice in consumers' hands by giving them access to money-saving technology without high upfront costs. Sunrun designs, installs, monitors, maintains and insures the system on the homeowner's roof at no cost to the homeowner and consumers love it. We have already saved our 100,000+ customers across 15 states over $100 million dollars but solar as a service is just the first element of a modern, customer-centric energy infrastructure for America.  Through continued business model innovation, we intend to deliver on the promise this holds for a better customer experience and lower-cost grid. 
Looking back, our original vision is being realized faster than even we expected. GTM Research and the Solar Energy Industries Association announced that additions of solar capacity exceeded natural-gas capacity growth in 2015. In total, solar PV installations in 2015 reached 7.3 GW, the largest total ever and 16% above 2014. This amount also represents over eight times the capacity installed five years earlier. The residential solar market alone grew 66% year-over-year and represents 29% of the U.S. solar market. Despite the considerable growth, the industry has even more room to grow, with systems currently installed on less than 1.5% of single family homes in the United States.
Sunrun's growth was above the market's rate in 2015, and 2016 will be a year well suited to our strategy. As industry fundamentals continue to improve the value proposition of distributed solar, we believe that our consistent focus on customer net present value (NPV), as well as careful management of liquidity, positions us well towards our goal to deliver the industry's most valuable and satisfied customer base.  With our strategy, we are in a position to again double the scale of our Sunrun-built channel in 2016.
The inevitability of solar was further powered by three recent events. First, Congress extended the federal solar tax credit, which will make residential solar competitive in 40 states by 2020, under current NEM/rate conditions, assuming business as usual rates and projections, according to GTM Research (U.S. Residential Solar Economic Outlook report).. Second, California, the largest solar market, made it clear that uncapped net metering and the enablement of the two-way flow of energy on the grid will be a core component of the modern energy infrastructure the state intends to build. This same approach is reflected in net metering decisions in 40 other states today. Finally, the historic climate agreement that occurred in Paris in December will drive the global phase-out of fossil fuel generation over decades.
The opportunity in front of Sunrun and the broader rooftop solar industry remains enormous: electric utility revenue is $400 billion dollars per year.  Solar represents just the first wave of innovation that will drive value creation from the centralized grid to its edge.  Projections for required utility capital investment in our aging transmission and distribution infrastructure range as high as $1 trillion over 20 years, costs that will be passed onto consumers in the form of rising rates.  But many of these rate increases will be unnecessary if we mobilize private capital for the build-out of a consumer-driven, localized grid anchored in communities with progressively less expensive rooftop solar. 
The aggregate benefit of distributed solar is becoming clear through higher penetration. The New England grid operator recently reduced the amount of generating capacity it requested due to anticipated reduction in load from distributed solar – and the result was lower costs for all ratepayers.
Consumers want an energy future where they can choose solutions for themselves and where energy costs them less, not more.  And we believe that as a driver of change, consumer choice combined with technological progress is a highly durable trend. 
Consistent execution
In 2015, we executed effectively against the market opportunity in front of us. Our Sunrun-built channel entered five markets in 2015: Connecticut, Maryland, New Hampshire, Pennsylvania, and South Carolina. In Nevada, a state that we entered in 2015, the utility regulator adopted net metering policies with discriminatory rates for solar homes that eliminated the savings potential for solar.  Although we will continue to service our existing customers, we made the decision to end new installations.  We believe this outcome will be an outlier against the trend towards modern energy infrastructure described above, but Nevada also offers a case study in how quickly and efficiently we can scale our direct business when entering a new market with pent-up consumer demand. Nevada volume grew from almost zero to reach about 20% of Sunrun-built deployments over only a few quarters, while also becoming one of our lowest cost regions.
In 2015, we deployed 203 MW, including 68 MW in Q4.  Although we don't currently plan to enter additional states, we remain flexible to seize opportunities to maximize NPV and grow our business.
Our scale also gives us cost advantages, particularly in our direct business, in which we have stepped up investment given the now certainty of the federal solar tax credit.  We expect to see continued benefits from this investment. However, our channel partner business remains important to us and continues to offer low fixed costs, additional scale, and the potential for nimble market level adjustments. We are focused on this channel as a contributor of NPV and cash flow. Additionally, there will always be segments of consumers in certain markets that are best served locally. Through our channel partner business and platform services businesses, we have the infrastructure to support this segment. In 2015, we saw creation costs decline 17% over the year to $3.64 per watt, and we expect that our average costs will continue to improve in 2016. 
We have maintained a steady course to maximize net present value, generating $50mm in NPV in Q4 2015. Generating net present value is only part of the picture in generating cash—we've consistently been able to monetize this NPV upfront at attractive rates through the tax equity, bank debt and securitization markets. Our tax equity runway extends into November of this year and similarly, our advance rates on debt are already locked through a similar timeframe.
What does the future hold?
Ed, Bob and I are innovators by background and this serves us well in building this business. Sunrun combines expertise in structuring finance for distributed energy assets with the consumer orientation to deliver new technologies that consumers want and love. To these pillars we are adding a rapidly-scaling platform that will reach and serve millions of American households. 
These capabilities are unique in the energy industry and provide the basis to drive business model innovation at scale in an industry where myriad technologies are poised for deployment and consumer demand for better service is deep and unmet. These are the strengths that will be required to weave together such technologies as solar, energy storage, home energy management, electric vehicles and more, to provide the savings, predictability and seamless experience that homeowners expect from leading consumer products. 
We believe one key evolution of solar as a service is the addition of home energy storage. Sunrun is at the leading edge of this, with the introduction in Hawaii of our BrightBox solar and storage as a service offering. This solution enables customers to self-supply to manage net metering constraints or, in the future, Time Of Use rates to deliver predictable, lower overall energy costs.  The solution also provides compelling economics for both customers and Sunrun today.  With attractive savings from day one and multiple financing options around this offering for the homeowner, this product reshapes what is possible on these island grids with leading solar penetration and removes barriers to our growth potential.
Looking forward to 2017, we plan to continue to reduce our costs and drive increased NPV with the focus of maintaining strong margins to enable continued growth. We will continue to innovate within our existing business model and future technology to keep building the industry's most valuable and satisfied customer base.
Our goal is to create a planet run by the sun. This isn't about capturing a small piece of the energy market; it's about changing the way we produce and consume energy and making a better future for generations to come. We've already seen solar innovation widen consumer choices and change the energy market in unprecedented ways, and this is only the beginning.
We're all going to look back and say the dramatic rise of solar was inevitable. At Sunrun we're excited to lead that charge and have you with us.
Sincerely,
Lynn Jurich
CEO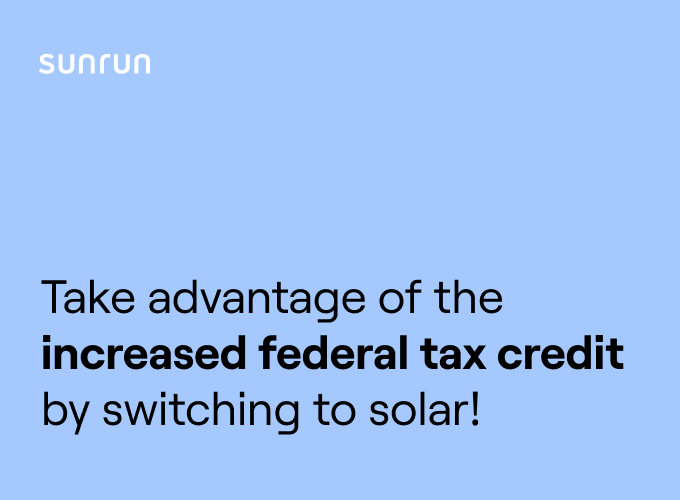 See if you qualify for the
26% federal tax credit