The Future of Energy is More Exciting Than You Think
By Mary Powell, CEO of Sunrun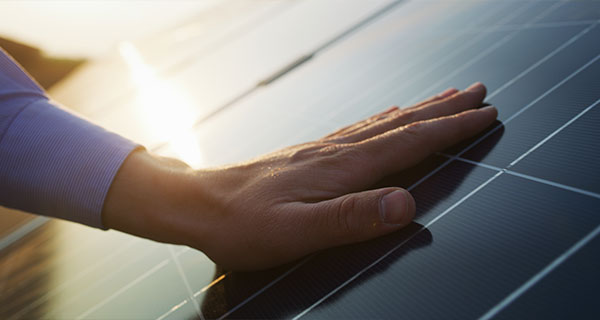 It's become nearly impossible to have a conversation about our energy system without also talking about climate change. And, as you probably already know, conversations about climate change can be a little bleak. So a lot of the people I talk to seem surprised when I speak about the future of energy in America with excitement and optimism. But I do! There are so many reasons for hope, and action. 
There's an old maxim that goes something like this: learn the rules well so you know when to break them. Over two decades working for Vermont's largest utility company (Green Mountain Power) gave me plenty of opportunity to learn the rules of traditional power. Serving as their CEO from 2008 to 2019 gave me plenty of opportunity to break them too.
One "rule" of traditional energy is that it flows in only one direction: from the power plant to your building. Since 1889, countless facilities and millions of miles worth of wires strung from poles have been installed across the country to make that work. Scientific American called the modern energy grid, "the largest interconnected machine on earth." It really is a marvel. And while I don't expect we ever move away from a grid system altogether, I can tell you that it was not built to meet the demands of today's America. There is no utility solution that offers the same level of resilience, energy independence and price stability to meet climate goals and support customers to live more comfortably in their own homes.

While at Green Mountain Power, I often referred to us as the "un-utility". We were the first to help people really take advantage of distributed renewables like solar, to help people go off-grid, and to provide shared storage devices in their homes. Among other things, this broke that first "rule" of traditional power by reversing the flow of energy. A home with solar panels, for example, will use as much clean energy as it needs and then can send any extra from the home to the grid so that clean energy can be used within the community where it was produced. Now with storage being paired with solar, it is possible to only release energy back to the grid when it is most needed, and valuable. 
These types of innovations are essential if we are going to successfully modernize our energy system to meet our rapidly evolving energy needs and hit decarbonization goals. Pushing these types of innovations has been a passion of mine for over two decades and continues to be in my new role as CEO of Sunrun, America's largest residential energy services provider.
One way we are doing that is by partnering with utilities to offer programs that allow our customers to make the most of the clean energy they're producing on their own rooftop. Nearly 90% of all greenhouse gas emissions are energy related,1 and 42% of those emissions come from decisions we make at home.2 We need to do a better job of making it easy for people to make the right decisions.
A great example is a service we offer, commonly called "virtual power plants," that allows customers to share extra clean energy from their batteries with the local grid when demand is high. Not only does that mean that more clean energy is being added to the power mix within those communities but it makes the local grid more stable as well. Our recent partnership with Ford is yet another example of innovations that expand the benefits of solar power beyond the walls of individual buildings—people can literally pull sunshine out of the air to power their homes, their cars, and their communities.

As exciting as innovations like these are, in my mind they are really closely linked to common sense. But only because we're dedicated to a worthwhile mission. At Sunrun, it's all about seeing opportunity in the context of how we can use energy as a force for good. I think if any business wants to do well, the best approach is to focus on the mission—why you exist and how you can help customers. This approach was already embedded at Sunrun before I got here and it's a game-changer. It creates a company culture where the default reaction to new ideas shifts from "no" to "let's figure out how to get to yes." And that's exactly what's needed if we're going to do what it takes to transform energy in the ways we need to.
It's happening and it's exciting. It is exactly why I'm optimistic about the future, even in the face of the challenges we're facing. I really believe there is no stopping the energy transformation that needs to happen if we embrace as much radical collaboration as possible. This shouldn't be about "us versus them." This is about our world, our neighborhoods, our homes. We can all unite behind the goal to utilize the best innovation available to rid ourselves of the drawbacks inherent in a century-old approach to energy. Cleaning up the environment doesn't have to mean sacrifice. Clean energy is abundant and we have the tools needed to harness it so pollution, scarcity, and uncertainty become things of the past.

Solar is ready. Are you?
There are plenty of myths circulating about solar, but if the question is whether or not it's worth going solar now, the answer is yes! Solar can help you save money, produce clean energy that is good for the planet, and alleviate strain on the aging grid so everyone can enjoy more reliable power. Solar energy works in the winter and when it's cloudy, it can help reinforce and protect your roof, and has an ROI timeline of less than ⅕ the lifespan of the system. So, regarding the question of whether or not now is the time for solar, we think the answer is clear.