4 Ways Electric Cars and Solar Energy Work Together
As a financially savvy, earth-conscious homeowner, you've probably thought about buying a plug-in electric vehicle, otherwise known as an EV or electric car. You're on the right track. Home solar systems and electric cars go together like peanut butter and chocolate. Together EVs and home solar help save money and the planet  in more ways than you might expect.
Here are four ways to maximize the benefits of an electric car after you've gone solar.
1. Charge it for cheap
Solar panels make owning an electric car even more affordable. How? By lowering the cost of the energy needed to charge  your car at home. When solar energy is cheaper than your utility rates, you're saving every time you charge your electric car.1 And if you ever need to charge up your car's battery using power from your utility, you could be eligible for a deep discount when you charge it overnight.2
2. Fuel on your own terms
You know the unpredictably of gas prices all too well. In the same way that solar panels protect you from volatile energy bills, electric cars aren't at the mercy of unstable gas prices.3
3. Cash in on incentives
Not only do electric cars save you money while you drive them, buying an electric vehicle comes with some sweet financial perks.To make EVs more affordable, the government offers generous federal and state tax credits of up to $7,500.5 These tax benefits won't be around forever, so take advantage of them soon.
4. Save on maintenance
Electric cars make oil changes, transmissions, and spark plugs a thing of the past. Because they don't require fuel, the only regular maintenance needed is to make sure  your tires are rotated and properly inflated.6 Not having to pay for maintenance piles on the savings—maintaining your electric car could be one-third the cost of maintaining a gas-powered car.7
When you combine Sunrun's hassle-free installation, system monitoring and performance guarantee with a low-maintenance cost-effective electric car, you're set up for a stress-free life both at home and on the road. . If you're already a  proud Sunrun homeowner, you already know how much you're saving by powering your home with solar. Going EV  is no different. It's time to drive up your savings.
Sources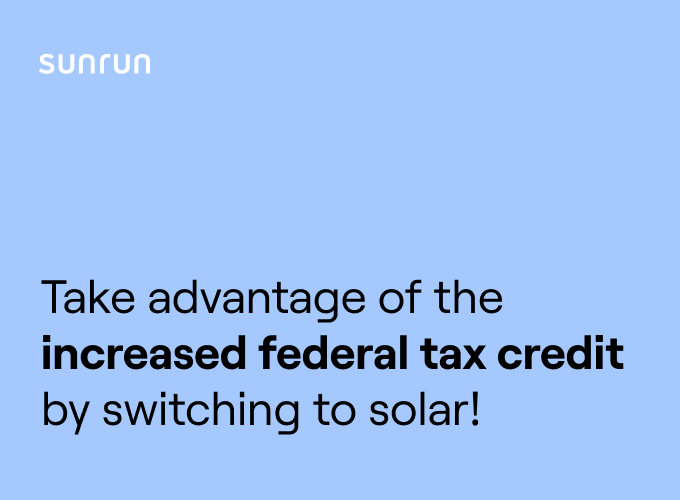 See if you qualify for the
26% federal tax credit