Five Easy Steps to Deciding if Solar is Right for You
These are exciting times when it comes to the adoption of solar energy.
In 2016 the U.S. solar market had the biggest year ever. For the first time, the power industry added more solar energy generation capacity than any other energy source, according to the Solar Energy Industries Association.
And by the end of 2017, the U.S. had installed nearly 50 gigawatts of total capacity -- which is enough to power 9.5 million homes.
Despite all this progress, many residential consumers are still unsure if solar makes sense for their home.
To help sort through any uncertainty, Sunrun has developed a checklist of issues and questions to consider when contemplating the switch to solar.
1. Size Up Your Roof
The direction, age, and pitch of your roof are all important details when considering whether or not to install solar panels.
Having a south or west-facing roof is optimal for rooftop solar, although it's still possible to produce plenty of energy with solar panels on west or east facing roofs.
A roof with pitch of 30 degrees and no obstructions (like skylights and chimneys) is also ideal.
Another important piece of the puzzle is determining if your roof is in a shadow. In other words, are there any buildings or trees getting in between the sun and your roof?
One more key question to answer is whether or not your roof is big enough. A good place to figure this out is Google's Project Sunroof, which relies on images from Google Earth. This handy site not only tells you the size of your roof, but even recommends the ideal solar installation size for your home.
2. Consider the Climate
One of the biggest misconceptions tied to solar power is the belief that you need to live in a warm, sunny climate, such as Florida or California. In fact, SEIA ranks New York, New Jersey, and Massachusetts in the top 10 for states with the highest amount of installed solar in 2016 -- states that are not particularly known for their warm and sunny climates.  And Germany, which receives a similar amount of sunlight as Alaska, leads the world in solar panel installations.
Surprisingly, solar panel output actually improves in colder temperatures. Here's why: The energy production efficiency of solar panels declines as temperatures climb between 87 and 91 degrees (temperatures that are frequently reached during summer daytime hours in many temperate parts of the United States). This means that photovoltaic solar panel production works most efficiently in colder temperatures.
If snow is a concern, it is true that panels covered in snow have a tough time producing energy, but that is a short-lived concern. The angle of panels combined with a sunlight absorbing dark color means that snow quickly melts or slides right off. Sunrun's estimated production of energy from your solar array takes into account your regional weather predictions, such as annual snow cover and cloudy days, so you'll have no surprises.  
The key takeaway here is that living in a cold place that does not receive a ton of sunlight should prevent you from joining the solar movement.
3. Look Into Regulations
Do you live in a neighborhood governed by a homeowner's association? That HOA may have regulations surrounding solar panel installation.
It is likely that there are local requirements for permits as well, whether that's from the city or county building department. Though Sunrun will handle all permitting, it's important to understand the rules and regulations pertaining to your home and neighborhood.
4. Find Out About Your Local Electricity Rates
One of the primary benefits of going solar is to shield yourself from increasing electricity bills.
While installing solar panels is a good decision no matter where you live, the specific savings that will be realized often depends on your local utility rates.
5. Explore Incentives
The transition to solar is made even easier thanks to a variety of incentives and rebates typically available to homeowners. The incentives are often provided by federal, state and local entities.
On the federal level, for instance, is the federal solar tax credit, which gives you a dollar-for-dollar reduction against your federal income tax. Currently, the residential federal solar tax credit gives you a dollar-for-dollar reduction against your federal income tax equal to 26% of the final cost of solar energy systems you install on your home. This benefit exists through December 31, 2022. In 2023 the residential tax credit will step down step down to 22%. In 2024, the tax credit for residential solar ends.
State and local rebates are often available as well.
Sunrun Makes It Easy
At Sunrun, we make going solar simple. We answer all of your questions up front -- once you decide to go solar, we do all of the heavy lifting. Sunrun will take care of everything from scheduling to permitting, so you can rest easy knowing you choose the right solar company.

Sources: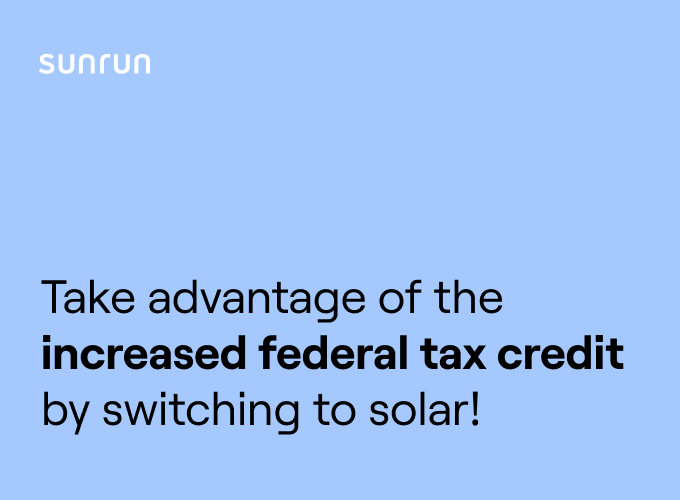 See if you qualify for the
26% federal tax credit