Home solar helps homes and communities weather increasingly powerful winter storms
Blizzards are leaving more communities in the dark. Solar keeps the lights on.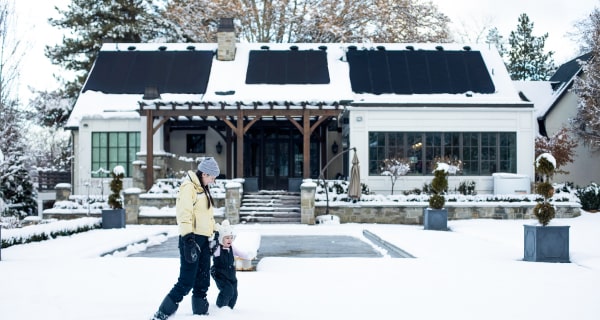 Winter storms grow stronger, and hit hard in cities and states where they used to pose no threat, causing damages and harm as far south as the Texas-Mexico border.1

Customers are being hit with spiking energy costs, sometimes even during these extreme storms, when affordable electricity is most important.2

Solar panels and storage keep your home powered through winter storms, keeping your family safe and comfortable. They can even, potentially, make the whole neighborhood more energy secure, creating a more resilient grid for everyone.
This past winter dramatically demonstrated how climate change already impacts local weather, and that our energy infrastructure isn't prepared. A series of unprecedented winter storms left five million Texans without power (and many without running water) as temperatures hit record lows while snow and ice rendered many roads unusable.
This is a problem that's emerging nationwide; each component of our national energy infrastructure was designed to withstand its local weather conditions, but those conditions are changing faster than the grid can adapt. Fortunately, we know the solution to this problem.
As solar power and battery backup solutions are installed in more and more American homes, they're helping to lighten the load placed upon our overworked and underprepared energy grid, while also keeping homes safe and comfortable during extreme weather, including winter storms.
More powerful storms and changing weather patterns mean more difficult winters for more Americans
Those in our northern states are accustomed to harsh winter storms. But the biggest stress on the power grid in places like Texas is supposed to be keeping people cool. Clearly, that is changing. The pandemic has brought many people home from their offices and schools, and more time at home means more energy demand on the grid. That, combined with unprecedented storms, is stretching our infrastructure to its limits. 
That's the issue. Scientists agree that our climate is changing in the direction of more extreme weather, both prolonged droughts and intense storms, including blizzards and ice storms.4 These are weather events the grid was never designed to withstand.

But updating and weatherizing the entire country's energy grid is no small order. Natural gas producers, alone, would have to retrofit pipelines, wells, processing plants, and power plants. Following the surprise winter storm in Texas, one estimate puts the cost of updating that single state's gas power plants at $95 million (and that's without even considering the amount of time those updates would take).5 And, of course, grids nationwide rely on more than just natural gas. 
The most recent storms revealed just how vulnerable much of the entire nation's grid is to interruptions due to winter storms. Service interruptions are increasing across the country, and the single most frequent cause of such outages is the weather.6 But significant improvements to the grid will carry with them significant financial costs and take a great deal of time. Meanwhile, winters will continue to grow less predictable. Temperatures will swing to unexpected extremes, and powerful storms will continue to put individual energy security at risk.
New winter stress on the grid means rising energy rates and big surprise charges
Extreme weather events like winter storms can hit utility providers off-guard. Even those whose homes remain powered for the duration of these emergencies might find themselves dealing with dramatic consequences.
For example, earlier this year many Texans found themselves saddled with skyrocketing electric bills as winter storms decreased available supply just as demand began to climb. Bills increased in some cases by as many as 70 times their typical costs, forcing homeowners to empty their savings to account for charges that could climb higher than $15,000.7 Nobody should be forced to sacrifice their financial security just to keep the lights on.
Many utility providers across the country provide electricity at variable rates based on demand and usage. This means costs increase during periods of "peak use." Detroit utility provider Consumers Energy, for example, increased their electricity rates by 50% during peak afternoon hours (from 2PM to 7PM) through the end of September.8 Many energy providers, in fact, offer variable rates that increase during peak hours, as a part of an industry-wide trend seeking to reduce power generation as demand increases. Unfortunately, inclement weather events, like a severe winter storm, dramatically increase energy demand just as supply is under the most pressure, which means electricity costs more when it's needed most.

This leads to the frustrating but undeniable conclusion that grid-based electricity is getting more expensive as it's becoming less reliable. And experts predict the costs of 'peak usage' to increase due to the ongoing impact of climate change. One study indicated that "peak load situations," which include events like winter storms, will increase in frequency and intensity as the world warms, creating an additional predicted cost of $180 billion by the end of the century.9 Even for those who don't pay variable rates, it's easy to see how this could lead to increased costs for consumers in general.
Home solar and battery solutions are a valuable hedge against increasing electricity prices, variable rates, and gargantuan surprise bills resulting from spikes in demand. Energy harvested from the sun can be stored so it can be used when costs increase, whether it's because of the time of day or a weather emergency. This keeps costs predictable in an increasingly unpredictable world.
Solar battery systems help your home withstand outages, even in the dead of winter, and could potentially help protect your entire neighborhood.
Winter storms present their own unique challenges, but modern solar panels are proven to successfully generate electricity during the colder months. They are designed to handle moderate amounts of snow and freezing temperatures.10 And in those rare instances where heavy snowfall briefly covers the entire surface area of your panels, your backup battery, loaded with clean energy from the sun, is there to keep you safe and comfortable.
Experts agree: our grid must change with the climate. Centralized energy production—our traditional system of producing electricity in plants and then transmitting it, one way, through the grid to homes—remains vulnerable to the challenges of climate change, while also being slow to adapt and increasingly expensive. But an alternative exists, one that leverages the increased number of homeowners with home solar and storage to create a more efficient and resilient system for everybody. A decentralized system through what's called Virtual Power Plants (VPPs).11
The time to go solar is now
While solar panels and battery storage can be a significant investment, solar companies like Sunrun offer flexible financing options and solar plans for as little as $0 down. While solar panels can't change the weather, they can help you ride it out. 
Every winter day is a chance to power through life from the sun. Start taking control of your own energy and keep powered through extreme weather conditions. Get in touch with one of our expert Solar Advisors today.