Let's Extinguish the Next Round of Wildfires with Clean Energy
By Mary Powell, CEO of Sunrun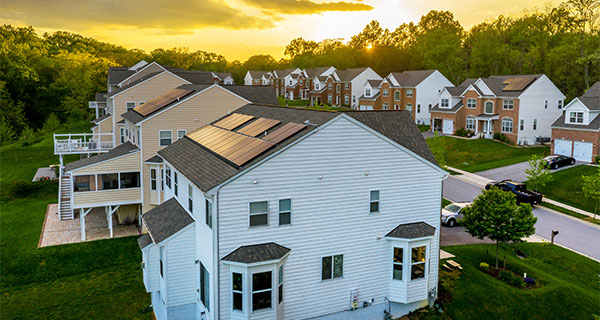 The story of wildfires ravaging the western United States has become tragically commonplace and unfortunately, something that people living in this part of the country regularly contend with. From catastrophic losses of lives and livelihoods, to poor air quality, 'Flex Alerts',1 and rolling blackouts, climate change has become part of our daily lives. Fortunately, we have solutions to hedge against the worst potential impacts and aid us in adapting to the changing conditions. 
This summer has been no exception to the climate challenge. California battled one of the state's worst wildfire seasons while contending with record high temperatures from the Mojave Desert to Napa Valley, and our grid simply can't keep up. California's utilities and grid operator, CAISO,2 has struggled to meet the demand as heat waves and wildfires take hold across the region.
The Los Angeles Times recently outlined3 the gravitas of the situation with an expose on the Oregon 'Bootleg' wildfire and how it nearly took down the grid earlier this summer. During that July 8th incident, wildfires dismantled transmission lines integral to importing power to meet California's grid needs. At the same time, the region was experiencing record high temperatures,4 which led to a higher peak demand for electricity. Even further, the situation was made worse by ongoing droughts limiting the supply5 of electricity generation from hydro facilities across the state.

This combination of factors led the state to issue a 'Flex Alert' asking customers to curb their own energy usage by turning down thermostats, avoiding the use of major appliances, and turning off all unnecessary lights. Through these measures, the state's grid operator managed to keep supply and demand in balance to prevent the all so familiar blackouts in California. Unfortunately, this is a trend we've seen with increased frequency6 over the years and has become a fact of life for many living in the west. 
One of those customers is Keli Tomack, a southern California resident and cancer survivor. She's seen conditions worsen with wildfires and the grid over the years, helping her family make the decision to take control of their energy through on-site solar.
"We're concerned about brownouts and blackouts, along with the increasing cost of electricity, which led to our decision to install a Sunrun solar system and battery," said Keli Tomack.
After coming down with Leukemia in 2019, Keli spent time in and out of the hospital receiving bone marrow treatments and recovering. The heat waves of southern California led to high electric bills, and concerns about what would happen if the grid were to go down. Keli mentioned, "after my time in the hospital from Leukemia and the bone marrow treatments, it was important for my health to make sure the power stayed on and our home stayed cool. Solar helps to provide that assurance."

Fortunately, we have the solutions to help people like Keli Tomack. 
As an example, Sunrun teamed up with GRID Alternatives to offer 100% free battery systems to low-income customers in wildfire-prone regions of California. To curb peak demand and keep the lights on for all Californians, we also announced7 a number of new "virtual power plant" programs. These programs allow customers to share their excess stored energy with the grid during times of critical need, and be compensated for it. 
During my time at Green Mountain Power, I was determined to redefine the role of the utility and be part of the climate solution. We piloted innovative programs8 to build microgrids and virtual power plants, designed to keep the lights on during extreme weather events, and in the first year alone more than 1000 individuals signed up for the VPP program.The need and appetite for new and innovative solutions is there. I'm proud to be part of a team that refuses to say that the climate crisis is a problem for our children and our children's children. At Sunrun, we're solving it now.

Solar is ready. Are you?
There are plenty of myths circulating about solar, but if the question is whether or not it's worth going solar now, the answer is yes! Solar can help you save money, produce clean energy that is good for the planet, and alleviate strain on the aging grid so everyone can enjoy more reliable power.
Solar energy works in the winter and when it's cloudy, it can help reinforce and protect your roof, and has an ROI timeline of less than ⅕ the lifespan of the system. So, regarding the question of whether or not now is the time for solar, we think the answer is clear.