Most people understand the general principles that govern solar energy generation.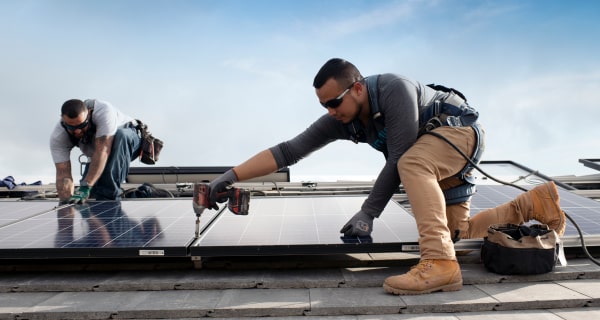 Most people understand the general principles that govern solar energy generation. Sunlight hits the panels, the panels produce power, you thrive on clean, renewable energy. But, despite the plethora of data available on the topic, there's still plenty of misinformation going around that stops people from choosing to go solar. Well, we're sick of bad info getting in the way of people making a good choice. So we're going to talk about some of solar's biggest myths and why it is about time to get over them.
To avoid these catastrophes, many utility companies have begun taking precautionary steps to reduce the risk of increasingly devastating wildfires. One of these steps is to preemptively shut off power to portions of the grid to avoid the possibility that live lines spark new fires. These types of rolling blackouts are known as a Public Safety Power Shutoff (PSPS) and they can impact millions of homeowners. Each event is unique, but many of them have stretched beyond just a few hours to leave communities without power for days at a time.3
During wildfire season, more and more households are looking for alternatives to the old way of doing things. And the best alternative is the most obvious: the sun. The sun is our most reliable and resilient renewable energy source and it's powering more homes than ever. 
Sunrun solar systems with a rechargeable battery are an effortless way to keep your home running through blackouts. Our battery storage options can provide energy for the essentials or for your whole home and they recharge with each new sunrise as your panels collect clean energy from the sun. This is the future of home energy: clean, abundant power you can rely on.4
Solar is still too expensive
Going solar is a big change that can feel like it comes with a big price tag. But even though solar equipment isn't cheap, making the switch is easier than ever. Over the years, the science behind capturing solar energy and turning it into electrical energy has improved. The cost to manufacture them has gone down, which means that the cost to go solar has gone down as well. Overall, the cost to install solar has dropped by 70% over the last decade!1
And, as opposed to traditional power, there are more options for you to pay for your system. Instead of just cash or lease, you can even start something called a Power Purchase Agreement. This means you can get solar on your roof with no upfront costs and pay for the power you produce. It's similar to buying power from your utility, but it's clean and it's power generated right on your roof.
Solar (and batteries) still have a long way to go
The process of converting the sun's light into solar energy isn't 1 to 1. In fact, we can only capture about 20% of the sunlight that hits your panels into power for your home.2 But this number is misleading because the sun is letting off a ton of energy, and even just 20% is a lot. It's like dipping a bucket in a river and saying you're only able to capture a small amount of it. That's true compared to the full river—but a bucket of water is still more than enough to quench your thirst.
The current state of solar technology means we have no trouble harnessing the power of the sun to meet the energy needs of almost any home out there. In fact, as of September 2021 the total amount of solar capacity installed in the U.S. is enough to power nearly 19 million homes.3 
The same goes for rechargeable home batteries. More and more people are opting to add backup storage to their solar energy system because there are now a number of great options available (and flexible payment options as well). That means that homeowners can now take their pick between a battery with the capacity to backup the essentials in their home or a battery to provide whole-home backup power. And in either scenario, this battery will recharge each new day as sunlight hits their panels. Backup power through multi-day outages is just one reason solar home batteries are exploding in popularity—experts estimate that the number of solar installs that also include a battery will grow by nearly 5x over the next 5 years.4
Solar batteries are meant for people who want to go completely off-grid
For many, going solar and adding a battery is a way to become more independent and rely less on the grid and your local utility. But even with solar, the grid plays a vital part in powering your home. Most solar houses are "grid-tied," which is actually a best-of-both-worlds scenario. This means your home can still draw energy from the utility if your panels aren't producing enough power to run everything in your home (e.g. at night) and your battery is empty. Another emerging benefit of being connected to the grid with solar and battery is the opportunity to be included in Virtual Power Plants (VPP). VPPs are networks of individual batteries that are connected virtually so whole communities have access to reliable, clean power. VPPs reduce the strain on the grid in high-demand communities—resulting in more reliable power for all.

Solar panels don't work in cloudy or cold weather
While it's true that the weather can affect how much power your solar energy system can produce, your system isn't rendered completely ineffective in cloudy weather. Your panels can operate at 80% of their maximum efficiency even with partly cloudy skies.5 And, unless your panels are inches deep in snow, cold weather has the potential to boost the efficiency of your system. It might be good to think about it like when you should wear sunscreen. If you didn't know, cloudy and cold weather doesn't protect you from getting a sunburn. Powerful sun rays are still able to push through clouds and aren't hindered by the cold weather at all. The main difference between seasons might have more to do with how long the sun is out than the weather itself.
Solar decreases the value of my home
There's been a common misconception that solar can have a negative impact on the value of your property. But the truth is, solar has a very real chance of increasing your home's value. According to a recent report from Zillow, homes with solar saw an average 4.1% increase in their value— which is around $10,000 for a $226,300 home.6 That may not be enough to cover the cost of the system, but combined with potential savings and the benefits of clean energy, it's a pretty great deal. Especially considering that even if your panels cost the same monthly as buying power from your utility, you aren't getting a kickback at closing for using standard electricity.
Solar does more harm than good
Most people understand (even if only intuitively) that solar is good for the environment. But occasionally we'll hear people claim that solar panels require so much energy to produce throughout the entire sourcing and manufacturing process that they negate all the good they do in their lifetime. The truth is, it does require an enormous amount of energy to produce a solar array, but extensive investigation shows that it generally takes less than four years for the clean energy to become net positive.7 And the lifespan of your average solar energy system is 4-6 times that.
Solar will damage my roof
Installing solar panels is an intensive process that requires attaching several panels to your roof. This may seem like bad news for your home's structure, but a solar array has the potential to protect your roof. Before your panels are installed, our technicians will make sure that the integrity of your roof is healthy enough to support the panels. If it is, then panels can be an added benefit.
First, most solar arrays are attached using railing called "flashing" rather than directly bolting them into your roof. This makes it easier to place and remove panels and inspect them for any necessary repairs. It also helps distribute the weight of your panels across the roof, making the entire install even more structurally sound. On top of that, the panels themselves are manufactured to withstand all kinds of turbulent weather and act as an added layer of protection against the elements for your roof. Like a roof for your roof. If your roof ends up having any issues due to the natural wear of your home, the panels can be removed fairly easily for any repairs.

Solar is ready. Are you?
There are plenty of myths circulating about solar, but if the question is whether or not it's worth going solar now, the answer is yes! Solar can help you save money, produce clean energy that is good for the planet, and alleviate strain on the aging grid so everyone can enjoy more reliable power. Solar energy works in the winter and when it's cloudy, it can help reinforce and protect your roof, and has an ROI timeline of less than ⅕ the lifespan of the system. So, regarding the question of whether or not now is the time for solar, we think the answer is clear.