Sunrun Eliminates Nearly 2 Million Tons of CO2 From Entering Atmosphere
Sunrun was founded on the belief that there was a cleaner, more affordable way for people to power their homes than relying on dirty and finite fossil fuels. With residential rooftop solar, storage and energy management, homeowners can save money and dramatically reduce the amount of air pollution and carbon dioxide (CO2) they release into the atmosphere. For 10 years, Sunrun has been a steadfast believer in the power of the sun, and we are seeing more and more Americans believing the same. Our mission is simple – to create a planet run by the sun.
Sunrun's Impact on the Planet
As the nation's largest dedicated provider of residential solar, storage and energy innovation services, we are proud of the impact we've been able to make over the last 10 years by helping families go solar. To date, Sunrun has deployed 879 megawatts to serve more than 134,000 customers. These customers have generated over 2.4 billion kWh of clean electricity- preventing over 1.7 million metric tons of carbon dioxide from being released into the atmosphere. This is equivalent to greenhouse gas emissions from over 4 billion miles driven by an average passenger vehicle or 1.8 billion pounds of coal burned. The carbon that has been removed from the atmosphere is equivalent to planting over 1.6 million acres of trees!
We're so thrilled with the positive impact that our customers have had on the environment that we put together this awesome infographic highlighting a few of the benefits that our solar systems have had on the planet.  
Click the image to view larger version.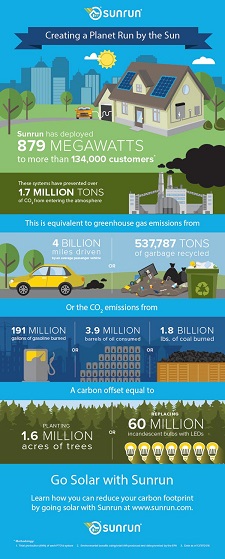 Solar is Inevitable
Improvements in solar technology have made going solar more cost-effective than ever before. The solar industry saw 97% growth in 2016 and is on track to triple by 2024. In the past, potential solar homeowners may have balked at the steep price of installing panels and the relatively low energy output compared to today's technology. However, modern panels are significantly more efficient, and going solar no longer has to be a huge expense. In fact, the average price of solar energy nationwide has dropped 67% in the last 5 years. Compare that to the rising cost of electricity, and it's clear to see how these days, you might be missing out on potential savings by waiting to go solar.
In 2016, 39% of all new electric capacity added in the United States came from solar energy, accounting for 8.3 million homes powered by the sun. According to Google, 8 million more homes could be powered if just 10 top cities reached their full solar potential. As a nation, we're projected to have 22 million homes powered with solar energy by 2021.
Future of Solar
Rooftop solar and energy storage is the foundation for the next generation of the energy grid. Unlike the grid of the last 100 years, rooftop solar is not about transmitting and balancing energy over long distances but rather generating and distributing locally. Investing in rooftop solar systems is like building cell towers instead of landlines - it's smart. Not only does it benefit the homeowner's wallet, but it also helps the community by providing clean, renewable energy that helps to balance peak load hours when the grid is strained.
Sunrun is constantly innovating to make the generation, storage and management of energy more accessible to homeowners across the country. While providing homeowners savings with clean solar energy will always be at the center of what we do, our efforts don't end at a home's front door. We are equally dedicated to partnering with utilities around the country to make rooftop solar an integral part of the grid for the next hundreds of years. Our ultimate goal is to continue to make it possible for everyone to benefit from a planet run by the sun.
On this Earth Day, the power to create a cleaner world is in your hands. Going solar with Sunrun is not just smart, it's brilliant.

---


Sources:
http://www.gosolarcalifornia.ca.gov/about/gosolar/california.php
http://energyinformative.org/the-history-of-solar-energy-timeline/
http://instituteforenergyresearch.org/analysis/history-of-solar-power/
http://www.seia.org/research-resources/
https://www.eia.gov/outlooks/steo/report/electricity.cfm
http://energy.mit.edu/news/solar-photovoltaic-technologies/
http://albaenergy.com/2017/03/report-solar-panel-installations-hit-all-t...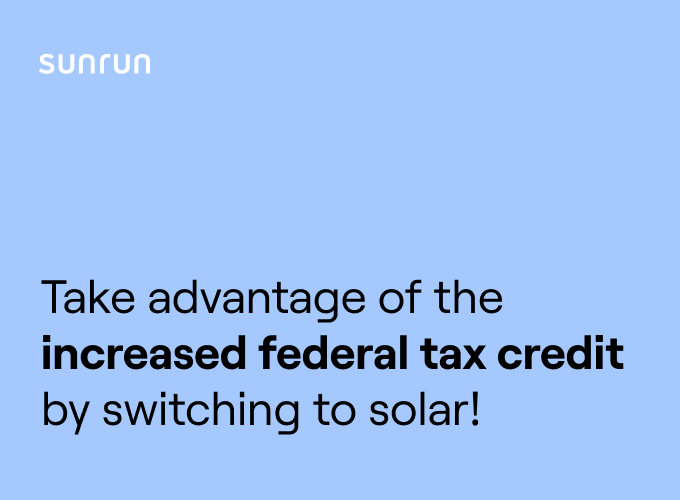 See if you qualify for the
26% federal tax credit