Big solar savings are waiting in New York
In New York, traditional energy costs are rising. New York is a big city with lots of heart. It's also a city with tons of lights and even more dreams. And while things like food, hope and other great stuff keeps dreams alive here, it takes a lot of juice to keep the lights on.
When it's left to the utilities, that usually means homeowners like you are footing the ever-increasing bill each year. But it doesn't have to be that way all the time. With solar energy, you can lock in a great, low rate that'll power your lights and more for years to come. All it takes is going solar with Sunrun. Simply signup and you'll find yourself enjoying a whole new world of savings, energy and more.
We handle everything
Here at Sunrun, we're dedicated to ensuring you actually enjoy going solar. That's why we've spent years refining our home solar system process. All that work has helped us provide the following:
Free consultations that walk you through your potential savings and how to go solar
Collaborative designing of a solar system that fits your home just right
Easy Installation and construction by Sunrun-certified and locally sourced professionals
Sunrun handling of all the paperwork needed to authorize your system for usage
Complete coverage of your system with digital monitoring, great service guarantees and multi-year warranties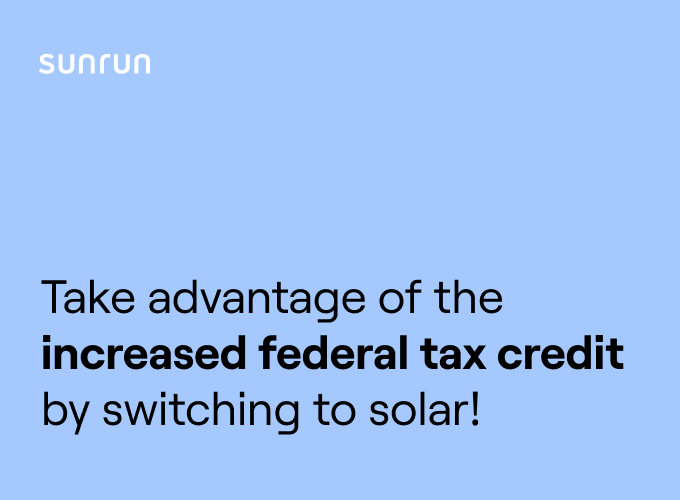 See if you qualify for the
26% federal tax credit
We know you're on a budget
Going solar is a huge investment and we wouldn't ask you to take the leap without having great options for you. That's why we've pioneered solar leases and solar PPA's, flexible financing options that can help you put up as little as $0 down! With them, you can easily begin your solar journey without worrying about hurting your pockets unnecessarily.
We can get you started
We're in the business of making solar dreams come true. So why won't you join us today? You'll be saving yourself tons of money now and in the future. And, you'll be a pioneer for clean, renewable energy that's kinder to the environment. Dont wait, get your free New York home solar consultation today!