Sunrun's Progress in Creating a Planet Run by the Sun
2020 was a challenging year for all of us. But we came out of it feeling more optimistic about the future than ever before. One highlight for Sunrun was successfully acquiring Vivint Solar, which positions us as a global leader in environmental stewardship and helps us lead the shift to a more low-carbon, climate-resilient economy.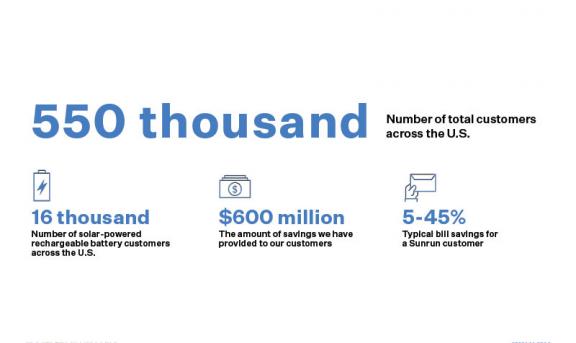 Our Family Of Solar Homeowners
Since 2007, Sunrun has offset nearly 8.1 million metric tons of carbon by deploying 3,885 megawatts of solar power. With more than 550,000 solar households, that equates to roughly one new solar energy system installed every one-and-a-half minutes. This has created nearly $600 million in savings for our homeowners, who see an average bill savings of 5-45% over the lifetime of their system.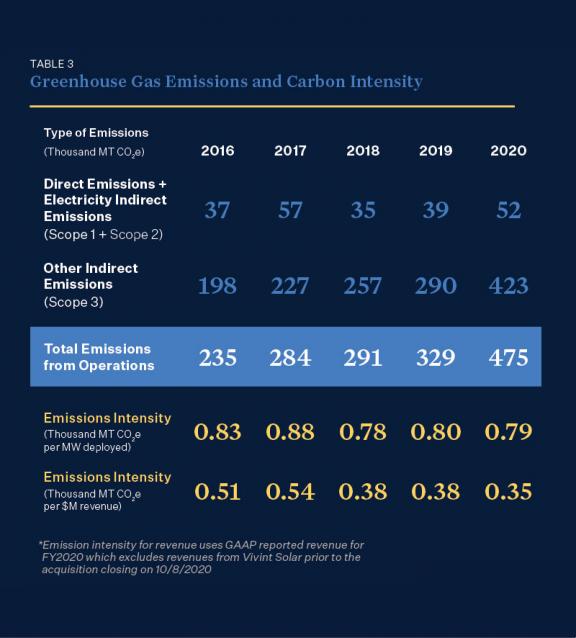 Sunrun Negates More Greenhouse Gas (GHG) Emissions Than We Produce
We break the total emissions of our company into three categories:
Direct: Vehicle fleet, and on-site natural gas consumption for Sunrun and our partners.
Indirect: Leased offices and warehouses for Sunrun and our partners.
Other: Module manufacturing, balance-of-system components, and material transportation.
We base our GHG emissions estimates on the direction provided in the GHG Protocol Corporate Standard. We cover emissions from our vehicle fleet, occupied offices, warehouse space, equipment-lifecycle considerations, and the supporting activities of our partners.
Our solar energy systems continuously offset GHG emissions as they deliver clean energy to customers. During 2020, we deployed 603.4 megawatts of solar to 84,559 customers. These systems could generate over 20 billion kilowatt-hours of clean energy during the next 30 years, enough to prevent the emission of over 14 million metric tons of CO2e. This quantity is more than 30 times greater than the quantity of CO2e emitted to deploy these systems, which means that Sunrun negates significantly more emissions than we produce.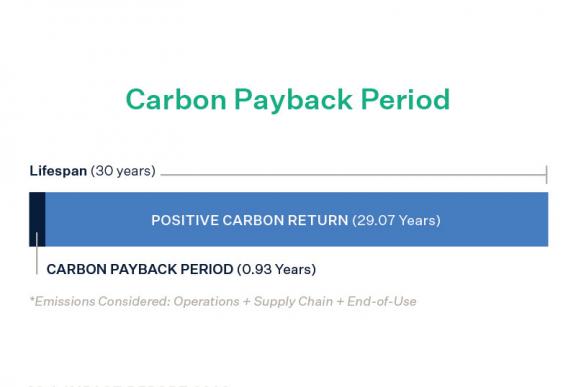 Once our solar energy systems start working, the positive impact on the environment happens quickly. Our systems prevent more GHG emissions than they create over their lifetime, resulting in a net-positive carbon balance. After operating for just 11 months, a Sunrun solar energy system will prevent the emission of as much GHGs as were emitted to build and install the system. Because Sunrun's systems are expected to produce clean energy for 30 years or longer, our systems prevent the release of harmful GHGs for 97% of their lifetime.
Sunrun's cumulative deployed systems of 3,885 megawatts are estimated to offset more than 92 million metric tons of CO2e emissions over 30 years.
For each metric ton of CO2e that Sunrun emitted in 2020, the solar energy systems that Sunrun deployed in 2020 are expected to prevent more than 30 metric tons of CO2e emissions over 30 years.
For each metric ton of CO2e emitted by Sunrun in 2020, our entire fleet of solar energy systems has already prevented more than 17 metric tons of CO2e from entering the atmosphere.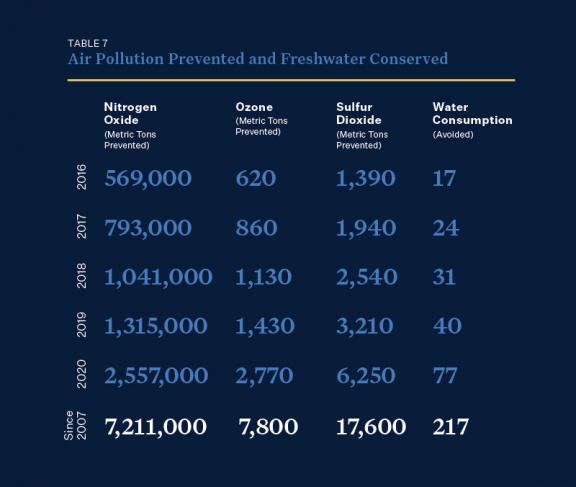 Preserving Clean Air and Water
Solar energy prevents emissions of harmful gases such as nitrogen oxides, sulfur oxides, methane, and ozone. The electricity produced by Sunrun systems deployed in 2020 helps reduce these harmful pollutants by lowering your consumption of electricity deployed by fossil fuels. In addition, solar and other renewable sources of electricity (wind, hydro, etc.) emit fewer GHG emissions per kilowatt-hour during their lifecycles than fossil fuels.
Aside from preventing the release of air pollutants, our systems do not consume large amounts of freshwater like fossil-fuel power plants do. Cooling traditional power plants requires the withdrawal of more freshwater reserves than any other activity. Solar energy production helps lessen this freshwater consumption by reducing the use of energy from thermoelectric sources.1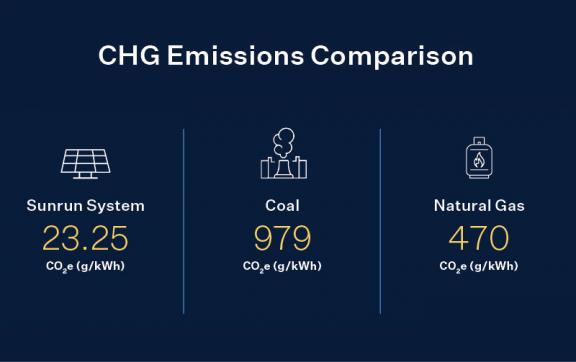 Environmental Management System
As the largest solar provider in the United States, we hold ourselves accountable for managing all our environmental impacts to improve the health of our planet. This commitment to developing and implementing an environmental policy and an environmental management system (EMS) is our highest priority. 
We also study our environmental impacts across our business model so that we can define and improve our environmental performance results. In 2020, Sunrun started working with vendors to make utility reporting more robust, resulting in significantly improved data for our EMS program. We expect 2021 to be a breakout year for our efforts to create a more sustainable operating environment.
Vehicle Fleet
At Sunrun, we continually strive for environmental responsibility, including how we manage our vehicle fleet. As we entered 2020, our plans were focused solidly on driving efficiencies through route optimization and moving toward expanding our hybrid vehicle fleet. Unfortunately, we were forced to put many of these efforts on hold in March when COVID-19 required us to adjust our approach so it aligned with the requests of the CDC. This meant that, in order to maintain proper distancing, we required employees to take separate vehicles. Additionally, our fleet footprint was broadly expanded, along with almost every other aspect of our business, following the acquisition of Vivint Solar. 
In 2021, our focus will be improving the sustainability and efficiency of our combined company's vehicle fleet. Sunrun is looking to incorporate electric vehicles into various parts of our fleet as they become available. By 2021, we've committed to having electrical vehicles make up 15% of our fleet. In the meantime, we will be adding new, more efficient and eco-friendly vehicles to replace a large portion of our existing fleet. We will continue to work toward expanding our hybrid fleet and drive optimization by improving our software systems, tracking drivers, optimizing route patterns, and reducing emissions and operating costs.
As we continue to grow and deploy systems, we are primarily responsible for managing the outcome of our hardware. That's why Sunrun integrates product end-of-life processes in our environmental management system with the goal of decommissioning, redeploying, reselling, or recycling our used system equipment. 
In 2020 alone, Sunrun redeployed or recycled more than one megawatt of solar panels. The photovoltaic (PV) systems we use allow us to avoid the hazardous concerns that come with the materials in alternative solar products such as thin-film modules. Through our partnerships with third-party recycling and refurbishment vendors, we are prepared to sustainably dispose of modules, batteries, inverters, and other electronic equipment used in installations. We are also working with our third-party vendors to redeploy or resell modules to minimize recycling and support a reduced environmental impact overall. Learn more about the industry's approach to lifecycle considerations from the SEIA.
Other Efforts At Sustainability and Responsibility 
Increasing Facility LED Lighting
In 2020, Sunrun continued to move toward LED lighting, to improve our energy efficiency. Additionally, we added two new properties already fitted with LED lights. LED lights are about 25% more efficient than standard compact fluorescent lamp (CFL) bulbs and about 80% more efficient than halogen bulbs.
Move to Electrification
In 2020, Sunrun has continued its efforts to utilize electric forklifts in the majority of its warehouses. Electric forklifts have many benefits, including the elimination of tailpipe emissions (reducing GHG emissions), less components and maintenance, and a lower cost of ownership over the life of the equipment.
Vendor Sustainability
Sunrun works with vendors that share our commitment to a more renewable centric planet. That's why we included policies on environmental protection and sustainability as well as responsible mineral sourcing in our Vendor Code of Conduct, adopted in January 2019. We expect all of our vendors to adhere to the policies set forth in Sunrun's Vendor Code of Conduct.
Responsible Mineral Sourcing
Sunrun expects its vendors to provide products that are responsibly sourced. Vendors that supply products containing minerals sourced from conflict-affected and high-risk areas must ensure that the sourcing of these minerals does not knowingly contribute, directly or indirectly, to armed conflict, including terrorist financing or human-rights violations. 
Our Commitment To A Brighter Future
Creating a planet run by the sun is not a quick process. We're proud of the progress we're making but know there is much work left to be done. As we move forward as a leader in transforming the way we create and consume energy, we are committed to doing so responsibly and sustainably. As we look forward to 2021 and beyond, our goals include:
Supplier Responsibility: Our suppliers are screened and audited on their environmental and social impact.
Resource Efficiency and Pollution Prevention: We've worked to reduce or eliminate harmful waste, hazardous air pollution, greenhouse gas emissions, and to engage in product end-of-life stewardship.
Performance Evaluation and Reporting: We carefully monitor our own actions when it comes to renewable energy and we report our results appropriately, with a focus on the Task Force on Climate Related Disclosures (TCFD).
Employee Awareness: Our employees are provided with opportunities to develop their environmental knowledge and skills, empowering them to reduce their own negative impacts on the environment.