10 Years Closer to a Planet Run by the Sun
---
This year, Sunrun is celebrating its 10-year anniversary. We've come a long way in our ten trips around the sun. Since Sunrun launched in the attic of co-founder Ed Fenster's home, we've helped thousands of people choose to power their homes with clean energy. Here's a look back at the progress we've made on our mission to create a planet run by the sun.
We've made going solar more accessible than ever.
Gone are the days of prohibitively priced solar panels. As utility rates across the country continue to rise, people across the political spectrum recognize the importance of clean air and clean water. Dirty fossil fuels by their very nature cannot be the future. That's why Sunrun pioneered the "solar as a service" model, which has allowed thousands of families to go solar for little to $0 down. Homeowners interested in taking advantage of low solar energy prices no longer need to purchase solar panels up front or take out a loan. We're proud to say that thanks to the residential power purchase agreement, out-of-pocket cost is no longer a barrier for many families who want to choose clean solar energy for their homes.
Over 134,000 families have gone solar with Sunrun.
And that number continues to grow as we've expanded to 22 states and the District of Columbia! As solar energy becomes even more affordable - especially in comparison to the rising cost of electricity from utilities - more homeowners are looking to solar energy as a way to save money on their energy bills. We've already saved families over $150 million in energy bills, and we're working hard to break down the barriers that are keeping families from being able to go solar.
All that growth is powering local economies.
More solar energy means more solar jobs. In fact, the solar industry is one of the fastest-growing sources of new jobs in the United States, growing 12x faster than the rest of the economy! The people who work in solar come from all types of backgrounds. We make it a point to hire our sales and installation teams from the communities they serve. That means when you go solar with Sunrun, you're not only saving money and helping the environment - you're also creating and protecting jobs in your community.
We've helped families become energy independent.
Many people don't realize that they have energy options outside of the power company in their area. Not so, says our CEO, Lynn Jurich: "Everyone should have the freedom to choose where they get their energy, to control their home's energy costs, and be safe from grid disruption." Families that go solar with Sunrun can take control of the prices they pay, the sources they use, and the impact they make when it comes to powering their homes.
Sunrun customers are helping to power their neighbors' homes.
When we talk about powering local communities, we mean it literally. Sunrun produced over 2.4 billion kWh of clean energy in the past decade, and some of it may have powered your home, even if you haven't gone solar yet! Our partnerships with traditional energy companies mean homeowners who produce more electricity than they use can feed that electricity back into the grid for their neighbors to use.
The future of solar energy is bright.
Sunrun started out with the belief that there was a cleaner, less expensive way for families to power their homes. Ten years later, we're still committed to that ideal. Together, with families across 22 states, we've eliminated over 1.7 million metric tons of C02 from entering the atmosphere and saved our customers more than $150 million on their energy bills. And we have high hopes for the next ten years: investing in rooftop solar systems and home storage batteries is like building cell towers instead of landlines - it's smart and forward-thinking! We can't wait to see where the next decade takes us.
Click here to see more Sunrun anniversary milestones, testimonials, and news.
---
Sources: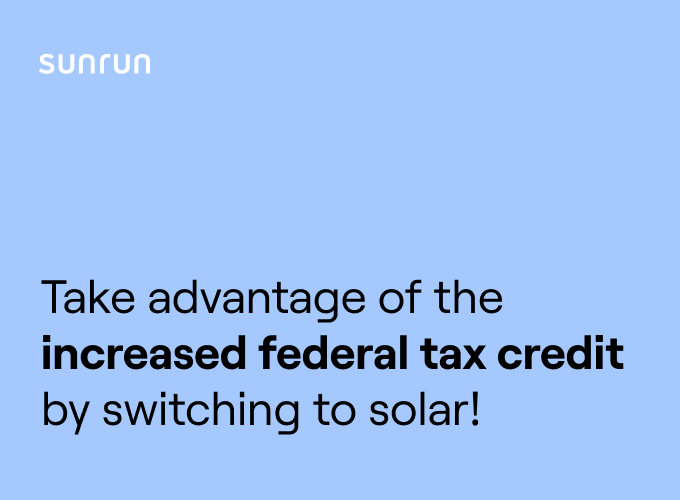 See if you qualify for the
26% federal tax credit