Cost of solar keeps falling
Posted on by David Zeledon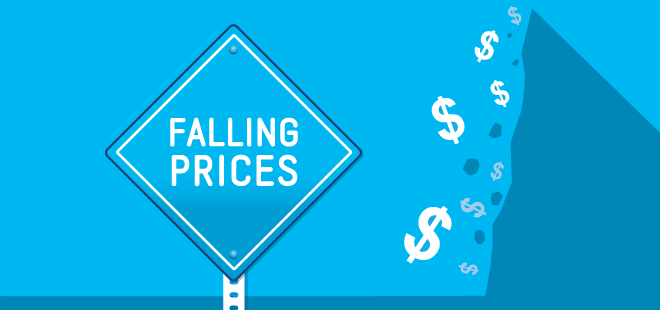 Falling solar costs mean more savings for you. If you find yourself asking how much home solar panels are nowadays, the short answer is: a lot less than you think. The cost of solar panels is falling and continues to fall as more and more homeowners and businesses make the smart decision to go solar.*
So why exactly is the cost of solar falling? More competition, efficient installations, and government incentives are big factors. Now here's where it gets interesting—Sunrun passes on all of the equipment, installation and government incentives on to you in the form of a low monthly electric bill that can save you 20% off your electric bill.* The best part is that you get these savings without having to pay a cent. Our BrightSave™ Monthly plan starts at zero down and you start saving the moment your system is turned on.
More competition, lower prices
If you've already started your search for home solar panels, you know you've got a lot of options. With so many solar companies trying to get your business, the price of solar is lower than ever. Innovative solar plans like our solar lease, or BrightSave, features customized payment options that start at little to $0 down (pst, we actually invented it). You get solar panels for your home and you simply pay for the power, not the panels.
Better, faster, and more affordable installations
As the demand for home solar grows, solar providers are gaining more experience and efficiency. This higher productivity has also helped to make going solar more affordable.* And it gets better—solar companies like Sunrun provide solar panel installation at zero cost to the homeowner. We only partner with the best local installers in your neighborhood and handle everything from permits to maintenance so you don't ever have to lift a finger.
Smarter solar technologies, like Sunrun's BrightPath™ platform, are also helping to lower the cost of solar panels. In a matter of minutes, it creates the most efficient home solar system to help you squeeze out every drop of savings you can from solar.
Solar-friendly policies and incentives
The government is even doing its part to make solar energy more affordable. As the trend toward clean energy continues to grow, Sunrun takes these big solar incentives and passes them on to you in the form of a lower electric bill every month. That way, all you have to do is soak up the savings—we take care of the rest.
By combining the low cost of solar, flexible payment options, and solar-friendly state and federal benefits, Sunrun maximizes your solar savings from day one. The time to go solar is now. Contact us or get a free quote today to see how much you could save.
Sources:
https://cleantechnica.com/2016/09/29/the-cost-of-half-a-billion-solar-pa...