How to cut your energy costs
Posted on by Kenton Warren
It's January, the holidays are over, the guests have gone home, and you likely used a lot more energy than you wanted to. We're sure you're dreading those post-holiday utility bills and you're looking for ways to cut costs in the coming months. Well look no further- January 10th is National Cut Your Energy Costs Day, a day that encourages people to look for ways to reduce energy costs, and save on their energy bill. To celebrate, we've compiled some easy and useful recommendations that will help you save big on future energy costs and lift those winter energy bill blues away.
In fact, Sunrun offers a plan that could save you and your family big time by locking in today's energy rates  for the next 20 years! With Sunrun BrightSave™ Prepaid you can rest easy knowing that you'll be paying the exact same rates for decades to come.
1. Weatherproof Your Home
The smartest tricks to keep energy bills low are the simplest. Objects like to travel via the path of least resistance, and energy is no different as it will escape through all the nooks and crannies it encounters! Be sure to use door draft stoppers, fix leaks around windows, insulate your hot water heater, and weatherstrip your house.
2. Use Energy-Efficient Windows
Heat can escape through a single glass pane almost 14 times quicker than a well-insulated wall. Consider replacing your old windows with energy efficient ones. Most home improvement stores offer free in-home consultations and a wide assortment of ENERGY STAR compliant windows that won't leave a huge dent in your pocketbook either.
3. Use Energy-Efficient Compact Fluorescent Light Bulbs 
Incandescent bulbs are now just as extinct as the dodo, but don't fret - they've been replaced with something way cooler! Compact fluorescent light bulbs last 8-10 times longer, and uses 75% less energy, too. Now, those are the kind of savings that can light up your life! Try these highly rated GE fluorescent bulbs - they can last up to nine years.
4. Turn Off The Lights
No one likes to be left in the dark, but when you're not around, your living room or kitchen won't mind the extra bit of shade. When you get in the habit of flicking off the light switch, your electric company will get in the habit of rewarding you with a cheaper electric bill. If you're a forgetful person, are variety of dimmers, switches, a timers that will help you remember to keep your energy usage in check.
5. Unplug Unused Appliances
Believe it or not, your appliances are still tapping into and feeding off the energy grid when they are plugged in but turned off. Think of all the electrical devices in your home that sit in standby mode. Devices like televisions, computers, monitors, printers, cable boxes, phone chargers, coffee makers, and microwaves. You may not think that this is a problem, but the average American home has 40 devices on standby. These devices cost you money every hour for 24 hours a day and account for ten percent of residential use of electricity. Stop those appliance gremlins from gaining unlimited access to the electrical outlet by pulling the plug on their energy-sucking behavior.
6. Use An Energy-Efficient Furnace
Keeping warm during the winter months is a top priority for those who hate the cold, but you might also consider the impact that an old rickety furnace can have on your wallet. Upgrading to an energy-efficient furnace can, over the long term, offset volatile energy prices. Try one of these top rated Carrier gas furnaces to meet your heating needs.
7. Properly Maintain A Furnace
If you can't afford to upgrade to a better unit at this time, then proper maintenance is another way to save on your energy costs. An annual inspection can help ensure your furnace is working as efficiently and as safely as possible.
8. Turn Down Or Replace The Thermostat
While it's hard to cool off in the summer without the aid of an air conditioner, the same is not true during the winter months with the heater. Even if it's chilly out, keep that thermostat set to around 68 degrees. Double up on warm socks, sweaters and blankets if it starts to feel a bit nippy.
Also consider replacing an old thermostat with an energy efficient one, such as the Carrier Cor Wi-Fi thermostat. You can use a smartphone app to control it even when you're not at home, and an end-of-month report can tell you how to save even more money.
9. Use The Dishwasher Or Washing Machine Only When Full
Washing dishes or clothes at half-capacity cuts efficiency in half, since it takes about the same amount of energy to run a partial or full load. This is probably the only time that letting a mess pile up can be construed as a forgivable household offense.
10. Lower The Water Heater Temperature
This may seem like a no-brainer, but you don't really need to heat water to 125 degrees. Your skin can't handle that kind of heat, and your delicate dishes or clothing don't need it either.
11. Install Hybrid Water Heaters
Most water heaters have an efficient working life of around 13 years. If it's time to replace your water heater, consider trying a hybrid heater. A hybrid water heater uses a heat pump that works rather like a refrigerator in reverse. A refrigerator removes heat from an enclosed box and expels it into the air. A heat pump collects heat from the air and uses it to warm water in an enclosed tank. If there is high hot water demand, then the hybrid heater automatically switches to a regular coil heater that is less efficient. However, according to Consumer Report a hybrid heater this can save up to $350 on water-heating bills over a year. Also, many models have a useful vacation or 'sleep' mode time that saves energy if you're not home.
12. Take Shorter Showers
While languishing in a nice hot shower every morning may feel relaxing to your body, it may not be so relaxing for your energy and water meter. Long showers use up a lot of water, and it takes energy to heat up a new batch of cold water. When you can, skip the long showers and supplement your morning wake-up routine with a cup of hot coffee instead.
13. Carpool Whenever You Can
Carpooling can lessen your carbon footprint and also save you from having to make frequent stops at the gas station. Even though gas prices have dipped dramatically from the horrible $5/gallon days that plagued the nation a few years ago, the cost of driving a car is still a considerable expense. Carpooling can save both the earth and your wallet, which is a win-win scenario no matter how you look at it!
Reducing Costs Long Term
While all of the previous tips are great for saving money, investing in solar energy is one way you can save on energy costs long term. Sunrun offers a plan called BrightSave Prepaid that allows users to lock in energy prices at the current rate for the next 20 years. Think what that means and imagine the savings.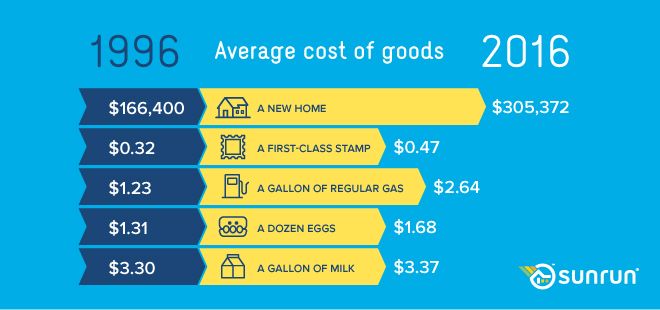 Let's look back twenty years to 1996. You could buy the average new home for $166,400. Now you need $305,372. A first class stamp was 32 cents, it's now 47 cents. A gallon of regular gas cost $1.23. Now you pay $2.64, if you're lucky. That's a rise of over 100 percent. Now take a look at your latest energy bill. Everyone knows that energy costs have gone through the roof year after year, so we can only imagine what they willlook like in 20 years. A lot higher, right?
That's why Sunrun created the BrightSave Prepaid plan, to design a one-of-a-kind solar system that fits the needs of your home at a rate that will be locked for 20 years as a protection for future energy prices rises. In addition, as part of the plan your solar panels are maintained, insured and repaired at no additional cost.
If you're interested in going solar and locking in energy prices for the next 20 years, let one of our consultants talk with you about BrightSave Prepaid.
Sources:
http://www.newtonma.gov/gov/dpw/recycling/residents/cfl.asp
http://www.kotatv.com/content/news/National-Cut-Your-Energy-Costs-Day-is...
http://www.consumerreports.org/cro/magazine-archive/march-2009/appliance...
http://www.consumerreports.org/cro/magazine/2013/10/bright-ideas-that-sa...)
https://www.energystar.gov/products/water_heaters/high_efficiency_electr...
https://www.thisoldhouse.com/how-to/how-to-maintain-water-heater
https://www.thisoldhouse.com/how-to/how-to-do-fall-furnace-maintenance
https://www.sunrun.com/plans-and-services/brightsave-prepaid
http://www.1990sflashback.com/1996/economy.asp