Lynn joins Bob Safian on Masters of Scale to discuss Sunrun's "aggressive sustainability"
Sunrun co-founder and CEO, Lynn Jurich, had the pleasure of being a guest on a recent episode of the Masters of Scale podcast. Masters of Scale invites iconic CEOs to share stories and strategies that helped them grow their companies from startups into global brands. Past episodes have featured founders from such companies as Netflix, Google, Facebook, Starbucks, Nike, and many more.
Bob Safian, former editor of Fast Company and founder of the Flux Group, and Lynn spent much of the episode discussing the evolution of home solar and batteries, and how Sunrun has quickly adapted to the unprecedented challenges caused by COVID-19 to become the industry leader and largest owner of residential solar assets in the United States.
Lynn goes into detail on Sunrun's focus on aggressive, sustainable growth and helping cities and states build a more resilient electric grid to manage an increasing need for clean, reliable, and affordable energy. Sunrun provides clean energy to over 500,000 households in the United States and has emerged as the clear, if unexpected, industry leader.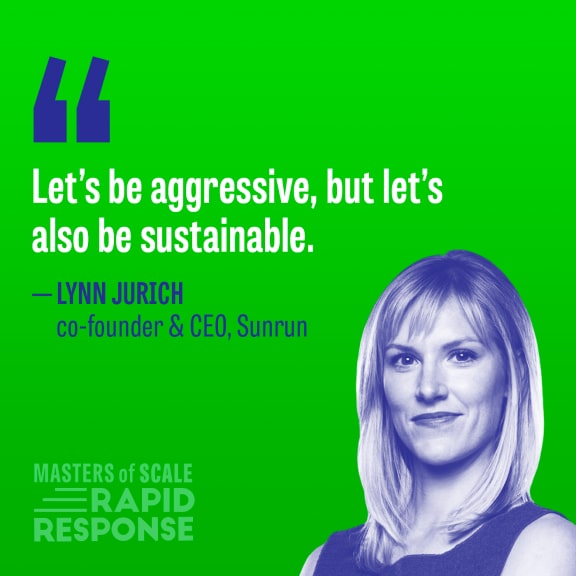 Solar is booming, and Sunrun is leading the way.
Bob mentions early in the episode that he was interested in speaking with Lynn because Sunrun has proven it knows what it takes to make solar catch on in the marketplace, even as it faces obstacles such as the "complexities of operating a new-style energy utility and the vagaries of politics and policy in the most partisan environment in generations."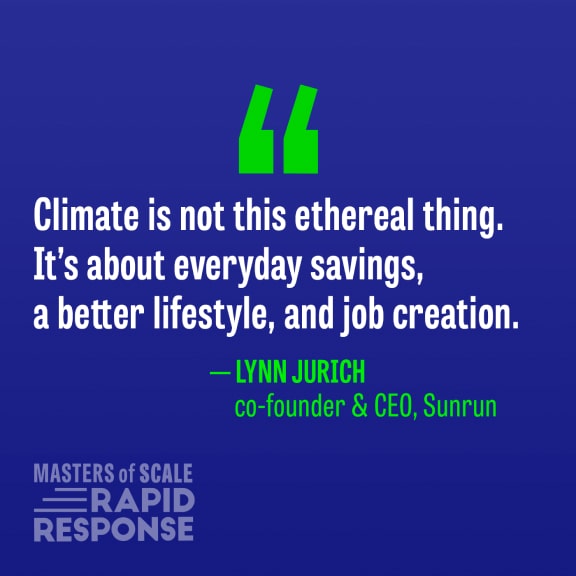 Solar offers a better lifestyle
One of the keys to success that Lynn shares on the podcast is the way in which Sunrun is offering households across the country a better lifestyle with home solar and batteries, especially as we move toward a more electrified and sustainable future. "You don't have to be a climate warrior to adopt these products," she explains, "independent of your view on climate, we can offer a better lifestyle."
Bob and Lynn discuss the ways in which the pandemic highlighted the values of solar in the home. Many people spent significantly more time at home during 2020 and consequently saw power bills climb. Sunrun offers homeowners the chance to take greater control over their power and avoid some of the frustrating unpredictability of traditional power.
Listen to the full episode
You can listen to the full podcast episode below through Spotify or Apple Podcasts.