Florida Utility Resources
This Is How Sunrun Works with Your Electric Company in FL
Sunrun's solar lease and purchase plans — with or without a home battery — are available for Duke Energy and Tampa Electric customers living in Orlando, Tampa, and surrounding areas.
Yet, if you get your home electricity from a different utility company, we Sunrunners may still be able to help you start your solar journey in Florida with one of our solar purchase plans. Contact our solar advisors to see if Sunrun is a right fit for your FL home.
Going Solar in Florida & Staying Grid-Connected
When you choose solar panels & a home battery for your home in Florida, you stay connected to the electric grid.1 Staying connected to the grid with a home solar system means that if, for any reason, your solar battery isn't fully charged to give you the energy you need to electrify your home at night or during a stormy day, you can continue using your devices and appliances as you always do.
Besides, when the panels on your roof produce more solar energy than you need, thanks to The State of Florida's Net Metering (NEM) program2, the excess is sent back to the grid, and you can get credits from your electric company to reduce your future electric bills. Meaning, you'll have better control over your home electricity and the price you pay for it.
Join the Clean Energy Revolution & Help Change Florida's Energy Future
At Sunrun, we believe empowering people means empowering a cleaner, safer, and more resilient energy future for everyone in The Sunshine State. And we Sunrunners celebrate that major cities in Florida, including Orlando and Tallahassee, are already committed to 100% clean, renewable energy by 2030.3
However, our role in Florida isn't only to help you reduce your carbon emissions. At Sunrun, we're also committed to providing you with information, guides, and advice in all things solar — so you can learn about your FL electric company's NEM bill, Time-of-Use rates, sustainable initiatives, solar rebates; as well as any other information you need to know as a Florida solar consumer.
This way, together, we can create a cleaner and better future for today's and tomorrow's generations of Floridians.
Sunrun Electric Company Resources
Learn more about your local electric company in Florida.
---

Duke Energy Corporation is one of the largest electric power companies in the US Headquartered in Charlotte, NC; Duke Energy is a leader in renewable energy across the country, and to date, they deliver electricity to more than 7.6 million customers in FL, IN, KY, NC, OH, and SC.
---

Tampa Electric is one of Florida's largest investor-owned electric companies, and also part of the TECO Energy family of companies. Tampa Electric has been providing renewable energy options for customers since 2000. And to date, they serve almost 725,000 customers in West Central Florida.
---
Don't Let Another Sunny Day in Florida Slip Away
With a nickname like "The Sunshine State," you can expect a lot of sunshine here. In fact, Florida sports more than 200 sunny days of sun each year.4 And since the price of home solar systems across the nation has hit an all-time low.5 Going solar in FL, today is one of the smartest ways you can prepare for the future.
Plus, choosing solar for your home won't just put you in control of your electric bills. This is a move that could also end up saving you thousands of dollars in electricity costs during the next 25 years.6
So if you're interested in home solar in FL, with us Sunrunners, you have several solar plans to choose from. With our BrightSave™ Monthly and BrightAdvantage™ plans — with or without a Brightbox home battery — you can start creating your own clean, renewable energy for as little as $0 down.
With Sunrun in Florida, the power is in your hands.
Personalized solar solutions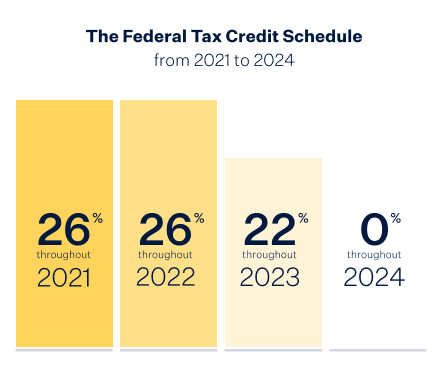 Learn about the 26% federal tax credit
Find your ideal system size and battery
Get your energy usage and solar cost