Nevada Utility Resources
How Sunrun and Your Electric Company in Nevada Work Together
Sunrun's solar lease and purchase plans are available in NV Energy's southern service territory. For customers living in Las Vegas, North Las Vegas, Henderson, Mesquite, Boulder City and surrounding areas.
If you power your home with a different company than NV Energy, we may still be able to help you create your own solar energy with one of our purchase plans. Please contact our solar advisors so we can find the best solar solution for your home in Nevada.
Installing Solar Panels & Staying Connected to the Grid
When you choose to go solar in Nevada, you stay connected to the electric grid. Staying connected to the grid ensures that if, for any reason, your home solar system can't produce all the energy you need during the day, like on a stormy day, you can continue using your devices and appliances as you normally do.
Plus, by staying connected you'll make the most of the electricity your system creates thanks to Nevada Net Energy Metering (NEM) program.1 See, when the panels on your roof generate more power than you need, the excess is sent back to the electric grid. Your electric company gives you credit for this excess, which you can use to lower your future electric bills while getting more peace of mind.
Switch to Solar and Help Nevada Go Carbon-Free
At Sunrun, we believe empowering people means empowering a cleaner, safer, and better energy future for all Nevadans. That's why we celebrate the recent passing of Senate Bill 358 (SB 358) to raise the Silver State's renewable energy sources to 50% by 2030 and help create more than 10,000 new full-time jobs.2
Still, our role in Nevada isn't just to help you reduce your carbon emissions. We are also here to provide you with information, guides and advice in all things solar. So you can learn about your Nevada electric company's NEM bill, Time-of-Use rates, sustainable initiatives, and solar power rebates; as well as any other information you need to know as an Nevada solar consumer.
This way, together, we can ensure Nevada's future is a bright one.
Sunrun Electric Company Resources
Learn more about your local electric company in Nevada.
---

NV Energy has been delivering safe, reliable energy to homes and businesses in Nevada for over a century. NV Energy is also leading the way in carbon reduction. And to date, they serve more than 1.2 million customers and a state tourist population of approximately 40 million every year.
---
Put the Nevada Sun to Work for You, Starting Today
Nevada is one of the sunniest states in the U.S.3 And since the cost of home solar installations across the country is dropping fast4 — which can potentially save you thousands of dollars in electricity costs during the next 25 years5 — there's no point in letting all that sunshine go to waste.
Besides, if you decide to become a solar owner in the Silver State, you'll be able to claim the federal solar tax credit.6 The federal solar tax credit gives you a dollar-for-dollar reduction against your federal income tax. The 26% tax credit applies as long as the solar energy system is installed by December 31, 2022. Starting in 2023, the value of the tax credit will step down to 22%. After 2023, the tax credit for residential solar ends.
On top of that, at Sunrun, we offer solar plans for almost any budget. With our BrightSave™ Monthly and BrightAdvantage™ plans, you can go solar in The State of Nevada for little to $0 down.
Choose Sunrun in NV. You can enjoy affordable, reliable and clean energy for decades to come.
Solar solutions that fit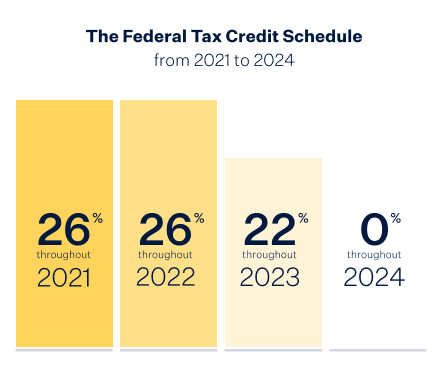 Learn about the 26% federal tax credit
Find your ideal system size and battery
Get your energy usage and solar cost