What to Expect from Hawaii's Severe Weather Events
As climate change worsens, Hawaii residents could keep facing extreme weather events and outages.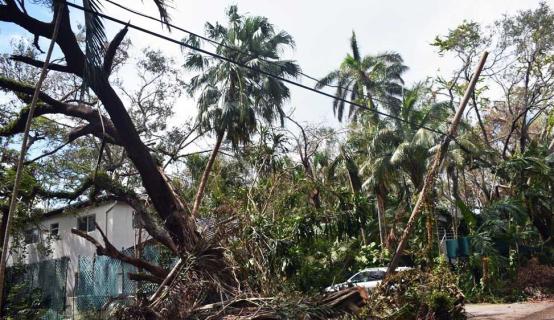 How Natural Disasters Continue to Endanger Hawaii
There's no doubt that climate change has become the most dangerous threat to all life on the planet.1 It fuels severe weather events—such as hurricanes, severe storms, floods, heat waves, wildfires, and droughts—which have plagued U.S. states and territories in the past decade. In Hawaii alone, tropical storms, heavy rain, floods, and high winds are occurring more often and causing more damage than before. Climate scientists say tropical storms and flash floods will be stronger and more frequent due to global warming. Global warming is also increasing the number of Category 4 and 5 storms, as well as the amount of rainfall that batters the Hawaiian Islands.2,3,4
An extreme weather preparedness plan is the first step to ensure you and your loved ones are safe during Hawaii storms and floods. You can download or print out a copy of the Red Cross Hurricane Safety Checklist and Flood Safety Checklist to learn tips and tactics on what to do before, during, and after one of these severe weather events hits Hawaii.
Extreme Weather and Its Impact on the Hawaiian Islands
Hurricane season in Hawaii runs from June 1 to November 30 each year. While hurricanes rarely strike Hawaii directly, they fuel windstorms and tropical cyclones, which are widespread natural disasters. Tropical cyclones can also occur off-season, and storms can happen at any time of the year.5 For example, 2015 brought the highest number of storms to Hawaii in a hurricane season since 1970, with a whopping 16 tropical cyclones. This is compared to the two to five tropical storms expected to make landfall on the islands each year.2 In February 2019, a strong storm knocked out power lines, flooded coastal roads, and even brought snow to Honolulu.6 As climate change worsens, residents of Hawaii should expect to continue facing these types of bizarre storms and their long-lasting impacts. 
Like storms, Hawaii floods can happen anytime and anywhere as they come from both the ocean and the mountainsides. There were major flooding events on the Big Island in August 2018, on the island of Kauai in March 2020, and on the islands of Maui and Oahu in March 2021. These floods caused landslides, destroyed roads and bridges, forced evacuations and rescues of dozens of families, and ravaged many Hawaiian homes.3,7 
Aside from Hawaii's severe storms and floods, rising ocean temperatures and increased acidification have severely damaged Hawaii's coral reefs and marine ecosystems. Since the ocean absorbs most of the excess heat from greenhouse gas (GHG) emissions, this leads to warmer ocean temperatures and more acidic ocean water. Studies show the ocean's acidity could increase by as much as 150% by the end of this century. When ocean temperatures and acidification rise, coral releases the algae living in its tissues, which causes it to turn white and often die during this process, known as coral bleaching. The loss of coral decreases coastal protection, which makes flooding events all the more likely.8
Now's the Time to Build a Cleaner, Safer, and More Resilient Future
The energy from the sun is a renewable, carbon-free resource available all across the country.9 A solar panel installation in Hawaii can help you benefit from the 240 sunny days the state basks in each year10 and could ensure that your home stays powered during severe weather events.
You can also store any excess Hawaii clean energy for later use if you decide to pair your rooftop solar panels in Hawaii with an energy storage system. This stored solar energy may come in handy to keep your lights on, your food fresh, your home comfortable, and your devices charged during a rainy day, a cloudy afternoon, or at night. 
Plus, solar installations are built to be strong and able to withstand the equivalent of 140 mph winds.11 Thanks to the sturdy materials needed to make solar panels, they are highly waterproof, even during extreme rain.12 On top of that, solar power in Hawaii is 238% more cost-effective than the national average.13 This proves that going solar in Hawaii could be the next best move to safeguard your home.
A Sunrun System with a Solar Battery Can Help Boost Your Peace of Mind
Sunrun is the nation's leading residential solar and energy storage company.14 We specialize in helping Hawaii homeowners like you create and store cleaner, safer, and more affordable energy. Find out which Sunrun solar plan, with or without a battery storage solution, is the ideal match for your budget and energy needs.
Here's why a switch to solar with Sunrun is different than other solar installers in Hawaii:
Choose to lease a system, prepay your solar power, or own a system
Get started with as little as $0 down
Lock in predictable energy rates for decades
Add day-and-night solar storage for your whole home or just the essentials*
Enjoy 24/7 monitoring and maintenance with our solar lease and prepaid plans
Learn about solar incentives in Hawaii and qualify for them**
Renewable Energy Is Key to a More Sustainable Future in Hawaii
The recent devastation of severe storms, flash floods, and rising ocean temperatures have severely affected Hawaii's communities and environment. As harsher natural disasters become more common for residents in the upcoming years, the state continues to make tremendous efforts to get 100% of its electricity from safer and more resilient energy sources, like solar and wind, by 2045.15
Join the Solar Revolution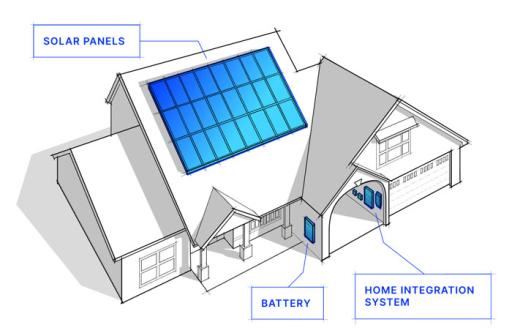 When you create and store your own clean energy in Hawaii, you can also reduce your carbon footprint and support the state's ambitious clean energy goals. Try out our Product Selector or fill out this form to receive one-on-one service from our expert Sunrun Solar Advisors. With a solar installation in Hawaii, a better energy future is at hand.
---
*One Tesla Powerwall can store 13.5 kilowatt-hours (kWh) of usable electricity, which may be used to back up the home for a day. An LG Chem solar battery can hold 9.8 kWh, which may be used to back up essential parts of the home from 8 to 12 hours. 
**Customer's ability to monetize rebates, incentives, and tax credits depends on several factors, including, without limitation, continued state subsidization of these policies, the applicable Sunrun product type, and whether a customer purchases or leases a home solar system from Sunrun.