Heat Waves and Related Outages: New Mexico's Growing Threat
Extreme heat raises A/C demand, which strains the grid—leading to outages and high electric bills.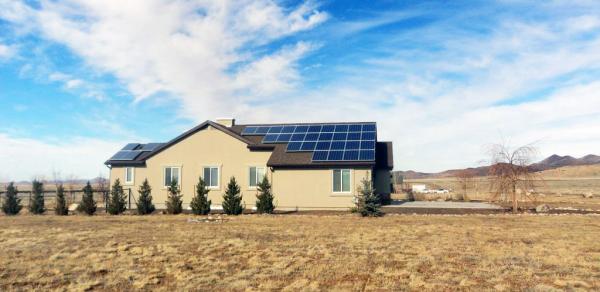 What Do You Need to Know When Summer Temperatures Rise?
It's evident that climate change is exacerbating extreme weather events in the U.S. Hurricanes are more intense, wildfires spread faster and burn more intensely, and droughts and extreme heat increase every year.1 In New Mexico alone, summer temperatures in Albuquerque and Santa Fe can quickly climb to 90 °F (32 °C) or higher.2,3 Extreme heat raises our electricity demand for air conditioning, which puts a strain on our fragile country's power grid.4 This, in turn, can lead to blackouts and higher electricity bills.
It can be extremely dangerous to face a blackout during New Mexico's scorching summer months. With a home solar energy system and battery storage, you and your family can be better prepared for extreme weather events in New Mexico. If you switch to solar, you'll be able to create your own clean energy in New Mexico to power your home when the sun is out and then store the excess energy you produce with a solar battery. Your stored energy can help keep your lights and your AC on, your food fresh, and your devices charged during New Mexico's extreme heat and related outages.
New Mexico's Climate Is Getting Hotter, Drier, and Deadlier Each Year
A recent study shows that after Alaska, the southwest一Arizona, Colorado, New Mexico, and Utah一is the fastest-warming part of the U.S. With New Mexico becoming the warmest out of these states,5 it's no wonder why the area experiences earlier springs, hotter summers, and less predictable winters. In fact, an early southwest summer heat wave in June 2021 broke records, with temperatures above 100 °F (37 °C) for almost an entire week.6
Among the groups most vulnerable to the ravaging effects of extreme heat are young children, older adults, people with chronic illnesses, and people who work or exercise outdoors. Research suggests that approximately 28,000 people in major urban areas in the country could die each year due to summer heat in the following decades.7 On top of that, more than 77% of New Mexico was reported to be in severe drought in 2021, which limited pasture yields and put a stop to watered crops.8 This clarifies that the effects of a warmer climate significantly affect people's health and food security across the state.
Along with the dangers mentioned above, hurricanes and droughts that occur during hot summer months have a devastating impact on our nation's electric grid, causing more planned and unexpected blackouts.9 More than 900,00 New Mexico residents were affected by power outages between 2008 and 2017.10 Given this dire reality; heat waves and temperatures will inevitably continue to spike and force New Mexico residents to endure more blackout risks as the years pass by.11
It's important to have an evacuation plan at hand to ensure that you and your loved ones are protected during the extreme heat of New Mexico's summers. Download or print out a copy of the Red Cross Heat Wave Safety Checklist to learn tips and tactics on what to do before, during, and after a heat wave.
Did You Know that Solar Panel Installations Are Built to Resist High Temperatures?
Modern-day rooftop solar panels are built to withstand heat up to 149 °F (65 °C). It's also important to note that residential solar panels reach their peak efficiency level at 77 °F (25 °C) and that their efficiency decreases by 0.5% for every degree above this temperature. An exterior temperature range of 59 °F to 95 °F (15 °C to 35 °C) is when solar panels perform best; however, it's unrealistic for solar panels to stay within this range all year, especially in places like New Mexico, where temperatures can go past 100 °F (37.8 °C).12 Still, you can rest easy knowing that your New Mexico solar panels will work in the intense summer heat, and unless it's night, the panels will rarely have a 0% energy production.
A Sunrun System with a Solar Battery Can Help Boost Your Peace of Mind
Sunrun is the leading residential solar and energy storage company in the nation.13 We specialize in helping New Mexico homeowners like you create and store cleaner, safer, more, and more reliable energy—day and night. If you team up with a New Mexico solar company like Sunrun, you can make this modern energy system a reality in your New Mexico home today.
Discover which Sunrun solar plan, with or without a battery storage solution, is the ideal fit for your budget and energy needs so that you can experience the full benefits of solar power in New Mexico.
Here's why going solar with Sunrun is different from other solar installers in New Mexico:
Choose to lease a system, prepay your solar power, or own a system
Get started with as little as $0 down
Lock in predictable energy rates for decades
Add backup power for your whole home or just the essentials*
Enjoy 24/7 monitoring and maintenance with our solar lease and prepaid plans
Learn about solar incentives in New Mexico and qualify for them**
Renewable Energy in New Mexico Is the Only Way Forward
Climate change is making summers in the Northern Hemisphere hotter and longer. Studies show that summers in New Mexico could end up lasting up to six months every year by the end of this century.14 As deadly heat waves, extreme droughts, and their related blackouts continue to strike New Mexico, now's the time to act and make the switch from fossil fuels to greener, safer, and more dependable energy sources.
Gain Energy Independence and Security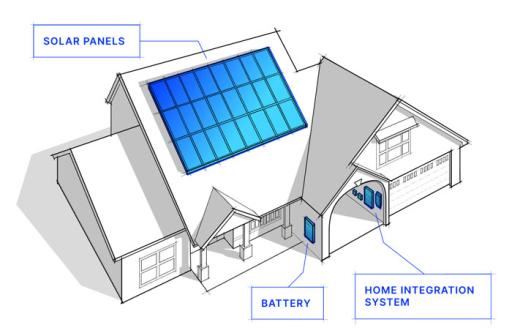 A solar installation in New Mexico with battery backup can help reduce your carbon emissions to help the environment. It can also increase your control over rising energy costs during the summer heat and protect your home during outages. Whenever you're ready, use our Product Selector or fill out this form to receive one-on-one service from our expert Solar Advisors. With Sunrun in New Mexico, you can build a better energy future, starting today.
---
*One Tesla Powerwall can store 13.5 kilowatt-hours (kWh) of usable electricity, which may be used to back up the home for a day. An LG Chem solar battery can hold 9.8 kWh, which may be used to back up essential parts of the home from 8 to 12 hours. 
**Customer's ability to monetize rebates, incentives, and tax credits depends on several factors, including, without limitation, continued state subsidization of these policies, the applicable Sunrun product type, and whether a customer purchases or leases a home solar system from Sunrun.