New Mexico Solar Incentives
With Sunrun, You Can Maximize Your Solar Potential
#2
New Mexico is the second sunniest state in the nation.1
-45%
New Mexico solar price drop over the last five years.2
100%
State electricity generation that will come from renewable energy sources by 2045.3
New Mexico basks in an average of 293 sunny days per year,4 which is just one of several reasons to go solar in the Land of Enchantment. The state also has some of the best solar incentives in the country, such as federal and state solar tax credits,* Solar Renewable Energy Credits (SRECs), as well as property and sales tax exemptions.5
As the U.S.'s leading residential solar and energy storage company,6 Sunrun works to ensure you can create and store your own solar energy at home to get outage protection and reduce your carbon footprint while enjoying New Mexico's solar incentives.
Solar Incentives, Tax Credits, and Rebates in New Mexico*
Incentive

Value

Inflation Reduction Act (IRA)**

Qualified homeowners with home solar could be eligible for a tax credit of up to 30% against the cost of the system.

New Solar Market Development Income Tax Credit

The 10% state solar tax credit is available for purchased home solar systems in New Mexico. (Max. $6,000 tax reduction.)8

Solar Renewable Energy Credits (SRECs)

El Paso Electric Company (EPE) and Public Service Company of New Mexico (PNM) customers can get compensation per kilowatt-hour (kWh) produced by their systems.9,10,11

Solar Energy System Property Tax Exemption

Property tax exemption on the added home value from the rooftop solar system.12

Solar Installation Sales Tax Exemption

5.125% home solar system state sales tax exemption.13,14

New Mexico Sustainable Building Tax Credit (SBTC)

Tax credit for new constructed homes with solar panels. (2,000 sq. ft cap.)15

Find out If You Qualify for New Mexico Solar Incentives
Learn the Details of New Mexico Solar Incentives
Going Solar with Plenty of Perks and Options—What's Not to Like?
Our home solar plans, with or without energy storage, in New Mexico start at $0 down. What's more, EPE, PNM, and Xcel Energy offer net energy metering (NEM) programs that could let you earn credits on your bill for the excess solar power you produce and send to the grid.9,10,17,18 Net metering in New Mexico can give you more control over electricity bills.
There hasn't been a better time to make the switch with a New Mexico solar company like Sunrun. To find out if our solar and storage solutions are right for your energy needs, use our Product Selector or request a free quote to get one-on-one service from our expert Solar Advisors.
Go solar today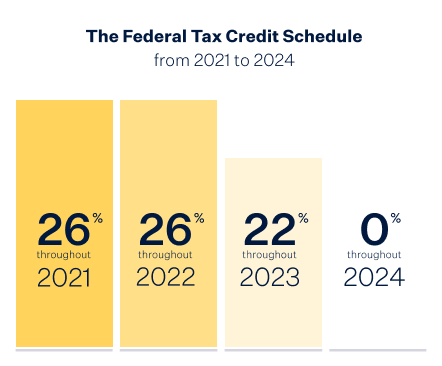 Learn about the federal tax credit
Find your ideal system and battery
Get your cost to make the switch
DISCLAIMERS:
*We recommend contacting a tax professional to most accurately determine the impact of the solar Investment Tax Credit (ITC) on your federal taxes.
**We recommend contacting a tax professional to most accurately determine the impact tax credits may have on your federal taxes.