Solar & Batteries Power Your Home During Public Safety Power Shutoffs (PSPS)
Recent wildfires across the western United States have exposed the frailties of our electric grid.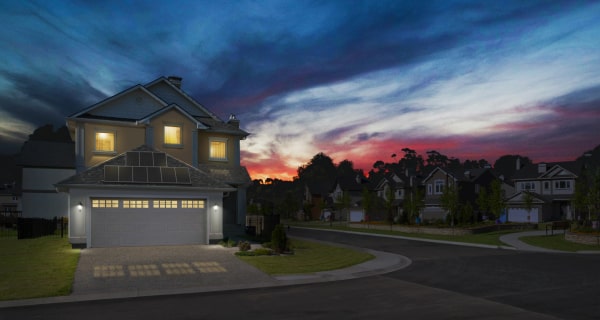 Learn How Sunrun Can Help You Keep Your Home Running Through Outages
Recent wildfires across the western United States have exposed the frailties of our electric grid in providing reliable and safe energy to consumers. High-power electric transmission lines passing through high-fire threat areas are an especially big concern. The 2018 California wildfires, for example, were started by active Pacific Gas and Electric (PG&E) high power lines,1 and affected millions of Californians―including killing 86 people in Paradise, California.2
To avoid these catastrophes, many utility companies have begun taking precautionary steps to reduce the risk of increasingly devastating wildfires. One of these steps is to preemptively shut off power to portions of the grid to avoid the possibility that live lines spark new fires. These types of rolling blackouts are known as a Public Safety Power Shutoff (PSPS) and they can impact millions of homeowners. Each event is unique, but many of them have stretched beyond just a few hours to leave communities without power for days at a time.3
During wildfire season, more and more households are looking for alternatives to the old way of doing things. And the best alternative is the most obvious: the sun. The sun is our most reliable and resilient renewable energy source and it's powering more homes than ever. 
Sunrun solar systems with a rechargeable battery are an effortless way to keep your home running through blackouts. Our battery storage options can provide energy for the essentials or for your whole home and they recharge with each new sunrise as your panels collect clean energy from the sun. This is the future of home energy: clean, abundant power you can rely on.4
What is a Public Safety Power Shutoff (PSPS)?
Utility companies are granted general authority by the commission in their state to maintain and manage the grid. This includes periodically de-energizing the grid as a preventative measure to protect public safety and maintain the grid's viability. To do this, utilities can implement Public Safety Power Shutoff (PSPS) events (commonly referred to as rolling blackouts) to protect against electric service disruption and possible harmful events caused by utility equipment to communities.
Here are four important aspects of a PSPS outage:
Both distribution lines (those typically found in your local community) and transmission lines (long-distance lines usually outside of densely populated areas) may be shut off. 
While those living in high-fire-threat areas are most likely to be affected, anyone connected to the public utility grid could experience a power outage if their community relies on a line in a high fire-threat area. The communities and total number of people impacted depend on weather forecasts and specific utility circuits needed for shut off.
In most cases, power is restored within 24 to 48 hours.But PSPS outages could last up to five days and have the potential to impact hundreds-of-thousands homes and businesses per event. Utility crews visually inspect power lines (and make repairs as necessary) to ensure they're damage free and safe to re-energize before restoring power after the wildfire or extreme weather has passed. 
PSPS outages could occur several times per year. Wildfires are increasing in frequency and intensity, which means the potential for your community to be impacted by an outage multiple times annually is getting more likely.
Protect Against Outages with Sunrun
Wildfire season has now expanded to a point that severe fires are occurring year-round. Utilities actively monitor wildfire conditions and, when possible, notify customers of blackouts in advance. However, these events usually come with minimal warning and, as mentioned, may last for days. 
To protect your home and family, be prepared with a safe, reliable backup plan. Sunrun's rechargeable solar battery systems offer a proven solution that lets you take control of your energy. Sunrun solar batteries give you greater freedom over your energy during PSPS and other outages by allowing important appliances in your home (e.g. home security systems, water pumps, refrigerators) to continue running when the grid goes down. It's no surprise that home battery installations in the United States have increased more than 200% annually during the past four years.
Advantages to a home solar system and backup battery include:
1. Control of your home energy use. Sunrun's solar batteries store electricity produced by your solar panels so you can use it when you need it most—during power outages and extreme weather.
2. Lower electric bills. You may experience lower utility bills as you draw less electricity from the grid.5 Battery storage can also be financially beneficial because it allows you to use the clean power generated on your rooftop even after sundown and during peak-rate hours.
3. Reduced strain on energy infrastructure. Use of solar energy lowers the amount of electricity pulled from the grid. This reduced power load maintains safer circuit tolerances for a longer time, giving grid operators, line workers, and emergency responders more time to handle outages and the impact of wildfires. The result is a lowered risk of future wide-spread outages.
4. Reduced wildfire risk. Less consumer dependence on the grid can lower the chance of electric sparks from overhead lines potentially resulting in wildfires. According to California utility PG&E, for example, the estimated cost on their system to mitigate the risk of future events like the Camp Fire could exceed $30 billion.
5.  A cleaner environment. Going solar gives you the freedom to create your own clean energy and protect the planet for future generations. Sunrun has prevented 3.7 million metric tons of greenhouse gas emissions, equivalent to eliminating 9 billion passenger vehicle miles or recycling 1.3 million tons of waste. Solar technology provides a way to decarbonize our electricity system.
Get Resilient, Affordable Home Solar and Battery Storage for $0 Down
At Sunrun, we're here to help you power through outages with clean and affordable solar energy. Our Solar Advisors will help you design a solar system that goes the extra mile to maximize affordability, power production, and peace of mind.