What Happens during Hurricane Season in Texas?
"Texas has been impacted by one incredibly powerful hurricane after another..."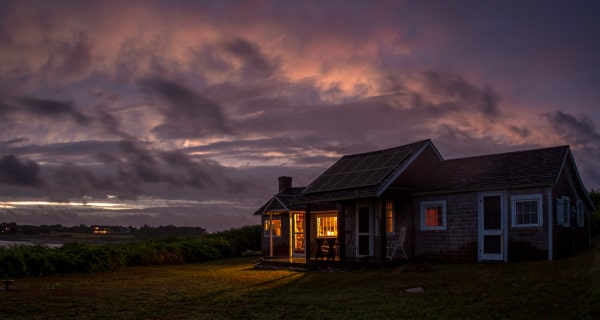 How Extreme Weather Events Impact the Lone Star State
It's clear that extreme weather events have become the new normal across the globe.1 In the U.S. alone, wildfire season and severe drought on the West Coast are now longer and more intense than before,2 while hurricanes that hit the East Coast from the Atlantic Ocean have gotten stronger as well.3 In fact, Texas has been impacted by one incredibly powerful hurricane after another. The National Oceanic Atmospheric Administration (NOAA) Climate Prediction Center predicts a new above-normal Atlantic hurricane season starting in 2021.4 
It can be nerve-racking to expect a natural disaster, especially after we've witnessed the unprecedented damages caused by Texas hurricanes in recent years. Still, it's important to remember that you and your family can be better prepared for extreme weather events in Texas with the help of solar energy. If you install rooftop solar panels along with a solar battery, you can create your own clean energy in Texas to power your home when the sun is out and then store the excess energy you produce. Your stored energy can help keep your lights on, your food fresh, your home comfortable, and your devices charged during a hurricane-related blackout.
The Lasting Effects of Hurricanes Ike, Laura, Harvey, and Hanna in Texas
Millions of Texas residents and businesses spent hours (and some even days) in the dark after Hurricanes Ike, Laura, Hanna, and Harvey battered the region. The potent winds and heavy rain caused widespread chaos. Texans experienced unimaginable tragedies—like severe flooding, high waters, fires resulting from knocked-out power lines, and gasoline price spikes—which for some haven't fully ended to this day.5,6,7,8
It's clear that the destructive pass of these hurricanes and recent winter storms in Texas have revealed the fragility of the state's electric grid. Its strained infrastructure continues to leave Texans without power in the unforgiving summer heat and winter cold.9
While Texas has taken pride in its soft regulatory power grid rules, it's now paying a high price. Unlike a regulated market, five in six Texas customers are free to choose their retail energy supplier. Without regulation, energy suppliers and companies aren't required to monitor, protect, or properly maintain their infrastructure.10 As electricity demands increase and the Lone Star State gets hit by multiple extreme weather events each year, Texans should expect power outages and higher electricity bills to become more common.
All Texas residents deserve a modern and resilient energy system that can provide the electricity they need, when they need it, at a fair price. The energy from the sun is a renewable and carbon-free resource available all across the country.11 If you team up with a Texas solar company like Sunrun, it can help you harvest this magnificent energy resource to stay powered during hurricanes and storms.12
Did You Know That Rooftop Solar Panels Can Resist Powerful Winds?
Texas Hurricanes Ike, Laura, Harvey, and Hanna struck Texas with rain and winds ranging from 90 to 150 miles per hour (mph). They caused floods, landslides, broken power lines, extensive property damage, loss and diseases of plants and animals, as well as hundreds of human casualties.5,13,14,15 
In Houston, Texas where Hurricane Harvey caused massive destruction, solar installations are required to resist winds of 110 mph as of 2021,16 while most rooftop solar panel installations are built to withstand the equivalent of 140 mph winds.17 Thanks to the sturdy materials needed to make solar panels, they are highly waterproof, even during extreme rain.18
Keep in mind the importance of an evacuation plan to ensure you and your loved ones are protected during Texas hurricane season. Download or print out a copy of the Red Cross Hurricane Safety Checklist to learn tips and tactics on what to do before, during, and after a hurricane.
What a Sunrun Home Solar System with Energy Backup Can Do for Your Home
Sunrun is the leading residential solar and energy storage company in the nation.19 We specialize in helping Texas homeowners like you create and store cleaner, safer, more affordable, and resilient energy—day and night.
Discover which Sunrun solar plan, with or without a Brightbox battery storage solution, works best for your budget and energy needs so that you can create and store your own Texas solar energy at home.
Here's why a solar journey with Sunrun is different from other solar installers in Texas:
Choose to lease a system, prepay your solar power, or own a system
Get started with as little as $0 down
Lock in predictable energy rates for decades
Add back-up power for your whole home or just the essentials*
Enjoy 24/7 monitoring and maintenance with our lease and prepaid plans
Learn about solar incentives in Texas and qualify for them**
It's Time to Transform Texas's Energy System
Climate change is making hurricanes stronger,20 and Texas's electrical grid isn't ready to handle another severe weather event.21 Fortunately, you can now boost your peace of mind during weather-related electricity outages with a Texas solar installation that has energy storage. This will help build a more modern and more resilient energy system that runs on renewable electricity made in Texas.
Use our Product Selector or request a personalized quote to get one-on-one service from our expert Solar Advisors. With Sunrun, you can help build a brighter energy future for all Texans that starts today.
References:
3. "How Climate Change May Be Impacting Storms Over Earth's Tropical Oceans" NASA—Global Climate Change: Vital Signs of the Planet
4. ""NOAA predicts another active Atlantic hurricane season"" National Oceanic Atmospheric Administration (NOAA)
6. "Aftermath photos, videos capture Hurricane Laura's devastation in SE Texas and Louisiana" The Houston Chronicle
8. "Flooding, damage, power outages in Texas after Hurricane Hanna" United Press International (UPI)
14. "Hurricane Harvey: Texas battered by high winds and rain" The British Broadcasting Corporation (BBC)
*One Tesla Powerwall can store 13.5 kilowatt-hours (kWh) of usable electricity, which may be used to back up the home for a day. An LG Chem solar battery can hold 9.8 kWh, which may be used to back up essential parts of the home from 8 to 12 hours.
**Customer's ability to monetize rebates, incentives, and tax credits depends on several factors, including, without limitation, continued state subsidization of these policies, the applicable Sunrun product type, and whether a customer purchases or lease