Sunrun Expands to the Midwest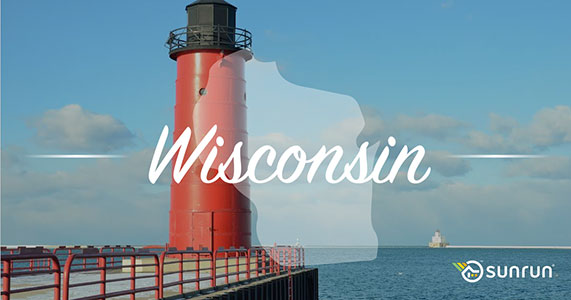 There's more to Wisconsin than cheese, brats, and football: the state is also known for its breathtaking scenery, strong agriculture industry, and abundant waterways. Today, Sunrun becomes the first national solar company to offer its services to Wisconsin residents. We're proud to help Wisconsinites preserve their natural resources by making solar energy available to Wisconsin homeowners for the first time.
Wisconsin currently has 4,000 homes powered by the sun.
And we're making it easier for that number to grow. Sunrun is the largest dedicated residential solar provider in the country, and we have over a decade of experience helping nearly 135,000 homeowners choose clean, sustainable energy for their homes. We're looking forward to helping Wisconsin families go solar to bring down their energy costs and create a cleaner, more sustainable environment for generations to come.
Going solar with Sunrun could double the state's solar energy supply.
Wisconsin residents and businesses installed 5.0 MW of solar-powered energy in 2016. Sunrun has the potential to provide 4.6 MW of clean energy to the Wisconsin market, which would almost double the state's solar energy supply!

Wisconsin homeowners can save big on their electricity bills by going solar.
Wisconsin has some of the highest electricity rates in the region, but the price of solar energy has decreased by a whopping 64% in the last 5 years. Add those savings with  the state's Focus on Energy rebate and the 30% Federal Investment Tax Credit and Wisconsinites could see a quick return on their solar investment. And Wisconsin's cold winter temperatures are actually a good thing! Photovoltaic solar panel power production works most efficiently in cold temperatures.
Wisconsin's agriculture industry is also powered by the sun.
If you're from Wisconsin, you know what sound a fresh cheese curd makes and what's knee-high by the 4th of July. But Wisconsin agriculture isn't just about dairy and corn: did you also know the state is the leading American producer of cranberries, whey, ginseng root, and wild rice? Like Sunrun, Wisconsin farmers are experts at harnessing the sun's energy to provide for our needs.
Wisconsin is known for producing innovators.
Famous minds from the Badger State include U.S. Army General Douglas MacArthur, Supreme Court Justice William Rehnquist, electric guitar inventor Les Paul, filmmaker Orson Welles, actor Gene Wilder, comedian Chris Farley, architect Frank Lloyd Wright, and magician Harry Houdini. Soon to join their ranks: savvy Wisconsinites who will reduce their energy costs and help reduce their carbon footprint by switching to solar.
Going solar with Sunrun.
If you a Wisconsin homeowner thinking about going solar there's no better time than now to switch to clean, renewable energy. Click the button below to learn more about going solar with Sunrun in Wisconsin.

---
Sources:
http://www.history.com/topics/us-states/wisconsin
http://www.wmmb.com/assets/images/pdf/WisconsinDairyData.pdf
http://www.seia.org/state-solar-policy/wisconsin
https://www.dells.com/info/history/

Kenton Warren
Choose and control your home energy
Go solar for $0 down
See if you qualify