Sunrun - Your Leading New Hampshire Solar Company
While politicians may be courting you at every turn, we've got a campaign that everyone can get behind. Here at Sunrun, one of the largest residential New Hampshire solar companies, we've been hiring locally and helping homeowners across the United States enjoy clean and affordable renewable energy  for over 10 years.
Now's your chance to turn rooftop solar support into savings. And when we say savings, we mean it—we'll only recommend a residential solar system if it makes sense (and cents) for you and your lifestyle.  
Solar Energy, Year-Round
While you love living in New Hampshire, one thing is certain—the winters are cold. Really cold. So it's no surprise that your energy bill skyrockets during the snowy season. The same can be said when you're trying to keep cool in the heat of summer. And when New Hampshire electricity rates are some of the highest in the country,1 those bills add up in a big way.
If you aren't sure if solar panels make sense in wintry New Hampshire, consider this: solar panels actually work more efficiently in cold weather.2 In fact, New Hampshire's nearby neighbors like Massachusetts and New Jersey rank in the Solar Energy Industries Association's (SEIA) top 10 solar states.3
Warming up to solar? Keep reading to see how we help households like yours save with the sun.
New Hampshire Solar Panel Leasing
Pay for the power, not the panels. Our most popular solar option, BrightSave Monthly™ can eliminate the cost of maintenance. Our industry-leading service package and system performance guarantee give you the benefits of going solar, plus professional monitoring and predictable electricity rates for the years.
Want the very best value on solar? Bask in the worry-free benefits of a lease without the monthly payments with BrightSave Prepaid™. Buy your solar power in bulk and watch the savings roll in.
If you're asking yourself, "But what if I move?" Don't worry, we've got you covered. We have a whole team standing by to help transfer your contract to the new homeowners. Simple as that.
Own Your System and Your Savings
Interested in owning your own solar system? Purchase your solar system from Sunrun with BrightBuy™ and own your system and savings for life. You'll also be able to cash in on New Hampshire solar rebates like the federal tax credits, net metering and extra value added to your home.4
Want to own your system for $0 down? Finance your system purchase with a solar loan and enjoy low, fixed monthly payments, competitive rates, and no upfront cost with BrightAdvantage™.
Cash In on New Hampshire Solar Incentives and Rebates
Whether you lease or own a solar system, you'll be able to take advantage of New Hampshire's net metering policy,5 arguably one of the best solar energy incentives available to you. By sending your utility the extra clean energy your solar panels produce, you'll be able to receive credits to help pay for your monthly energy bill.
When you own your own system, you'll also be eligible for the Public Utilities Commission's (PUC) Residential Renewable Electrical Generation Rebate Program.6 Qualifying home solar systems can get a rebate at $0.20 for every kilowatt-hour (kWh) their solar system produces, or up to $1,000. You'll also be eligible for New Hampshire's Property Tax Exemption.7
The best federal incentive program is the generous federal solar investment tax credit (ITC), which could cover up to 30% of your installation cost.8 Find out more about New Hampshire solar incentives, tax, credits and rebates. 
New Hampshire Solar Incentives, Rebates, & Tax Credits
Solar Savings Types
Value of Savings
Federal Solar Investment Tax Credit (ITC)
30% of the total system cost
Property Tax Exemption
Property Tax Exemption on Added Home Value from Solar System
Other Programs
Variable (Net Metering)
Learn More About New Hampshire Solar Incentives
**Customer's ability to monetize rebates, incentives and tax credits depends on several factors, including, without limitation, continued state subsidization of these policies, the applicable Sunrun product type, and whether a customer purchases or leases a solar system from Sunrun.
We Partner with Top Solar Installers
No matter which payment plan you choose, you can rest assured that you'll be in good hands. All of our solar installations are of the highest quality and are backed by robust warranties. We also partner with only the very best solar installers in your neighborhood. By supporting your local community, we're here to spread the benefits of solar far beyond your rooftop.
Get a Free Quote Today
Not only does going solar mean energy independence—you'll be protecting iconic landscapes like the breathtaking White Mountains that set New Hampshire apart. Protecting the beauty of your backyard? That's something we can all stand behind.
Want to learn more? Our solar experts are ready to work on your free quote today.
Solar resources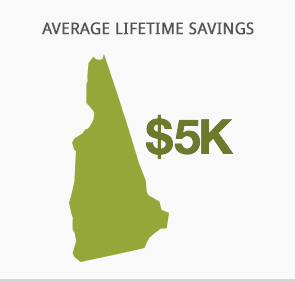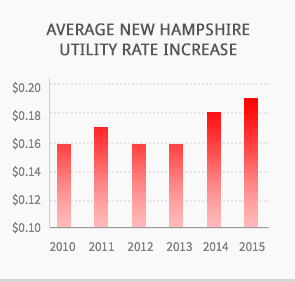 SOLAR SAVINGS ARE BIG
See if you qualify for solar