Home Solar in New Hampshire
New Hampshire is a special place here in the U.S. From a total lack of sales tax to some of the best cheddar ever at The Harman Cheese & Country Store, this place is full of surprises. As a homeowner here, you're already enjoying the clean air, plentiful sun, and beautiful green space. So let's talk, because we've got a proposition for you. If you live in New Hampshire, you aren't afraid of a little cold. 
That's just how it is. But, with the cold comes some pretty high electric bills. New Hampshire's seasonal rate hikes means your electric bill can be as nasty and unpredictable as the winter and you get slammed with big unpredictable bills. Luckily, when you go solar with Sunrun, you can lock in your electric rates and at the same time tell your electric company "thanks, but I got this."
It's no secret that utility bills can often put the pinch on your wallet. So why not join the solar energy community? With solar power, you can beat rising New Hampshire energy rates and save money all year round. But first, you've got to kick your utility company to the curb.
With home solar panels from Sunrun, you can say goodbye to these costly and unpredictable energy rates. Sunlight is clean, renewable, and efficient. And when you use your solar system to produce power for your home, you can lock in a low rate for the lifetime of your solar system.
That's 20 years of savings with clean, affordable energy. And with support from the capitol and local authorities, you won't be alone! So don't wait — join the growing solar community in New Hampshire today and see just how good New Hampshire solar can be.
New Hampshire Solar Incentives, Rebates, & Tax Credits
Solar Savings Types
Value of Savings
Federal Solar Tax Credit (ITC)
30% of the total system cost
Property Tax Exemption
Property Tax Exemption on Added Home Value from Solar System
Other Programs
Variable (Net Metering)
Learn More About New Hampshire Solar Incentives
**Customer's ability to monetize rebates, incentives and tax credits depends on several factors, including, without limitation, continued state subsidization of these policies, the applicable Sunrun product type, and whether a customer purchases or leases a solar system from Sunrun.
We're making going solar in New Hampshire affordable
Here at Sunrun, we're really committed to helping residents of this great state save money on their power bill — today, tomorrow, and in the future. And we have the experience and resources to do it. As the largest dedicated home solar company in the country, we've developed a personalized and simple process that allows you to enjoy the benefits of solar energy quickly and easily.
With just a simple phone call, you'll be well on your way to getting a customized solar design for your home. This design is implemented by one of our extensive network of local partners. By working with them, you can enjoy quick and professional solar installations from certified folks who live near you. They're verified by Sunrun, so you can trust that you're in good hands.
And, with our 24/7 monitoring of your solar system, you'll have a lot less to worry about in the long-run. That's because whether it's an equipment failure or a simple checkup, Sunrun will be on it faster than you can say "solar savings"! The best part is, all of our services are provided under flexible financing, including solar leases and PPA agreements, allowing you to benefit from solar on your own terms and within your budget.
So what're you waiting for? Check out our service areas and see if we can help you make the switch in New Hampshire. Get a free solar quote today.
Energy resources
Solar resources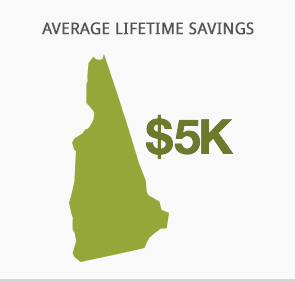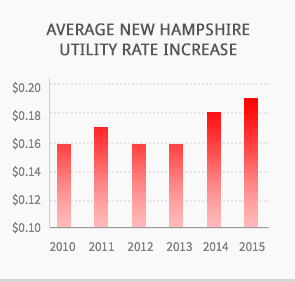 SOLAR SAVINGS ARE BIG
See if you qualify
Go solar in 3 easy steps