Is Your Family Prepared for a Summer Blackout?
As we've grown increasingly reliant on our homes, we're even more vulnerable to power outages.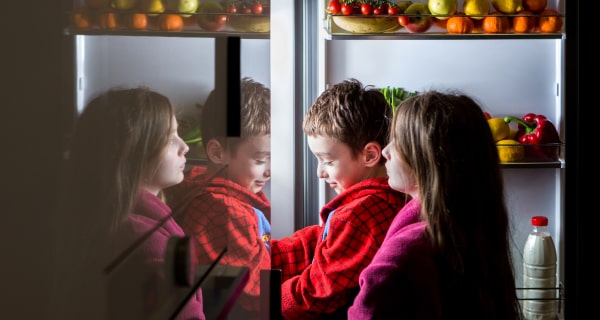 The pandemic hasn't stopped blackouts from disrupting our daily lives.1 As we've grown increasingly reliant on our homes, we're even more vulnerable to power outages than ever before. With outdoor temperatures on the rise, it's time to get prepared for when the next blackout strikes.2 Rest assured, you've come to the right place—at Sunrun, we can help put the power in your hands.
Sunrun's home solar battery storage gives you the option to back up your entire home or just the essentials. Even when the grid is down, you'll be able to stay cool during sweltering summer heatwaves, preserve perishable food and medications, and charge essential electronics and medical devices. It's the peace of mind you need so you and your family can keep powering forward.
In addition to clean and safe back-up power, here are some crucial ways to prepare your family for blackouts.
7 Ways to Prepare for a Summer Blackout
1. Get safe and reliable back-up power
Make sure you have a source of back-up power in the event of a blackout. Standby generators are a common source of back-up power, but they can be dangerous and should only be used when absolutely necessary.3 If you do use a gas-powered generator, make sure you keep it outdoors in a well-ventilated area and away from windows to avoid carbon monoxide poisoning.4 The Centers for Disease Control and Prevention (CDC) recommends keeping generators 20 feet away from your home.5 You should also have a carbon monoxide detector on every level of your home and test it monthly to ensure it's working properly.4
Sunrun has a safer alternative to dangerous fossil fuel-burning generators. Our customizable solar battery storage options can offer clean back-up power in the midst of a blackout. Solar battery storage is not only clean and reliable—it'll take care of many items on this checklist so you and your family can stay safe and healthy.
For as little as $0 down, get custom solar battery storage that runs on the sun. You'll have the power to take control of your energy and protect your family from sweltering summer heatwaves when the next blackout strikes. 
2. Create a social safety net
While seeing people outside of your immediate family can be difficult these days, it's still a good idea to form a "pod" with nearby family and friends who you can count on if you need to evacuate your home. Make sure to keep a paper copy of their phone numbers in case you lose access to your electronic devices or the internet.4
3. Have a plan to stay cool
Extreme heat shouldn't be taken lightly. Take precautions to stay cool and avoid the risk of heatstroke or other heat-related illnesses.5 Drink plenty of fluids and have a supply of water bottles on hand in case your tap water becomes unsafe to drink.5 If you can, take cool baths or showers or spend the afternoon in a nearby mall or library with air conditioning.
If you do spend time in a public space, make sure you adhere to your city's public health rules and guidance. Your local health department may also be able to provide you with a list of cooling centers in your area if you experience a blackout during a heatwave.5
Home battery storage can also provide a vital source of back-up power for your AC, so you can take shelter in the comfort and safety of your own home. Sunrun offers customizable solar battery backup for the whole home or just the essentials.4
4. Have an emergency kit on hand 
Your emergency disaster supply kit should include enough of the following to last at least three days.5 The American Red Cross recommends up to two weeks:4
Clean water
Dried, canned, and other non-perishable food items 
A heavy-duty cooler and ice packs to preserve perishable food and medication
Battery-powered flashlights and spare batteries
External batteries for phones 
First aid kit and a digital thermometer
Prescription medications
Hand sanitizer 
Use a flashlight in lieu of candles, gas lanterns, or torches to minimize the risk of a fire.
5. Store up safe drinking water
As mentioned above, it's best to have enough bottled water on hand to last you for at least three days. Water purification systems may malfunction during a power outage, as was the case during Texas's debilitating blackout earlier this year.6 Do not use water that may be contaminated.7 Your local health department can make recommendations for boiling or treating water in your area.5
6. Practice food safety
Food in your refrigerator and freezer should still be safe to consume if a power outage lasts less than four hours. Keep your refrigerator and freezer doors closed as much as you can in order to keep food cold for as long as possible.5 For an extended power outage, eat fresh, perishable foods first. Keep a food thermometer on hand and throw out food that's warmer than 40°F, especially meat and dairy.4 The best advice? When in doubt, throw it out. 
7. Unplug non-essential appliances and electronics
To avoid power overloads or damage from power surges, unplug appliances and electronics that don't need to be plugged in at all times.4 If you're running on back-up power, you'll be able to save more energy if you only power essential appliances like the AC unit or the refrigerator. This practice could also help you save on your electricity bill in the long run.8
Power Outages and Global Temperatures Are on the Rise
Blackouts and climate change go hand-in-hand: Since 2000, there's been a staggering 67% rise in major power outages due to weather and climate-related events.9 In fact, the U.S. has more power outages than any other developed country in the world.10 
With an aging and expensive power grid that's increasingly susceptible to outages, clean and affordable energy sources like solar power and batteries will be crucial in offsetting the devastating effects of climate change.11 Across the country, states like California and Texas are already investing heavily in battery storage to protect millions of residents from extreme weather events.12,13 With the majority of remote work here to stay, Americans are becoming all the more reliant on their homes and electricity.14
In the face of rising electric rates, sweltering summer temperatures, and increasing power outages, now is the time to take control of your energy.15,16,17
Stay Safe with Clean, Reliable, and Affordable Back-up Power
With solar battery storage, you can use the summer sun to power your home if the electric grid goes down. You won't have to worry about scorching summer heat, dangerous carbon monoxide emissions, losing power to essential devices, or keeping your food fresh and safe for your family.
Additional Resources
Be prepared for the next blackout and get the power you deserve.
Sunrun's affordable solar plan comes with our industry-leading Solar Guarantee, which includes 24/7 monitoring and maintenance for your system so you can enjoy 100% peace of mind. See why over 500,000 Americans across the country have partnered with Sunrun and get a solar consultation today.