Lead the Electric Vehicle Revolution with Solar Energy and Battery Storage
Electric vehicles and solar power go hand in hand.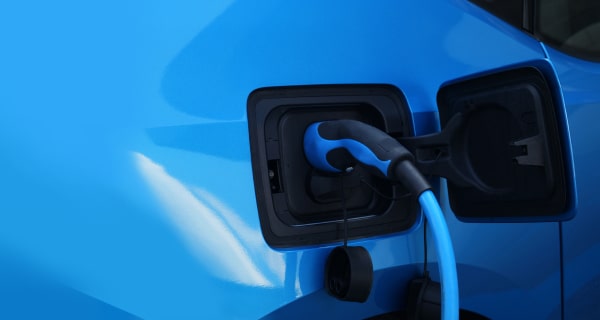 If you have an electric vehicle (EV) or plan to own one in the future, charging it with home solar power and battery storage is a great way to further reduce your reliance on fossil fuels. In fact, one in four electric vehicle owners also installed a home solar system or planned to install one.1 
Not only can home solar and battery storage provide electricity for your EV, it can also help to offset the cost of charging your car and can provide crucial back-up power when the grid goes down. To learn more, keep reading or get in touch with one of our expert Solar Advisors to see how an EV plus home solar can power you forward.
Can You Charge Your Electric Vehicle with Solar Power?
The short answer is, yes. To charge your EV at home without using fossil fuel, you'll need a home solar system. Many solar installers will help you determine the number of panels you'll need in order to adequately charge your EV with home solar panels. If you want to add a charging station in your home, we recommend that you contact your EV dealership or manufacturer.
Even if you don't have an EV yet but plan to get one soon, Sunrun's experienced Solar Advisors can still help you find a custom-fit solar system for your home. We'll account for the amount of power you'll need to both charge your EV and meet your family's electricity needs while maximizing savings.
Offset the Cost of Charging Your Electric Vehicle
On top of the estimated $632 per year you might save on gas, there are other ways you can further offset the cost of charging your electric vehicle.2  While you won't pay for gas, you'll still have to pay for the electricity you need to power it if you choose to charge your EV at home.
If you live in a state or region with time-of-use (TOU) rates, then the best time to charge your car will likely be during off-peak hours when rates are cheapest (depending on your rate plan).3 Off-peak hours will most likely be during the middle of the day, overnight, or on the weekends, when electricity usage is lowest.
Your day doesn't have to revolve around finding the right time to charge your EV. With Sunrun's solar and battery storage, you can buffer the cost of peak TOU rates by storing up the sun's energy to use when you need it most. Solar battery storage will give you the freedom to charge your EV for whenever you need it, without the anticipation of a sky-high utility bill at the end of the month.
Back up Your Electricity with Solar Batteries
Although you'll be able to power your electric vehicle with your solar panels, a solar battery can help you go the extra mile. Protect your family during the next blackout and count on clean, reliable, and unlimited solar power with the addition of a home solar battery. 
In the event of a grid outage, a solar battery can power your home, and power your EV, too. Instead of a dirty and potentially dangerous backup generator that runs on fuel, a solar battery has a reserve of clean solar energy that can replenish every day until the grid is back up again.4
Affordable, Industry-Leading Home Solar
Many of us want to do our part to reduce our impact on the environment while optimizing our everyday lives, however, purchasing both an EV and a solar energy system can require a considerable amount of cash upfront. 
We believe everyone is entitled to power their lives with resilient and renewable energy. Thanks to Sunrun's flexible solar plans, you can go solar for as little as $0 down. Our monthly solar plan is backed by our industry-leading Solar Guarantee, which includes 24/7 monitoring and maintenance, as well as full insurance coverage. If you choose a solar lease, you'll lock in a solar electricity rate for up to 25 years. You can protect yourself from surprise utility bills as utility rates (even off-peak rates) continue to rise.5,6
Get Resilient, Affordable Home Solar and Battery Storage for $0 Down
At Sunrun, we're here to help you power your electric vehicle with clean and affordable solar energy. Our Solar Advisors will help you design a solar system that goes the extra mile to maximize affordability, power production, and peace of mind. To get started, request a free quote or fill out the Product Selector to get your custom solar fit today.