Solar panel maintenance is easy with Sunrun
Stuff happens, right? Sure it does. That's life. But that's why you need to know that with Sunrun, when we say we handle everything from start to finish, we mean from the second you sign your contract through the very long life of your system. 
Yes, everything. Really. 
From paperwork to monitoring to repairs, our world-class team of solar experts does it all. We use only the very best panel manufacturers and installers, and design and build systems that require zero upkeep from you. That means you get a top quality system with excellent energy producing efficiency for little to no money up front. Even better, you'll lock in lower utility bills for the next 20 years, and contribute to a cleaner environment, all without lifting a finger. 
Ok, but what if something needs repairing?

If something breaks, we fix it. Just like that. You do nothing. You pay nothing. Really! With Sunrun, it's part of the deal that we cover all your system's maintenance, plus we take care of paperwork, scheduling, and more. You'll never pay a dime for repairs, and you'll never have to hassle with finding someone trustworthy to do the work. We've got you covered. 
Sure, ok. But what if the panels stop producing?

If they do, it'll probably be us alerting you, not the other way around. That's because our team monitors your solar production 24/7 so if something happens we'll be the first to know. And chances are by the time we reach you we'll already be on the case working hard to get your system back up to snuff right away. In other words your solar production goes south, we'll be on it before you can say, "Gimme some sunshine!"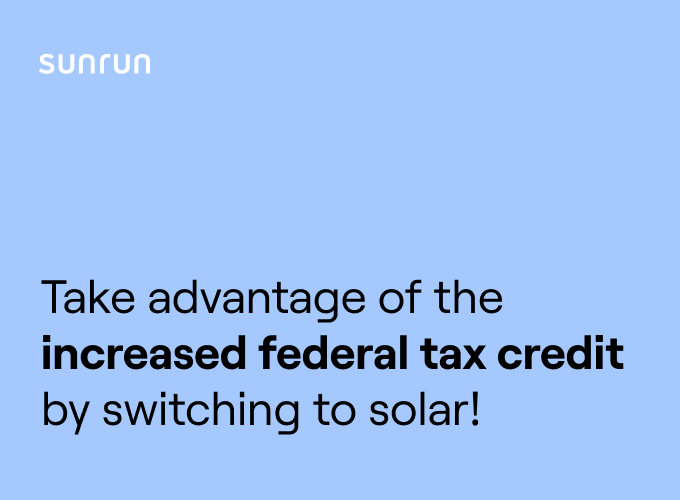 See if you qualify for the
26% federal tax credit
What if the solar panels damage my roof?

While unlikely, that's covered too! Your Sunrun contract includes a roof warranty, which protects your roof from leaks or holes. Not all solar companies have a roof warranty, but we believe you're entitled to a lower energy bill AND a roof over your head. 
What if I need help for some other reason?

Don't worry! Whatever happens we'll help you through it. We know that life is full of curveballs, and that's why instead of overseas call centers and operators with prewritten scripts, we've got a stellar customer care team full of really nice, smart people who know solar in and out. So if something goes awry, just give us a call. We really are here for you. 
Ready to give solar a try? There's nothing to lose but a bloated utility bill. Get a free solar quote today.
Video Transcription
Stuff happens. That's life, right? But when it comes to leasing a Sunrun solar system, you should know that from the second it's up and running, we handle everything for you. Oh sure, we do the all the paperwork and that stuff, but we also handle any and all repairs, plus whatever else may happen to your system. That's a big-time reason people like to lease from us instead of buying their panels outright.
What if the panels or equipment are in need of maintenance and repairs? 

Here's a fact: the average lifetime maintenance of a solar system can cost nearly $6,000. Your average lifetime maintenance of a Sunrun system? Zero dollars, because we cover it all. With Sunrun's worry-free service, we handle and pay for all of your system's maintenance, including paperwork, scheduling, and more. With Sunrun, you'll never pay a dime for repairs. 
What if the panels stop working?

We'll tell you! In fact, we'll probably know before you do. Our team monitors your solar production so that you don't have to think twice about it. If your solar production drops for some strange reason, we get alerted and contact you ASAP to figure out the cause. By the way, have we mentioned our production guarantee? If your system doesn't produce the electricity we promised – for any reason – you'll receive a refund for the difference. If the systems over produces, you keep the excess. That is the very definition of a win-win.
What if something happens to my roof during or after installation? 

Roof damage is… wait for it… covered too! Your Sunrun contract includes a roof warranty, which protects your roof from leaks or holes. How does that warranty compare to other solar companies? Weeelllll… not all solar companies offer a warranty. So let's just chalk that up to one more good reason to choose Sunrun. Give us a call today or visit Sunrun.com for a free solar quote.