Nevada Residents Are Now Protected by a Renewable Energy Bill of Rights. Is Your State Next?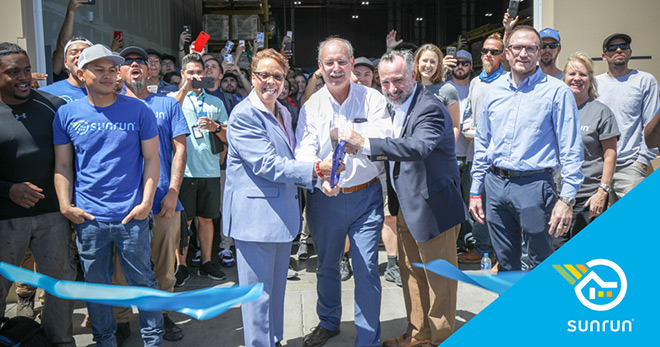 As Americans, we often take our energy freedom for granted. In fact, many of us don't even know we have energy freedom.
We spend our lives flipping switches on and off, pulling cold beers from fridges, and basking in the glow of our cell phones, restricted only by our willingness to pay for it. If we want to pay less, we are allowed, even encouraged, to invest in energy efficient light bulbs, double paned windows, and solar panels on our roofs.
For most, this ability to control the energy we use in our own home doesn't seem like a "right." It is simply the way things are and should be. It is our home after all.  
But increasingly, individuals are advocating for - and legislators are moving to provide - legal protections for our energy freedom. While some might live blissfully unaware of their rights, for many others, losing them abruptly spurred them to action.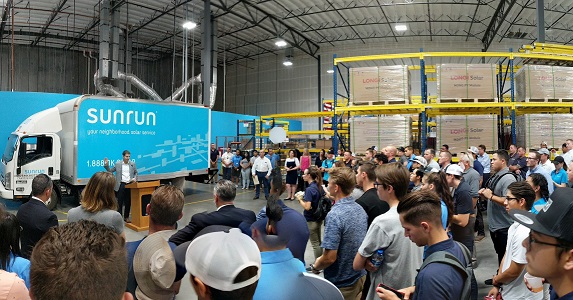 That was certainly the case in Nevada. After the abrupt end of net metering - and with it homeowners' ability to invest in rooftop solar - individuals stood up to defend their energy freedom. After two years of political upheaval, the state passed the Renewable Energy Bill of Rights with nearly unanimous support.
The Renewable Energy Bill of Rights enshrined in statute the freedom for all Nevadans to generate and store their own energy. In doing so, the law reinstated net metering - a proven, simple, and effective policy that has enabled hundreds of thousands of homeowners to go solar across the country. This incredible reversal of policy is a testament to the unstoppable power of individuals determined to defend their energy freedom. And today, Nevada is reaping the benefits of their hard-won victory.
On a blustery Spring day, I met with the bill's sponsor Assemblyman Chris Brooks. Pointing to a Sunrun solar installation taking place over his shoulder, he recalled, "Before the bill was even signed by the Governor, as soon as we passed it, that very next day I was getting reports that companies like Sunrun were already hiring. Now, hundreds of people are back to work just in the last few months and that, as a legislator, is what we are supposed to do."
Sunrun is one of the many rooftop solar companies rebounding in Nevada's freshly re-opened solar market. We are proud to announce our expanding operations with new facilities and a growing workforce. Larry Cohen, branch manager for Sunrun in Las Vegas, recalls that with the passage of The Renewable Energy Bill of Rights, "People far and away jumped at the opportunity to come back to work in solar." In fact, eighty percent of our Nevada workforce are returning to the solar industry after the market hiatus and fifty percent of our workers are returning Sunrun employees.
And while anti-solar policies led solar installations to plummet, numbers recently released from the state's largest utility shows the incredible impact that The Renewable Energy Bill of Rights has had. According to NV Energy, "The passage of AB 405 created a stable atmosphere for the residential solar installation industry, and they quickly ramped up their sales of rooftop solar systems." The chart below shows the rapid growth in NV Energy solar applications, as the market has come roaring back to life. Clearly, homeowners want the right to choose solar for their homes.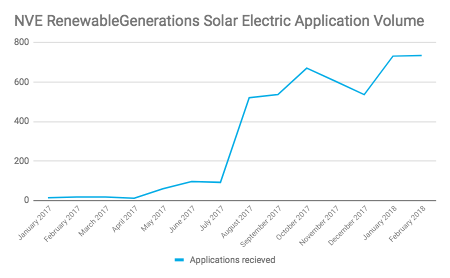 As solar rebounds in Nevada, so do the benefits for all state residents. Homeowners, now confidently investing in home solar again, are creating good jobs. What's more, more home solar helps deliver savings to all ratepayers, by deferring the need for costly investments in new energy infrastructure, which end up on everyone's energy bills.
It's no wonder that states like Colorado are following in Nevada's footsteps. In 2018, the state pioneered the first law designed to protect the right of Coloradans to install and use energy storage on their properties and in their homes. At the core - both the Nevada and Colorado laws recognize the right of homeowners to generate and store their own power. While some utilities may view that as unwanted competition, we see it as the way things should be.
If you're interested in going solar in Nevada click below.


Adrienne Underwood
Choose and control your home energy
Pay $6 for 6 months
Limited time offer*