Sunrun Brings Solar to Illinois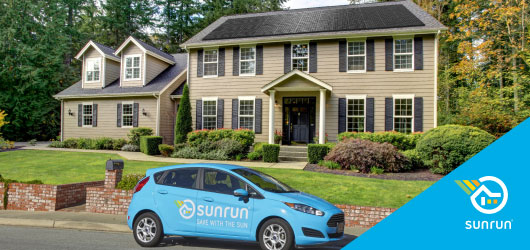 Get ready, Illinois -- Sunrun is heading to the land of Cubs and Capone! We are pleased to announce our expansion into the Prairie State. As the largest residential solar service provider in the country, Sunrun has over a decade of experience helping homeowners choose a clean, affordable energy future.
Solar Energy Use is on the Rise in Illinois
Solar energy is already at work across Illinois. From the Grand Ridge Solar Plant, which has the capacity to generate 20 MW of electricity, to the solar farm at the University of Illinois that was installed in 2015 to help provide the school's power, major solar installations are already playing a huge part in making Illinois a more sustainable place to live. In fact, the state has a target to generate 25% of their energy from renewable energy sources by 2025.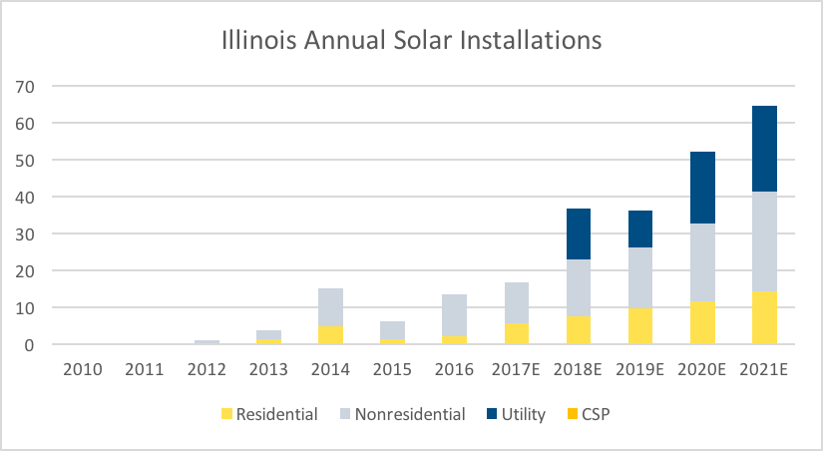 Source: seia.org
Currently, there are very few Illinois homeowners with solar energy on their rooftops. With Sunrun's expansion into the state there is huge potential to give homeowners the ability to power their home with clean, renewable energy and offset their carbon footprint.
Solar Is Perfect for Illinois
One of the biggest misconceptions tied to solar power is the belief that you need to live in a warm, sunny climate, such as Florida or California, in order for the panels to be most effective.
While its true that sunny environments provide optimal operating conditions, the reality is that solar panels actually perform better in cooler climates.
Here's why: The energy production efficiency of solar panels declines as temperatures increase to between 87 and 91 degrees (temperatures frequently reached during summer daytime hours in many temperate parts of the United States.) Photovoltaic solar panel power production works most efficiently in cold temperatures.
In other words, environments that are both cold and sunny, provide optimal operating conditions for solar panels.
Even cloudy conditions are not an obstacle to solar power usage. Indirect or diffused sunlight can still help power your home. Cloudy days typically produce about 10% to 20% of the power generated on sunny days.
The key takeaway here is that living in a cold place does not prevent you from joining the solar movement.
Going Solar Lowers Your Electric Bill
In the Chicago area, households paid an average of 15.8 cents per kilowatt-hour (kWh) of electricity in December 2017. That's an increase of 6.8% from December 2016. In other words, it's a great time to go solar. Those who do can insulate themselves from rising electricity rates.
What's more, Illinois has adopted net metering, a program that allows homeowners and small businesses with solar power systems to offset their traditional utility costs while using cleaner energy. Passed in 2008, the program requires utilities to give customers credits for electricity generated by home renewable energy systems.
Sunrun's arrival in Illinois will support goals laid out in the state's long-term renewable resource procurement plan as part of the Future Energy Jobs Act.
This plan paves the way for homeowners to help Illinois meet its goal of generating 25% renewable energy by 2025. Through this plan, residents will benefit from reduced installation and operation costs of projects.
The Sunrun Solar Guarantee
Sunrun has you covered with an industry-leading, 20 year solar service guarantee package. Daily system monitoring, free maintenance, repairs, guaranteed performance and comprehensive insurance.  
In addition, we only use the best panel manufacturers and installers, creating systems that require zero upkeep from you. Providing further peace of mind, you pay zero if something breaks. We cover your system's maintenance, paperwork, scheduling and more.
It's Easy to Switch to Solar
Are you an Illinois homeowner who is considering going solar? There's no better time to switch than now with prices falling 55% over the last five years and new incentives- solar has never been more affordable in Illinois.  Click the button below to learn more about going solar with Sunrun in Illinois.


Kenton Warren
Choose and control your home energy
Pay $6 for 6 months
Limited time offer*