New Jersey Solar Incentives
Solar Resources

Energy Resources
Go Solar in New Jersey with Sunrun and Enjoy Attractive Incentive Programs
#7
New Jersey is one of the top ten states in the U.S. for solar.1
-38%
New Jersey's solar panel price drop over the last five years.1
50%
State electricity generation that will come from clean, renewable energy sources by 2030.2
Electricity rates in New Jersey are almost 33% higher compared to other states.3 But controlling your electric bills isn't the only benefit you can enjoy when you switch to solar in New Jersey. You can also create and store your own solar power to protect your home from unexpected outages and reduce your carbon footprint. Plus, there are several financial incentives to help you lease or purchase new rooftop solar panels along with a battery storage system.
Sunrun is the leading residential solar, storage, and energy services company in the country,4 and it's one of the best solar installers in New Jersey you can team up with. We're here to ensure you can bring home all the solar potential that the Garden State has to offer.
Do You Know the Solar Tax Credits and Solar Rebates That New Jersey Offers?*
| Incentive | Value |
| --- | --- |
| Federal Solar Investment Tax Credit (ITC)** | The 26% federal solar tax credit is available for purchased home solar systems installed by December 31, 2020.5 |
| Solar Renewable Energy Credits (SRECs) | Compensation per kilowatt-hour (kWh) produced by the system.6 (Varies by market value.)7 |
| Solar Investment Property Tax Exemption | Property tax exemption on the added home value from the rooftop solar system.8 |
| Solar Panel System Sales Tax Exemption | 6.625% home solar system state sales tax exemption.9,10 |
Find Out If You Qualify for New Jersey Solar Incentives
Learn the Details of New Jersey Solar Incentives
Tap into New Jersey's Magnificent Solar Potential
On top of New Jersey's solar tax credits, SREC program, and tax exemptions, our solar loan and purchase plans—with or without a home battery—start at little to $0 down. Also, with Atlantic City Electric, Orange & Rockland, Public Service Electric & Gas, and other utility companies' net energy metering (NEM) programs, you can earn bill credits for the excess solar energy you produce.13,14,15 Net metering in New Jersey gives you more control over your electric bills.
Choosing a New Jersey solar company like Sunrun to start your solar journey will give you the energy independence and security you deserve. Ready to create and store your own NJ clean energy? Request a free, personalized solar quote to discover if Sunrun solar solutions are right for your energy needs.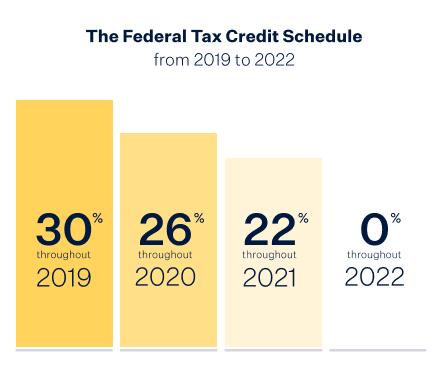 The federal solar tax credit gives you a dollar-for-dollar reduction against your federal income tax. The 26% tax credit applies as long as the solar energy system is installed by December 31, 2020. Starting in 2021, the value of the tax credit will step down to 22%. After 2021, the tax credit for residential solar ends.
DISCLAIMERS:
*Customer's ability to monetize rebates, incentives, and tax credits depends on several factors, including, without limitation, continued state subsidization of these policies, the applicable Sunrun product type, and whether a customer purchases or leases a home solar system from Sunrun.
**We recommend contacting a tax professional to most accurately determine the impact of the solar Investment Tax Credit (ITC) on your federal taxes.
Sources: