The Garden State Gets Greener with Solar Tax Incentives
Just because you don't live in the sunniest state in the country doesn't mean you can't be a leader in solar. New Jersey shows up the rest of the country, ranking among the top ten solar states in America.1 This high ranking is due in large part to the Garden State's generous solar incentives. The best part? There's an even easier way to save on solar for as little as $0 down if you qualify. Keep reading to learn more.
New Jersey Solar Incentives, Rebates, & Tax Credits
| Solar Savings Types | Value of Savings |
| --- | --- |
| Federal Solar Tax Credit (ITC) | 30% of the total system cost |
| New Jersey Solar Renewable Energy Credits (SREC) | Varies depending on market value |
| Property Tax Exemption | Property Tax Exemption on Added Home Value from Solar System |
**Customer's ability to monetize rebates, incentives and tax credits depends on several factors, including, without limitation, continued state subsidization of these policies, the applicable Sunrun product type, and whether a customer purchases or leases a solar system from Sunrun.
New Jersey Solar Renewable Energy Credits
Solar renewable energy credits, or SRECs, are another way that New Jersey helps homeowners save on solar.2 However, SRECs are only available when you purchase your system, and that can get complicated fast. That's why Sunrun is here to make your life easier with our solar lease, BrightSave™. We'll hold the SRECs and pass the savings onto you with a small monthly bill that pays for the power, not the panels. You get all the perks of going solar, without the risk of ownership.
Solar Federal Tax Credit
On top of New Jersey's state solar tax credits, you'd also be eligible for the Federal Investment Tax Credit, or ITC, if you buy your own solar system outright. The tax credit amounts to 30% of the cost of purchasing your solar system, but only after deducting the value of your state rebates. However, ITC credits will begin stepping down from 30% at the end of 2019. The tax credit for systems in service after 12/31/19 will drop to 26%. After 12/31/20, it'll drop even further to 22%.3 That's why the time to go solar is now. But not to worry—we can help you maximize on all the solar savings available to you.
Let Sunrun Help you Save on Solar Your Way
As great as New Jersey's solar incentives are, some of them are only available to those who purchase their system. Here at Sunrun, we understand that everyone's financial situation is different, so we give you a choice of payment options— all of which help you go solar and save money. See why other customers have chosen to go solar with Sunrun. Want to see how much you could save? Get your free quote today.
Energy Resources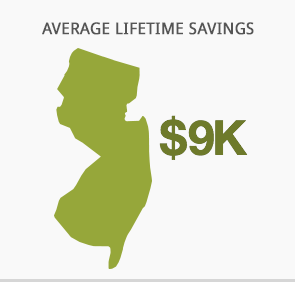 SOLAR SAVINGS ARE BIG
See if you qualify for solar