Discover Your Home's Power with Solar and Storage in New Mexico
Sunrun Can Let You Build a More Affordable and Reliable Energy Future, Today
+917K
New Mexico residents affected by power outages from 2008 to 2017.1
-36%
New Mexico's solar panel price drop over the last five years.2
293
Average number of sunny days per year in New Mexico.3
Our country's aging power grid is working overtime and unable to keep up with our increasing electricity demands.4 Fortunately, it could be cost-effective to team up with a New Mexico solar company like Sunrun. A switch to solar can give you protection during outages, boost your control over electricity bills, and reduce your carbon footprint for decades. This will also help build a more modern and resilient energy system that uses clean, local power.
As you know, summer temperatures in cities such as Albuquerque and Santa Fe can quickly climb to 90 degrees or higher.5,6 If you go solar, you can have access to the affordable and reliable energy you need to keep your home cool during New Mexico's hottest months.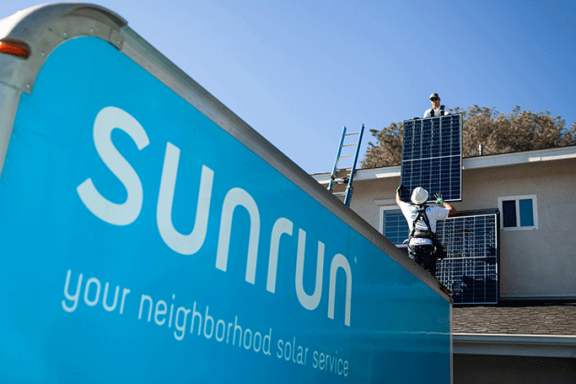 Why Choose Sunrun in New Mexico?
Sunrun is the leading residential solar and storage company in the U.S.7 We work so you can create and store your own clean, renewable energy at home. Find out which of our solar plans, with or without a home battery in New Mexico, is the best fit for your budget and energy needs.
Check out Our Made-to-Fit Home Solar Plans
Each Sunrun solar plan offers unique advantages. Wheather you choose to lease or own your rooftop solar panels, with or without an energy storage system, you can rest easy knowing that we're one of the best solar installers in New Mexico. We want you to benefit from your New Mexico solar panel installation for decades. When possible, we'll even handle the paperwork for you.
Solar + Brightbox™
Add Brightbox, Sunrun's battery storage service, to your solar installation in New Mexico. This can help keep your devices and appliances running during outages, cloudy days, rainy afternoons, or at night.
More than 917,000 New Mexico residents were affected by power outages from 2008 to 2017.1
High demand for electricity in summer and winter, as well as unpredictable weather, put New Mexico at a greater risk for blackouts year after year.
Brightbox can help you back up your entire home with a Tesla Powerwall, or you can back up just the rooms you need with an LG Chem solar battery.**
When the sun is out, Brightbox can store clean and affordable back-up power for later use.
Brightbox is the New Mexico battery storage solution that puts you in control. It can turn on during an outage and will work to recharge until the grid's restored.
Unlike generators, Brightbox doesn't run on fossil fuels, which produce carbon monoxide (CO) that's dangerous for your health.11
Brightbox is fueled by the sun, so you can forget about the hassle of buying expensive gas and diesel.
Our monthly lease and prepaid plans include 24/7 proactive monitoring and maintenance to ensure your system works smoothly. This perk sets Brightbox apart from the average solar battery in New Mexico.
New Mexico Solar Incentives, Rebates, and Tax Credits***
Incentive

Value

Federal Solar Investment Tax Credit* (ITC)

The 26% federal tax credit is available for purchased home solar systems installed by December 31, 2022.8

New Mexico State Solar Tax Credit

10% of the final cost of the home solar panel system. 

(Max. $6,000 state tax reduction)8

Property Tax Exemption

Property tax exemption on the added home value from the home solar power system.8

Sales Tax Exemption

5.125% home solar system state sales tax exemption.8,12

New Mexico Sustainable Building Tax Credit (SBTC) Program

Up to $6.50 per built sq. ft with a 2,000 sq. ft cap.8

Solar Renewable Energy Certificates (RECs or SRECs)

Compensation per kilowatt-hour (kWh) produced by the owned system based on market value. (EPE and PNM customers only)9,10

Learn More about New Mexico Solar Incentives
Your home energy, customized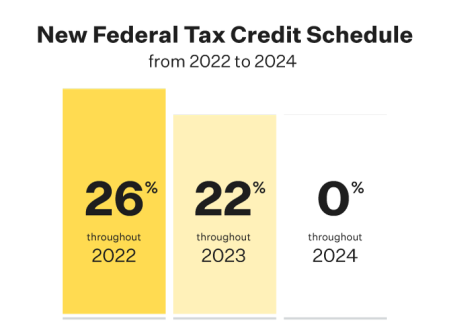 Learn about incentives in your area
Find your ideal system and battery
Get your cost to go solar today
Support New Mexico's Clean Energy Goals
100%
State electricity generation that will come from renewable energy sources by 2045.13
45%
New Mexico's cut in greenhouse gas (GHG) emissions below 2005 levels by 2030.14
When you go solar with Sunrun, you can leave fossil fuels behind by creating and storing your own solar energy in New Mexico. El Paso Electric (EPE), Public Service Company of New Mexico (PNM), Xcel Energy, and other utility companies offer net energy metering (NEM) programs that could let you earn credits on your utility bill for the excess solar power you produce and send to the grid. Net metering in New Mexico could help you save money on your future energy bills.15,16,17,18
Ready to go solar? Use our Product Selector or request a free quote to get one-on-one service from our expert Solar Advisors. Together we can help shape New Mexico's energy future for generations to come.
SOURCES:
1. Eaton Blackout Tracker Annual Report
2. New Mexico solar price drop
3. New Mexico annual sunny days
4. The aging U.S. power grid is working overtime: How much more can it take?
5. Albuquerque, New Mexico temperatures
6. Santa Fe, New Mexico temperatures
7. Sunrun ranked as leading residential solar-plus-storage vendor
8. New Mexico solar rebates and incentives
9. El Paso Electric (EPE) New Mexico Solar Renewable Energy Credit (SREC) program
10. Public Service Company of New Mexico (PNM) SREC program
11. Centers for Disease Control and Prevention (CDC) generator safety fact sheet
12. New Mexico state sales tax
13. New Mexico SB #489: Energy Transition Act
14. New Mexico greenhouse gas (GHG) emissions reduction goal
15. EPE New Mexico net energy metering (NEM) program for systems up to 10kW
16. EPE New Mexico NEM program for systems between 10kW and 100kW
17. PNM NEM program
*We recommend contacting a tax professional to accurately determine the impact of the solar Investment Tax Credit (ITC) on your federal taxes.
**One Tesla Powerwall stores 13.5 kilowatt-hours (kWh) of usable electricity, which can be used to back up the home for a day. An LG Chem solar battery holds 9.8 kWh, which can be used to back up essential parts of the home from 8 to 12 hours. 
***Customer's ability to monetize rebates, incentives, and tax credits depends on several factors, including, without limitation, continued state subsidization of these policies, the applicable Sunrun product type, and whether a customer purchases or leases a home solar system from Sunrun.
New Mexico Solar IncentivesNew Mexico Solar Financing