Virginia Solar Incentives
Bring Home the Benefits of Solar and Storage with Sunrun in Virginia
-11%
Virginia's solar price drop over the last five years.1
205
Average number of sunny days per year in Virginia.2
100%
State electricity generation that will come from carbon-free sources by 2050.3
When you create and store your own solar power in Virginia, you can take control over rising utility rates while getting reliable protection during outages. A solar installation in Virginia can also reduce your dependence on toxic, dangerous fossil fuels. This will help build a modern and more resilient energy system that runs on clean electricity made locally. In fact, Virginia has set the goal of getting all of its energy from renewable energy sources by 2050.3
Thanks to solar incentive programs like the federal solar tax credit, you could equip your home with Virginia solar panels for less. As the nation's leading residential solar and energy storage company,4 Sunrun works so you can experience the most solar benefits possible—simply and more affordably.
Incentives and Solar Tax Exemptions in Virginia*
Incentive

Value

Federal Solar Investment Tax Credit (ITC)**

The 26% federal solar tax credit is available for purchased solar photovoltaic (PV) systems installed by December 31, 2022.5

Virginia Property Tax Exemption for Solar Equipment

Property tax exemption on the added home value from the solar equipment. (Tax exemption value varies by VA county, city, or town.)6

Find out If You Qualify for Virginia Solar Incentives
Learn the Details of Virginia's Solar Incentives
Buy and install a new home solar system in Virginia in 2022, with or without a battery storage system, and you may qualify for the 26% federal tax credit. The residential ITC drops to 22% in 2023 and ends in 2024.5
Average-sized 5-kilowatt (kW) system cost in Virginia: $13,914
Approximate system cost in Virginia after the 26% ITC in 2022: $10,2977
Virginia allows any county, city, or town to exempt (or partially exempt) a residential solar energy equipment from local property taxes.6 If you install a solar array in Virginia, it could also help you build home value.
Solar at its best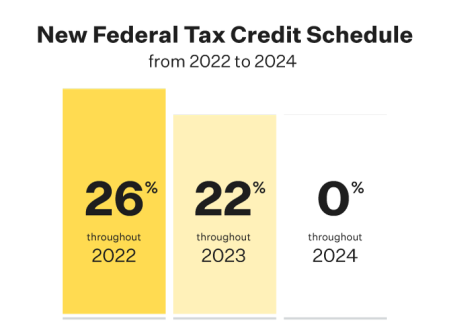 Discover Virginia's solar incentives
Find your ideal system and battery
Get your cost to go solar today
Change the Way You Power Your Life, Starting Today
Ready to create and store your own Virginia solar energy? Find out if a Sunrun monthly loan or system purchase plan, with or without a solar battery in Virginia, is the ideal fit for your budget and energy needs. What's more, Dominion Energy and other utility companies offer net energy metering (NEM) programs that could let you earn credits on your bill for the excess solar energy you produce and send to the grid.8 Net metering in Virginia could help you save money on your future electricity bills.
Team up with a Virginia solar company like Sunrun and get the peace of mind you deserve. As one of the best solar installers in Virginia, we can help you start your solar journey—simply and more affordably. Take the first step by using our Product Selector or requesting a free quote to get one-on-one service from our expert Solar Advisors.
---