NV Energy
Learn How to Lower Your NV Energy Bill with Sunrun Solar Panels
NV Energy Bill Too High? Get the Peace of Mind You Deserve with Sunrun
If you're worried about electric bill increases in Nevada, we have great news for you. Because home solar system prices continue to fall in the U.S.1 And if you add to that the approval of Assembly Bill 405 in 2017, which gives consumers the right to self-generate their own energy in Nevada2, you'll see why going solar is one of the smartest moves you can make to forget about unpredictable electricity rates.
With a solar plan from a company like Sunrun, you'll have better control of your home energy usage and the price you pay for your electric bills. Besides, with a home solar system, you'll also reduce your carbon footprint. A win for your wallet, and for the environment.
But before going deeper into how solar power can potentially save you thousands of dollars during the next 25 years3*, let's take a moment to discuss who NV Energy is, as well as the things they're doing to ensure your community stays cleaner, healthier and safer.
Who Is NV Energy and How Many Customers Do They Have?
For more than 100 years, NV Energy has delivered safe, reliable energy to many homes and businesses in Nevada. To date, NV Energy serves more than 1.2 million customers along with a state tourist population of around 40 million people every year.4 NV Energy also provides natural gas services to more than 165,000 customers in the Reno-Sparks area.
Not an NV Energy customer? Find your electric company here.
6 Energy-Saving Tips for NV Energy Customers5
In summer months, set your A/C thermostat to 78 to 80 degrees when you're home, and 5 to 10 degrees warmer when you're out. In winter months, set your thermostat to 68 degrees when you're in, and to 55 to 65 degrees when you're out. Or better yet, upgrade to a smart thermostat so it can adjust your cooling and heating patterns automatically depending on if you're home or not.
Wearing heavier or lighter clothes inside your home helps you warm up or cool down quickly without having to put your air conditioner on blast day and night.
In the cold months, open your blinds and drapes during the day to take advantage of the free heat from the sun, and close them at night to retain heat. In the warm months, close your window coverings during the day to keep heat out.
Replace your regular bulbs with LEDs. LEDs give you greater energy efficiency and save you money, too.
Seal and weather-strip your doors and windows to keep the outside air out and the inside air in. If you believe your home has an air leak, a DIY home energy checkup could help you pinpoint some of the easier areas to address before contacting a professional. Check out this simple guide for a DIY home energy audit.
Replace your older appliances with energy efficient ones. Usually, appliances 10-years or older offer little to no energy efficiency. Pro tip: Look for products with the ENERGY STAR® label.
While there are plenty of free and low-cost ways to save on your electricity bill, the truth is, you'll never see the same amount of energy savings and environmental benefits vs. installing a home solar system. We understand adding solar to your home is a big step, that's why we created the following list to help you make a more informed decision.
Here a Few Reasons You Should Go Solar in Nevada6
At Sunrun, we strive to make solar affordable to more Nevadans each day, because we believe having access to clean, renewable energy offers many benefits to families and communities like yours.
Solar could save you thousands of dollars on your future billing cycles.*
Solar protects you against unpredictable electric rates for years to come.
Solar reduces carbon emissions, a major contributing factor to extreme weather events.
Solar is a free and renewable energy resource, unlike coal and natural gas which are fossil-based.
Home solar systems work year-round — yes, even on cloudy days!
You have several options to go solar. In fact, with our BrightSave™ Monthly and BrightAdvantage™ plans, you could switch to solar for as little as $0 down.
Purchasing solar panels in Nevada may increase your home value from 3% to 4%.7
Home solar systems are designed to last 30 years or longer.8
Solar creates thousands of good American jobs.9
As a Nevada solar customer, you'll be eligible for some attractive state incentives, like net metering and solar power rebates, as well as an excellent 30% federal solar tax credit if you choose to purchase your home solar system.10
What Does Net Energy Metering Mean to Your NV Energy Bill?
Using a bi-directional meter, NV Energy will measure the difference between the number of kilowatt-hours your home solar system generates and the amount of electricity you consume from the grid. This difference is called Net Energy Metering or NEM, and NV Energy uses it to calculate your solar bill.
If your panels happen to generate more energy than you need, the excess will be exported back to the grid, and NV Energy will give you a credit to offset your monthly electric bill.11.
NV Energy's Environmental Commitment12
Effective environmental management is one of NV Energy's core company values. That's why they continuously ensure all their operations offer long-term sustainability.
Here's a quick list of some of the actions NV Energy is taking to lend a cleaner hand to the environment.
NV Energy is minimizing waste generation through efforts like source reduction, recycling, innovation, and pollution prevention.
NV Energy is working with many environmental and community organizations to improve environmental quality further, protect natural resources, retain open spaces, and preserve biological diversity; through programs like the University of Nevada in Las Vegas' (UNLV) Earth Day Celebration, EcoJam, and Quail Run Trail.13
NV Energy is successfully implementing a habitat protection program to enhance and protect plants and wildlife throughout Nevada. NV Energy scientists and engineers work together to create alternative nesting platforms for birds in the area to prevent them from using electric facilities as nests. Plus, NV Energy scientists also volunteer their time to the Desert Tortoise Conservation Program to help relocate rehabilitated tortoises back into the wild.14
NV Energy is boosting the use of electric vehicles in Nevada by offering customers a special Electric Vehicle Time-of-Use rate so they can charge their EVs at a discounted price.15  Sign up for NV Energy's home TOU rate program.
The Time To Go Solar is Now
Sunrun is the nation's largest residential solar and battery storage company providing clean, reliable electricity to households with little to no upfront cost. We're here for you every step of the way from design and installation to maintenance. Plus, you receive predictable pricing and energy security for 25 years or more. 
If you would like to go solar, and protect yourself from rising electricity rates and potential long term outages in your area, contact Sunrun today. Get a free quote, see if you qualify. 
Go solar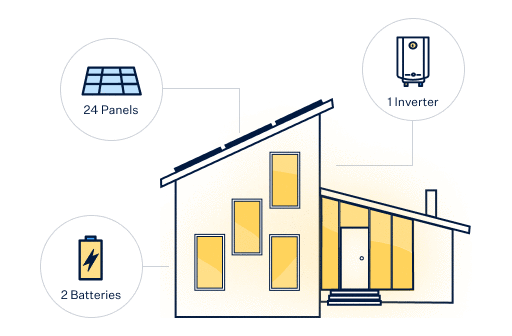 Take control over rising energy costs
Get your system size and battery details
Learn about the incentives in your state