4 Solar Energy Facts That Will Encourage You to Go Solar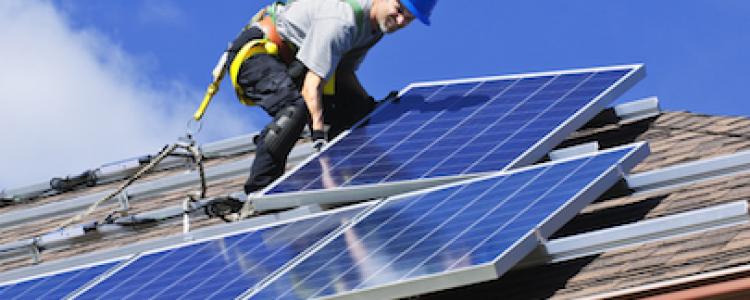 Ever get that overwhelming feeling of dread before opening up your electric bill? Yeah, we know the feeling. If you're considering going solar, you'd probably like to know the facts. To help you get a better idea on what to expect, we have highlighted a few solar energy tidbits.
It can reduce or even eliminate your electric bill
By utilizing the sun as a cost-saving alternative, you are going to start seeing savings quickly. With help from Sunrun you can reduce or permanently eliminate your current electric bill. The best part? You can make the switch to solar with as little to $0 down when you choose the solar lease. The savings are real, time to make them a reality.
It protects the environment
It's no secret that air pollution is an ongoing concern, regardless of where you live. The largest source of greenhouse gas emissions are from production of electricity and heat, according to the EPA. Solar energy reduces the need for dependence on fossil fuels with harmful emissions. Production and use of solar energy has zero pollutants and is safe for our planet. Sunrun has prevented 1.7 million tons of CO2 from entering the atmosphere. So why not reduce your emissions and save money? We call that a win.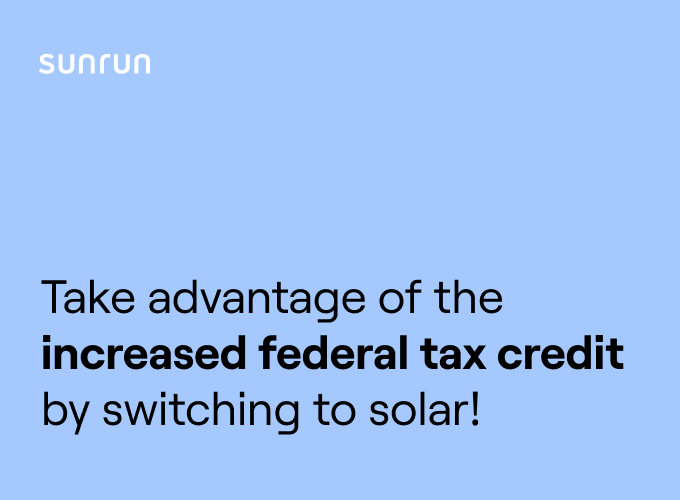 See if you qualify for the
26% federal tax credit
It can come with tax credits with purchase options
Over the past decade, the cost of solar panels continues to drop dramatically, allowing solar power for homes to become more affordable than ever. Many federal, state and local credits are available for qualifying homeowners who choose to go solar. The federal solar tax credit gives you a dollar-for-dollar reduction against your federal income tax. Currently, the residential federal solar tax credit gives you a dollar-for-dollar reduction against your federal income tax equal to 26% of the final cost of solar energy systems you install on your home. This benefit exists through December 31, 2022. In 2023 the residential tax credit will step down step down to 22%. In 2024, the tax credit for residential solar ends. 
It protects you from rising energy costs
No one wants to pay more than they have to for basic needs - electricity is no exception. Why spend your hard earned money on your electric bill when you can put it towards something more practical? As residential electricity continues to be on the rise, solar energy is becoming more affordable. Not to mention it is an inexhaustible source of power. Maybe it's a frigidly cold winter or a drought-ridden summer. You want to blast your heat or air conditioning practically 24/7, but are afraid of how many digits will be attached to your bill. Well, great news for you! Solar rates are low and predictable, helping you to live comfortably in your own home. 
With savings in every direction and a chance to reduce your carbon output, what is there to lose besides digits on your electric bill? For a free quote to find out how you can make a difference in your home and community by choosing solar, contact us today.