Get Ahead of Extreme Weather with Home Battery Backup
The U.S. has more blackouts than any developed country in the world.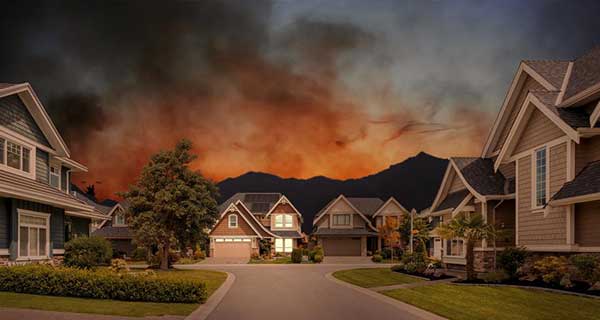 During times of increased uncertainty and intensifying extreme weather, we're here to help put the power in your hands. To protect your family and your home, it's vital to have an emergency plan in the event of a power outage. Weather the next blackout with home solar battery backup like Sunrun's Brightbox, which provides reliable, renewable energy for you and your whole family.
Brightbox offers more than just solar battery storage—it's a holistic service that puts you in control. We only partner with top-notch innovators in lithium-ion battery technology, so you're backed by the highest quality home solar and storage system available today. Now's the time to support your family with clean, renewable energy so you can be bettter prepared when the next blackout strikes.
5 Reasons to Use a Home Solar Battery
1. Provide your family with protection during blackouts.
The U.S. has more blackouts than any developed country in the world.1 With some parts of the power grid at over 100 years old, it's become clear that the country's current infrastructure is no match for increasingly extreme weather events resulting from climate change.2 At a time when millions across the country have already been devastated by severe storms, wildfires, and dangerous heat waves, solar battery storage is a reliable, affordable solution to protect your family during the next blackout and beyond.3
With global temperatures and major grid outages on the rise,4 now is the time to have a robust back-up power plan for you and your family. With a home solar battery, you may:
Keep electronic devices charged.
Stay connected to Wi-Fi so you can work and seek out important resources and information.
Keep your refrigerator running so food and medications stay safe to consume.
Keep the AC on so you can stay cool during major heat waves.
Charge your electric vehicle.
Have the choice to back up your whole home or just the essentials.
2. Generators are dangerous.
We know you want to do all that you can to protect your family. While generators sometimes offer a temporary solution, they typically run on dirty fossil fuels, can be disruptive, and at their worst, are quite dangerous.5 In fact, portable generators have caused hundreds of carbon monoxide deaths across the country.6 Generators need to be kept in outdoor, well-ventilated areas and away from windows.7 The CDC even recommends keeping generators 20 feet away from your home8 to minimize risk of carbon monoxide exposure. With these kinds of precautions, generators hardly feel like a safe back-up plan. Instead, a solar battery offers safe and worry-free power, without the risk.
3. Home batteries are clean, reliable, and affordable.
In contrast to generators, home solar batteries are safer, more reliable, emissions-free, and can be installed indoors. Instead of running on fossil fuels, solar batteries' energy stores are replenished by your solar panels during the day, so they can give you clean back-up power until the grid is up and running again.
We're here to help make safe back-up power accessible to everyone. For as little as $0 down, you can lock in a predictable energy rate for 25 years when you back up your home with Brightbox solar and battery storage. Sunrun's solar agreements may include our industry-leading Solar Guarantee, which offers 24/7 maintenance, free repairs and product replacement, and a roof warranty for the life of your agreement.
4. Staying home is the new normal.
Many people are now working remotely, which means we're increasingly reliant on the power our homes provide.9 As life continues to be managed from home, it's more important than ever to ensure you have sufficient power. A solar battery can offer clean, uninterrupted back-up power so that a blackout doesn't slow you down.
5. Lower the risk of wildfires.
It's no surprise that the risk of wildfires increases during the summer.10 As more and more Americans choose to remain home, electricity usage spikes in the summer and the risk of overloading the grid increases.11,12 In especially hot and dry regions, utilities rely on public safety power shutoffs (PSPS), or planned power outages, to prevent sparking dangerous wildfires.13 Unfortunately, this means that residents in those regions face blackouts as a way to prevent wildfires.14
Sunrun is here to change that. We're actively supporting electricity companies across the country to help offload an overloaded grid with solar battery storage. We also aim to keep you updated on significant changes to utility services so you can stay informed and in control.15
Do Solar Panels Work in a Power Outage?
It may not be a good idea to rely on solar panels alone to back up your home. The only way your solar panels can continuously generate power for your home during a blackout is with solar battery storage.
Without a solar battery, your residential solar installation will likely shut down in a power outage. Currently, the electric grid will shut down during extreme weather conditions or if consumer demand overloads the system, which is exactly when you need back-up power the most. This power outage would likely include your solar panel system; however, when you incorporate a solar battery into your home solar installation, your solar panels can continue to replenish your battery so you can be supplied with clean power day and night.
What Are My Options?
Sunrun's Brightbox offers two home solar battery options: LG Chem and Tesla Powerwall. Both are industry-leading lithium ion batteries. Your family's daily and back-up power requirements will determine which solar battery you should include with your solar panel system. An LG Chem solar battery backs up part of your home, while a Tesla Powerwall backs up your entire home.
Not sure which one you need? Our easy-to-use Product Selector can help find the best fit for your solar power needs, or simply request a free quote. All it takes is five minutes or less.
How Many Solar Batteries Do I Need?
Just like solar-only systems, the size of your rechargeable solar battery system is determined by your unique energy habits. Specific factors, such as the amount of electricity you use at home and the devices and appliances you want to back up, will play a key role as you select the home battery solution that's right for you.
Protect Your Family from Blackouts with Sunrun