Is Solar Battery Storage Right for Your Home?
Enjoy All The Benefits of Home Energy Storage with BrightboxTM
Solar panels are a great way to save on rising utility energy costs, while helping reduce CO2 from entering the atmosphere; but you still have to purchase energy from the grid when the sun sets. Adding a solar battery, like Sunrun's Brightbox™, allows you to store extra solar energy produced during the day so you can power your home at night; maximizing your solar savings.
What's a Brightbox Battery?
Sunrun offers one of the best solar energy batteries on the market. Batteries are used by popular products1 like Apple smartphones and Volvo car batteries. Made for indoor or outdoor installation, Brightbox can quickly and easily be integrated into a solar system.
SOLAR SAVINGS ARE BIG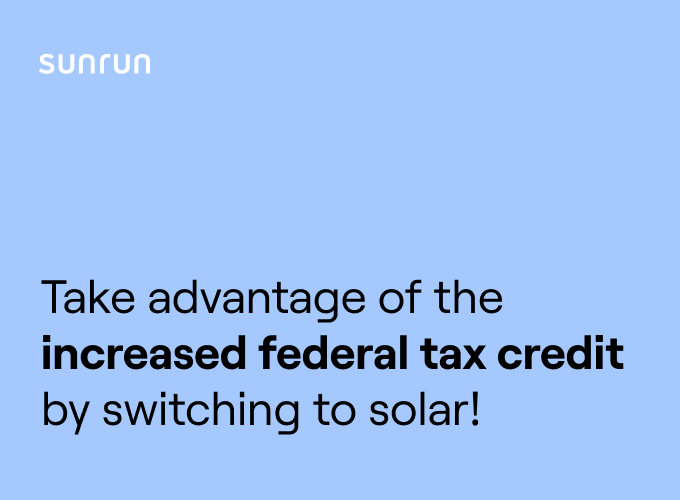 See if you qualify for the
26% federal tax credit
Why Do I Need Solar Battery Storage? 
In many states, Time-of-Use (TOU) rates allow utility companies to charge homeowners more money when energy demands are at their highest.2 This means, when the sun sets and your solar panels are not producing electricity, you become susceptible to spikes in energy pricing.
Net Metering3  allows residents to sell extra energy produced by their solar panels. This unused energy is sold back to the grid to offset your utility bills. The value of this excess solar power varies from state to state. Due to new legislation, states like Arizona are currently seeing an estimated 30% decrease in value4 of the power sold back to the utility companies.
TOU rates and decreased (Net Metering rates) of your solar energy can be a blow to your solar savings. By adding Sunrun's Brightbox™ solar battery storage to your solar system, you will be able to store your solar power and maximize your solar savings potential.
The Solution is Storage
The solution to TOU rates and new Net Metering regulations is to install a solar-plus-storage system. Instead of selling your energy back to the grid for a reduced price, you can now store your solar and use that energy when you need it most. No more worrying about paying peak energy prices. Brightbox automatically turns on and powers your home with the stored energy when Time of Use (TOU) rates are at their highest, saving you money.5
Keep Your Lights On with Solar Battery Backup
Power outages and blackouts due to natural disasters happen from time to time. Rather than sitting in the dark and hoping your food doesn't spoil, solar battery backup power can keep your lights on and your fridge running. During blackouts, Brightbox acts as a silent power backup for key lights, electronics, and appliances in your home. States like New York and California can really take advantage of these features.
More Savings with Solar Storage
Brightbox battery is Sunrun's premium solar energy storage solution designed to give you maximum control over your electricity bill as well as backup power during outages. With a solar-plus-storage system from Sunrun, you can work or play as hard as you'd like knowing that you're taking control of your energy costs, while being prepared for the next power outage with Brightbox.