Top 10 Reasons Why Home Solar Really Pays Off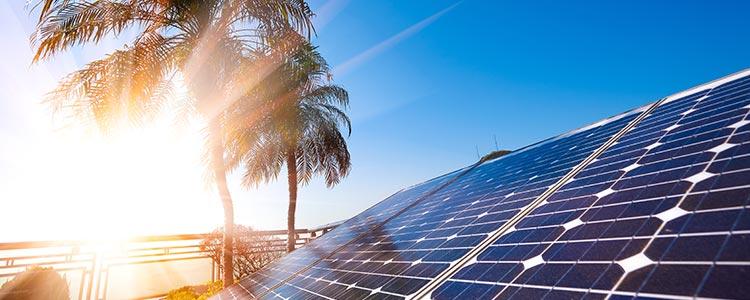 When you first look into going solar, it's normal to ask yourself, "Is solar really worth it?" We understand that it's a significant financial investment to go solar, and we want to help you make the right decision for you and your family. 
While there are often location-specific programs that determine some of home solar's financial benefits, we're here to show you why home solar pays off in a big way no matter where you are. Here are the top ten reasons why solar has a positive impact on our climate and your pocketbook:
1. Get a more predictable electric bill. 
Does it feel like your electricity bill gets higher and higher every year? It's not just you. Electricity costs have risen by 16% over the past ten years, and this is a trend that's likely to continue.1 Factors like extensive repairs to grid infrastructure, rising energy costs, and cranking up the AC or the heat because of increasingly extreme weather all contribute to higher electric bills.2,3
Several factors can lower your monthly utility bill when you go solar, including overall electricity consumption, solar energy system size, direct hours of daily sunlight, and the size and angle of your roof.4 In addition, if you live in a region with especially high electricity rates like the Northeast and the West Coast, you stand to save even more when you go solar.5 Many solar plans also offer rates that are lower than what you're currently paying, which means you could lock in savings for years to come. 
Wherever you are in the country, home solar panels and battery storage can help you gain control over rising electricity rates as you make a long-term, low-risk investment.4 
Control Your Energy during TOU (Time-of-Use) Electricity Surge Prices
Grid Only
Solar
Solar +
Battery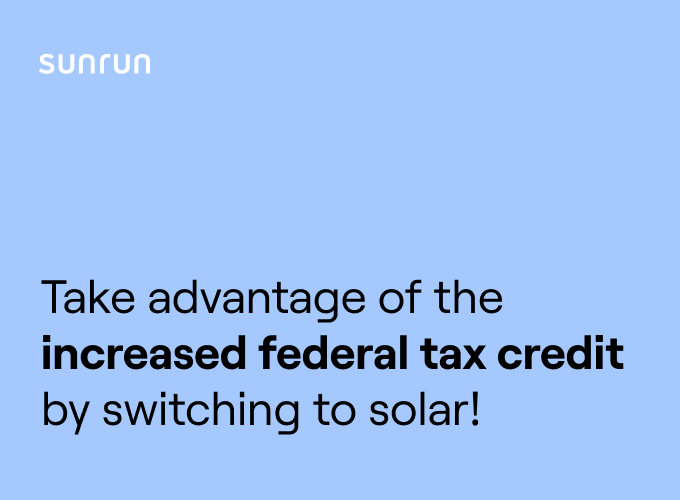 See if you qualify for the
26% federal tax credit
Stay up to date with Sunrun
2. Offset time-of-use (TOU) rates.
For states with Time-of-Use or TOU rates, going solar with a home battery allows you to run your appliances when you want—not when electric companies tell you to. TOU rates are electricity rates that are set by your local utility and vary depending on the time of day. With TOU rates, electricity is most expensive during peak hours or when the demand is highest, such as the evening when most people are home. 
Solar-powered batteries can help buffer you from peak electric rates. Excess energy is stored in your home battery, and you can use it when you need it the most. With a rechargeable home solar and battery system, you can avoid the most expensive rates under a TOU rate structure while further optimizing your energy savings.
3. Earn electricity credits through net metering.
Home solar doesn't just offer more predictable electric bills. Depending on where you live, you may also be eligible to receive credits through Net Energy Metering (NEM).6 NEM customers who generate their own electricity from solar panels can sell the excess electricity generated back to the grid. 
Keep in mind that not all states have NEM policies, and these policies vary by state. A reputable solar company can explain NEM availability in your location. 
4. Take advantage of federal and state incentives.
Many people choose to get solar and batteries through third-party ownership, which allows them all the benefits of the system for a low monthly rate, while others choose to buy their systems outright. Based on where you live, you can cover a substantial portion of the cost of your solar PV system, and you could even pay it back in a fairly short amount of time thanks to the federal investment tax credit (ITC), state tax credits, and cash rebates. Visit the Database of State Incentives for Renewables & Efficiency (DSRE) to find tax credits and rebates available in your area. 
If you're thinking of purchasing home solar panels and a solar battery, you'll want to do it soon. The tax credit reduces the cost of a solar installation, including a solar battery purchase, by 26% through 2022.7,8 Keep in mind that the tax credit is scheduled to drop to 22% in 2023, and the tax credit is slated to be phased out after 2023. That's why the best time to go solar is now.  
5. The cost of solar is going down.
The cost of home solar systems has dropped dramatically in recent years, falling more than 70% in just the last decade.9 The cost of home solar batteries have dropped substantially as well.9 There are now over a million solar installations across the U.S.4
Despite falling costs, out-of-pocket expenses can add up. That's why Sunrun offers flexible home solar plans that start at $0 down to make renewable energy accessible and affordable. Our Sunrun Guarantee covers you for up to 25 years. 
6. Increase your home's value.
The price of an average rooftop solar installation and battery is likely to be recouped in your home's sale price. Studies show that homeowners will pay a premium for a solar home.4 Across the U.S., solar panels raise a home's value by 4.1% on average.4,* That means a home valued at $500,000 could get a $20,500 increase.10 Not only do solar homes sell for more, there's evidence that they sell faster, too.11
The numbers say it all: Installing home solar panels is likely a sound investment. Whether you plan to upgrade your home for a future sale or make it your forever home, you can expect that property value will likely increase.
*These findings are based on home solar systems purchased by the household. 
7. Solar panels offer long-term value.
If properly treated and maintained, your panels could offer you long-lasting clean power for decades.12 Solar panels are designed to last more than 25 years, and manufacturers typically back their products with performance guarantees and warranties. Your solar panels should have a lifespan of about 20-30 years.13
Finding a reputable solar installer is the surest way to get long-term value from your solar panels.12
8. The solar industry is creating jobs. 
As the fastest-growing source of U.S. electricity generation, renewable energy is here to provide clean energy jobs for Americans across the country.14 When you go solar, you're doing your part to help strengthen your local community's economy. Increasing by 167% over the past decade, the American solar industry now employs nearly 250,000 people.15 In fact, solar employment increased 44% between 2014 and 2019—that's five times faster than job growth overall in the country!15
The best part is that solar isn't slowing down anytime soon. The trend is so strong that the U.S. Bureau of Labor Statistics predicts that solar panel installers will be among the top three fastest-growing jobs in the nation.16
9. Renewable energy offsets the costs of climate change.
An increasingly warming planet has devastating costs to both our economy and our well-being. If we reduce our carbon footprint and decrease air pollution, solar power can save $259 billion in climate change damages and save more than 25,000 lives.17 The alternative? Attempting to replace an aging electric grid that could cost the U.S. $5 trillion in repairs.18 Our country and our planet simply can't afford to stay with the status quo.  
10. Sunlight costs $0.
At the end of the day, sunlight costs nothing. Abundant, renewable, and reliable, the sun is one of our most brilliant natural resources. By contrast, fossil fuels like coal and natural gas can't be replaced, and their cost is at the will of market forces often beyond our control. 
The country's solar potential is tremendous. Just one hour of noontime summer sun can provide the U.S.'s annual electricity demands.4 Even if you live in a wetter region like the Pacific Northwest, the sun still delivers daylight to solar panels through the rain and clouds.19 For colder climates, solar is a proven economic energy solution up north in states like Massachusetts and New Jersey.20,21 Solar panels are even used in Alaska and U.S. facilities like McMurdo Station in Antarctica.22
Unlike fossil fuels, sunlight will never go away. You can count on it every day. 
How much do home solar systems cost?
While the installation of solar panels and battery storage can still be a significant investment, solar companies like Sunrun offer flexible financing options and solar plans for as little as $0 down. 


Start to take control of your own energy and power through rising electricity rates, unpredictable electricity bills, and extreme weather conditions. See why over 500,000 Americans across the country have already gone solar with Sunrun and get a free solar quote today.