Turn California sun into solar savings
Going solar is the best way to save in the Golden State. Energy rates are rising across the country, and California is no exception. The great news is that you don't have to be held hostage by these rate hikes and the tumultuous landscape of your electric company's business. With companies like Sunrun, you can invest in a more independent way to generate energy that'll leave you, and the environment, better off in the long run.
That's because solar energy is clean and green. And, most importantly, it's on the rise, which means that it's more affordable than ever. So if you're looking to make the switch, there's no better time than now to do so and save money in the process.
Thankfully, Sunrun isn't new to the game and can walk you through everything. With our professional offerings and experienced partners, we're eager to show you the sunnier side of energy production.
Financing your solar journey
Sunrun is committed to helping you go solar, which is why we offer flexible finance options. With offerings like solar leases and solar PPAs, you can put up little to nothing down on your solar system.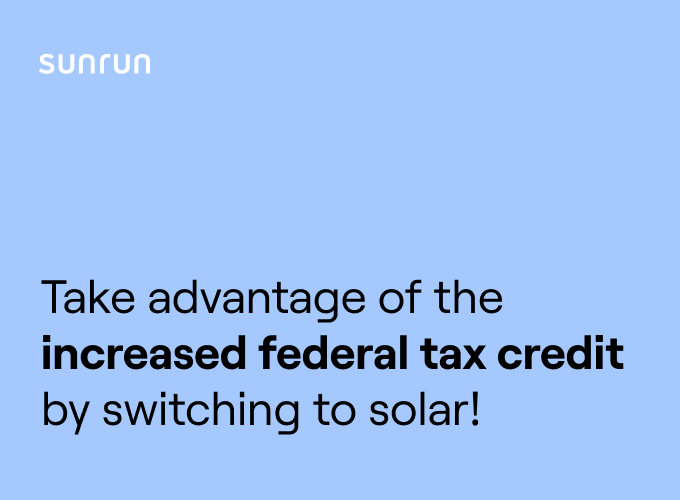 See if you qualify for the
26% federal tax credit
Servicing your solar journey
At Sunrun, every one of our customers is a part of our community. That's why we've created a streamlined process that'll keep you informed. Here's how it works:
Start with a free consultation and even get initial design ideas
Get a custom designed solar system created and built for your home
Have your system installed by Sunrun-certified professionals
Kick back and allow Sunrun to handle all the state and local paperwork required
Benefit from 24/7 digital monitoring and multi-year warranties and guarantees
Start your solar journey
Putting more money back in your pocket with solar energy is truly that easy with Sunrun. So what exactly are you waiting for? It's not like your utility company is going to suddenly decide to lower your bill just for the heck of it. Go solar today and put yourself, your budget and the environment first. Get a free California solar quote today.