How to get solar panels in four easy steps
A lot of people considering home solar worry that it might be hard to do, or complicated with a million decisions and steep learning curve. But when you go solar with Sunrun that couldn't be further from the truth! Sure, there's plenty to learn if you really want to know. But when it comes to what you NEED to know to start saving money on your electric bill, it's surprisingly easy. So easy in fact that we were able to break it down in just four simple steps. 
Here's how it works:
Step 1: Consultation

Talk to a solar expert at Sunrun who will ask you a few questions that determine if your home is right for solar, and whether you should buy or lease your system (most people lease). If your home qualifies, we'll give you a quote and customized drawing of your home's new solar design. All you have to do now is say "Yes!" and we'll take care of the rest.
Step 2: Design Approval and Installation

Now sit back and relax while we get your system design approved by the city, and then take do the installation itself. We submit all the paperwork and schedule the inspections and permitting while you go about your life. How's that for hassle-free? Once we have the permits, either Sunrun or one of our certified partners will install your system.
Step 3: Final Inspection 

Once your brand new, uber-efficient solar panels are on the roof, the city will do one final inspection. Don't worry, we'll handle that too. 
Step 4: Connecting to the Grid

This is it, the moment of you've been waiting for! Your utility company will come to your home and install a net meter that connects your Sunrun system to the grid. Now all that's left for you to do is turn on your system and start saving!
You'll get free system monitoring, insurance and repairs, plus an expert team of Customer Care associates and an online portal where you can check on your solar production stats anytime.
See? It's no wonder more than half a million Americans are choosing solar power. Go solar today with Sunrun and save with the sun!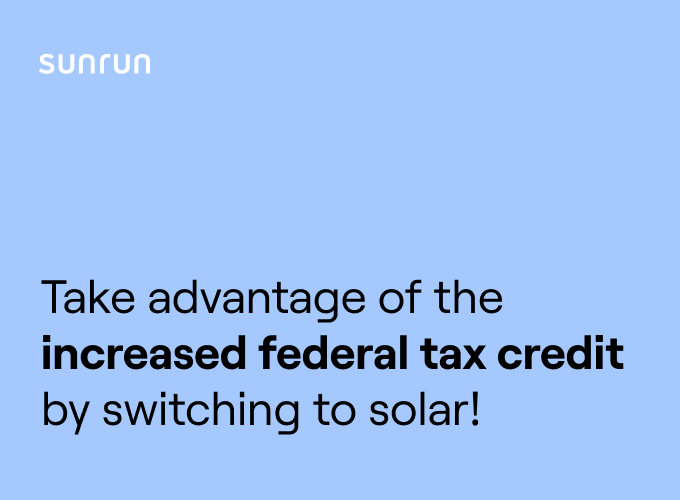 See if you qualify for the
26% federal tax credit
Video Transcription
So everyone wants to know: what's the hardest thing about going solar? Well, the hardest thing is… realizing it's not hard at all. Thanks to Sunrun, going solar simple. You say "Yes!" and our team of solar experts take care of the rest. Here's how it works.
Step 1: We start with a quick phone or in-person chat with one of our friendly solar consultants. In about the time it takes you to say "I'm super interested in learning about solar!" we'll have a customized quote, an estimate for how much you'll save, and a cool diagram showing your home's solar design. When you're crazy excited at this point, simply sign the agreement and – bingo – you'll locked in low electricity costs for the next 20 years.
Step 2: You do nothing. This is sounding better and better, isn't it? We'll submit your solar design for city review, approval and permitting. Then either Sunrun or one of our Certified Partners will install the system. Get ready – you're almost the envy of the neighborhood.
Step 3: After we get those beautiful panels on your roof, a final inspection is required by the city. We'll handle that too. 
Step 4: Ta-DA! Now the real fun begins! Your utility company will swing by and install a net meter, which connects the Sunrun solar system to the grid. They'll also give you the A-OK to turn on the system. It's called Permission to Operate, or PTO – but you won't care because you'll be too busy saving money and generating renewable energy from your roof. 
Pretty easy, right? So let's get started! Get a free Sunrun solar quote today.