Get a Solar-Powered Home Battery in Vermont
Extreme weather events1 are challenging the nation's increasingly outdated energy infrastructure.2 Vermont power outages left residents in the dark for the longest periods of time compared to every other state besides Montana, according to a recent report.3 In the face of blackouts, dirty fossil fuels and rising energy costs,4 Vermonters deserve a reliable, clean and affordable back-up energy solution.
With BrightboxTM, Sunrun's solar-powered home battery, households in Vermont can participate in Green Mountain Power's innovative bring-your-own-device (BYOD) battery program from as little as zero dollars down and at a consistent, low monthly rate.
Power Through Power Outages With Brightbox
For as little as $0 down, Vermont residents can access home battery backup to power through the next power outage. With Brightbox, Vermont households can take control and get the energy security they deserve.
*Our Brightbox solar battery service is currently only available for new Sunrun customers.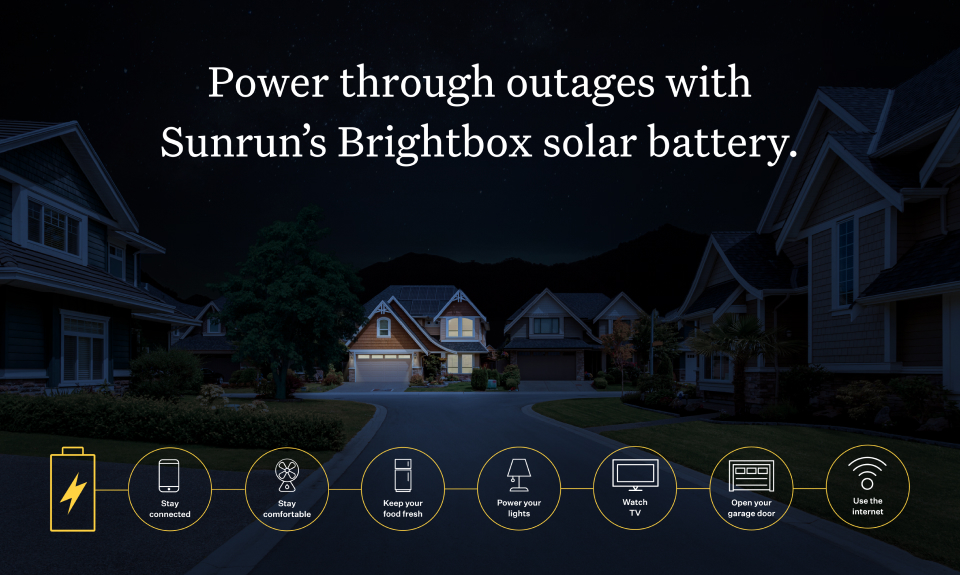 BYOD: Power for the People, by the People
Green Mountain Power's BYOD battery program paves the way towards a cleaner energy system. During times of high demand, Sunrun will harness the power of home batteries across the state to provide clean energy back to Green Mountain Power's electricity system, while making sure each battery still has enough power in case of a blackout.5 
Green Mountain Power has enjoyed success leveraging batteries as a source of clean, affordable energy. During a heat wave in July 2017, the utility was able to save its customers $500,000 in just one hour by using the electricity from its hundreds of local batteries6 instead of drawing power from expensive, dirty fossil fuels like oil and gas. Customers were able to rely on renewable, affordable energy when they needed it most. 
Now with Brightbox, even more Vermont households can be a part of the Green Mountain State's clean energy revolution.
Home Battery Technology
Solar-powered home battery storage in Vermont is crucial to energy independence and resilience. Sunrun's Brightbox includes a powerful lithium-ion battery made by trusted partners to optimize affordability, efficiency and durability. When fully charged, your battery can provide approximately 8 to 12 hours of backup power for your home. The battery effortlessly replenishes when the sun rises the next morning.
5 Ways Brightbox Puts You in Control
1. Financial Flexibility and Superior Service
Sunrun offers options to buy or lease your solar battery system in Vermont from as little as $0 down, you can enjoy clean, affordable home solar battery storage in Vermont. Our flexible solar leasing options come with an industry-leading, solar service package that includes daily system monitoring, free maintenance, repairs and panel and battery replacement. We're always standing by to make sure your home battery is in top condition so you can keep powering on.
2. Backup Electricity During Power Outages 
While unpredictable weather puts Vermont at risk of power outages, you can have peace of mind with Brightbox in your home. With Brightbox, you'll have a constant reserve of power. Brightbox also lets you choose which rooms and appliances you want to back up. So when the next power outage hits, you can keep food fresh, phones charged and the lights on.
3. Reliable Power With Solar
Vermont's chart-topping power outages don't have to hold you back. During a power outage, your rooftop solar panels will provide clean energy during the day while replenishing your battery's energy stores to use at night. By recharging your home battery daily, you'll be able to continue to run on the sun until the electricity grid is back up again.
4. Peak Shaving: Power in Numbers
Extreme weather events like heat waves can cause critically high demands for electricity. As a part of the BYOD program, Brightbox customers will help strengthen Vermont's electricity system by sending solar energy stored in their batteries back to the grid. This "virtual power plant" reduces the need for dirty and expensive fossil fuels while "shaving off" peak energy costs. When you go solar with Brightbox, all Vermonters win. 
5. Powering the Local Economy
While Vermont is full of untapped solar potential,7 it imports most of its electricity from nearby states and Canada.8 According to the Energy Information Administration (EIA), Vermont consumes about four times the amount of energy it produces.9 
Brightbox puts the power back in Vermonters' hands. Vermont's clean energy economy already supports more than 18,800 jobs, representing about 6% of the Green Mountain State's workforce.10 When you choose Sunrun Brightbox, you choose a stronger Vermont for all.
Prepare for the Unpredictable
As extreme weather events continue to affect Vermont, Sunrun is hard at work creating a brighter future powered by clean energy. Vermont already has an ambitious goal to generate 90% of all its energy from renewable sources by 2050.11 With Sunrun ready to deliver clean, resilient, and affordable energy through Green Mountain Power's BYOD battery program, together we can unite all Vermonters under the sun.
When you're ready, our experienced solar advisors are here to help you every step of the way. See if you qualify and receive your free Brightbox quote today.
Make Your home a Brilliant Home with Sunrun Brightbox™
Frequently Asked Questions
Brightbox Solar Battery Storage Articles