Vermont Solar Incentives
Go Solar with Sunrun and Enjoy Vermont's Solar Benefits
-43%
Vermont's solar price drop over the last five years.1
90%
State electricity generation that will come from clean, renewable energy sources by 2050.2
26%
Solar power in Vermont is more cost-effective vs. other states.3
Vermont's electricity rates are more than 43% higher than the national average,4 but increased control of electric bills isn't the only reason Vermonters are going solar. When you switch to solar, you can also create and store your own clean, renewable energy to protect your home from outages and reduce your carbon emissions. Plus, there are excellent state incentives to help you start your solar journey for less.
As the country's leading residential solar and energy storage company,5 we work to ensure you can gain energy independence while making the most out of the Green Mountain State's incentive programs, tax credits, and solar rebates with your new Sunrun system.
Discover the Incentives You Can Get with Solar Energy in Vermont*
Incentive

Value

Inflation Reduction Act (IRA)**

Qualified homeowners with home solar could be eligible for a tax credit of up to 30% against the cost of the system.

Renewable Energy System Property Tax Exemption

Property tax exemption that excludes the added value of a solar installation in Vermont from the home's value for tax purposes.7

Home Solar System Sales Tax Exemption

6% home solar system state sales tax exemption.8,9

Green Mountain Power's (GMP) Bring Your Own Device (BYOD) Program

GMP customers can get up to $10,500 toward the purchase of a new home battery when they enroll in their BYOD program.10

Find out if You Qualify for Vermont Solar Incentives
Learn the Details of Vermont Solar Incentives
Buy a new home solar system in Vermont and your property taxes won't go up.7 Installing a system could also help you build home value.
When you purchase new solar panels in Vermont, you don't pay sales taxes.8 The exemption is for 100% of the sales tax on an eligible home solar power system or solar water heating (SWH) system. This can save you 6% right off the bat.9
If you're a GMP customer, you can get up to $10,500 toward the purchase of a new home solar battery if you enroll in their BYOD program and choose to share your excess stored energy with GMP.10
You have the freedom to team up with the Vermont solar installer of your choice and pick the solar battery you want for your home. You can also decide on the amount of stored solar power you want to share with GMP.10
Ready to Create and Store Clean Energy in Vermont?
Vermont's solar incentives are some of the best in the U.S., and our home solar plans, with or without energy storage, start at $0 down. What's more, Green Mountain Power, Vermont Electric Power Company (VELCO), and other utilities offer net energy metering (NEM) programs that could let you earn credits on your bill for the excess solar energy you produce and send to the grid.12,13 Net metering in Vermont may help you save money on future electricity bills.
Choosing a Vermont solar company like Sunrun can be a cost-effective way to gain energy freedom and security. We're one of the top solar installers in Vermont that you can partner with. To check if our solar and storage solutions are available in your area, use our Product Selector or request a free quote to get one-on-one service from our expert Solar Advisors.
Go solar today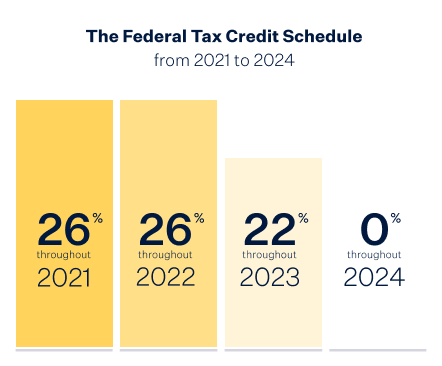 Learn about the federal tax credit
Find your ideal system and battery
Get your energy usage and solar cost
DISCLAIMERS:
*Customer's ability to monetize rebates, incentives, and tax credits depends on several factors, including, without limitation, continued state subsidization of these policies, the applicable Sunrun product type, and whether a customer purchases or leases a home solar system from Sunrun.
**We recommend contacting a tax professional to most accurately determine the impact tax credits may have on your federal taxes.