Anyone who's spent any time in Woodside could tell you about how charming the views are, how conveniently located the township is, and myriad of other niceties. But anyone who's lived in Woodside would likely tell you how expensive all those perks can be.
The fact of the matter is life in Woodside can be pricey; As in 390% higher than the national average.1 But don't let the sticker price scare you away. Thankfully, some of those same attributes that make Woodside so desirable – like wide open spaces and an abundance of sunshine – also make it possible to save a lot of money by switching to solar.
Shrink your bill, pad your wallet
Here at Sunrun, we're about one thing: creating custom-built clean energy solutions to help you save money. Which is why we've got a suite of solar plans and products designed to do just that.
Bottle up the sun with Sunrun BrightboxTM
Sunrun BrightboxTM represents our cutting-edge battery storage technology. It's designed to provide you with enhanced control over your solar savings while also delivering a critical source of backup energy. When the sun sets and lights start to come on in Woodside, you might notice that the cost of electricity starts to creep up. With BrightboxTM, you're able to store excess power generated by your panels, and draw on it during these periods of higher rates to limit your reliance on the grid. More importantly, if the power goes out for whatever reason, you can use your own stored solar energy to keep your lights lit, your fridge running or your phone fully charged. It's the perfect blend of savings and utility.
Shrink your bill, pad your wallet
We're not about gimmicks or high pressure sales tactics. We just want to help you save with solar. With our BrightSaveTM Monthly plan, you can lease a custom solar setup of your own, often with $0 down. We'll provide you with expert installation, and system monitoring and maintenance for the next 20 years. In return, you make a low monthly payment for the cost of the power your panels produce, and likely save 20% on your monthly electricity costs while you're at it.2
Looking for the worry-free benefits of a lease with no monthly bill? With our BrightSaveTM Prepaid plan, you can make an upfront payment and purchase 20 years of power at today's rates. And just like that, you won't have to concern yourself with rising utility rates for the next two decades.
Enjoy the perks of ownership
If your preference is to own solar panels of your own, we hear you loud and clear. With our BrightBuyTM  plan, you make a one-time upfront payment to cover the cost of your equipment. We'll customize a system to your exact requirements, and still cover installation. If you want to spread those costs out, our BrightAdvantageTM plan is designed to provide you with a simple solar loan, including fixed monthly payments and our guarantee against hidden costs.
Whatever option you choose, ownership also entitles you to certain perks, including a rather substantial tax credit and serious solar savings designed to last decades.
Start saving, today
Life in Woodside can be pricey, but a custom solar setup from Sunrun can help take some of that edge off. Find out how much you could save and call 650-687-9596 for a free quote, today.
Sources:
1. http://www.areavibes.com/woodside-ca/cost-of-living/
2. Estimated savings based on a projected annual utility rate increase of 3.16% over the life of the system. Actual savings will vary. Savings depends on several factors, including product type, system production, geography, weather, shade, electricity usage, full utilization of the 30% solar Investment Tax Credit by the system owner, and utility rate structures and rate increases. Analysis based on customers who enrolled with Sunrun between October 15, 2014 and October 15, 2015.
Energy Resources
Solar resources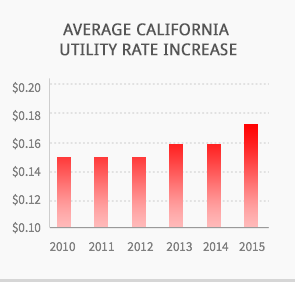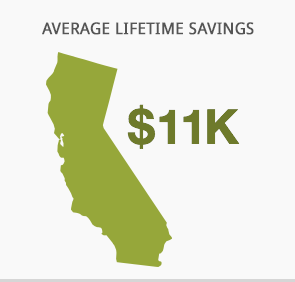 SOLAR SAVINGS ARE BIG
See if you qualify for solar